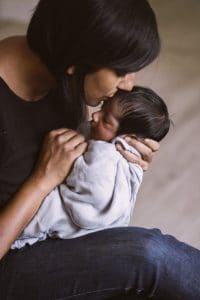 Photo courtesy of Burst
This holiday season, you probably know what to get some of the people on your gift list.
Perhaps you've already purchased presents for your closest friends and family.
However, what about those folks who are trickier to shop for, like the new parents on your list?
They probably have everything they need for the baby, so it's tough deciding what to get them.
What parents don't have enough of is time, sleep, or self-care.
That's why they're sure to appreciate an affordable present that helps them maximize any of those qualities. Here are some ideas.
Creature Comforts
5 Affordable At-Home Massage Products for People with No Time
The Top 4 Food Delivery Service Gift Cards: How to Give and Use Them
Keep Them Warm: Look for Rakuten Deals on Cozy Pajamas or Slippers
A Netflix Gift Subscription for When Sleep Isn't an Option
Best Meal Kits for New Parents
Partner-to-Partner Gift Ideas
A French Terry Nursing and Sleeping Bra So She Can Stay Comfortable
A Stitch Fix Subscription to Boost Their Wardrobe
A Wine Subscription for When It's Time to Wind Down

Hands free pumping bra
Constantly Walking with Baby? Splurge on a Smartwatch
The Best Weighted Blankets of 2019
Gifts That Can Help Out Around the House
A Doorbell Camera So They Can Be Sure if They Need to Get Off the Couch


7 Smart Home Gifts that Even Renters Will Love
Why the Instant Pot Is an Essential Appliance For New Parents
Hire a Housekeeper to Help Keep Clutter Low and Sanity High
Top 6 Best Robot Vacuums for Busy Parents
Other Gifts Ideas
5 Reasons Why Aromatherapy is a New Mom's Best Friend
The Easiest Gift for Dog Owners You Haven't Thought of Yet

The 10 Best Sleep Gadgets to Give the New Dad in Your Life
The Best Things to Do for a New Mom
Spa Time to Help With Stress Relief
The holiday season can be exhausting for many parents, especially those who are adjusting to having a newborn.
From first-time parents to those who've welcomed a new child to their existing family, you can help spread joy, health, and happiness with a useful or meaningful gift.
Even the hardest person to shop for will undoubtedly appreciate gifts that boost their comfort and maximize their time.
Use this resource list to find great presents that won't cost a fortune.
Related