One of the most leading causes of death in children is car crashes. Using the right car seat is one of the preventive measures to protect your child from injuries when traveling by car. When choosing the right car seat the following baby car seat safety guidelines and tips will aid you to warrant the child's safety while traveling.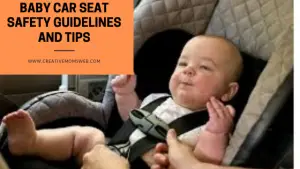 Baby car seat safety guidelines and tips
Chose the right car seat for your child
There are different types of baby car seats. Which includes
The infant car seat is specifically designed for newborns to two years. The infant car seat should be used in rear-facing only.
This is the first car seat every parent must have because it is suitable for babies weighing 4-pounds up to 35-40 pounds and a height up to 35 inches tall.
Convertible car seat are two types
Rear-facing convertible car seat and forward-facing convertible car seat. A rear-facing convertible car seat is designed to be used in rear-facing only for children under two years old.
When the child outgrows the rear-facing weight and height that when you convert to the forward-facing convertible car seat. The forward-facing car seat is for a child weighing from 20-40 lbs and 34 inches plus height.
Booster car seat
The booster car is used when the child exceeds forward-facing weight and height or until the car seat belt fits the child properly. Usually, the booster car seat is typically used when the child reaches 4 feet and 9 inches in height. Mostly it is used for children who are 9-year all through to 13 years.
Installing your car seat properly
The baby Car seat should be installed properly all the time. It's your first duty to make sure you learn how to install your car seat properly and harness your child for a safe ride.
You can seek help for installing car seats from store technicians or technicians from law enforcement agencies, local health departments, hospitals, and public safety groups.
When installing an infant car seat always install an infant car seat rear-facing at the back of the vehicle seat.
Car seat meant for babies below 8-years old should always be installed at the back of the vehicle car seat
Always make sure the baby car seat shoulder strap be at or below your baby shoulder.
Also, concerning installation make sure you harness your child properly. For further understanding, the baby car seat has several harness positions.
Chose the car seat with a label that says that meet or exceeds federal or state motor vehicle safety standard.

Never use or buy a car seat that is more than six years old.

Avoid the car seat that was involved in an accident or in a crash.

Never use a car seat that has missing parts, shows a sign of wear or has torn.

Always when buying a car seat make sure it has the instruction manual, manufacture, and expiry date.

If you buy a used car or accept one make sure you are sure for how the seat can be safely used, check whether it has a sign of wear, has a tear, or has ever been involved in a crash.

When using the car seat dress your child in baby clothes that keep her free and never dress your child in bulky outwear.
During cold seasons never put a blanket between your child and safety strap because it can affect the tightness of the harness. Instead, harness your baby first and place the blanket over the baby and make sure it does not cover the baby's head.
Choose the car seat that fits properly
Most parents think the best car seat for their child is the expensive one. But this is a wrong myth the best one is the one that fits your child and vehicle correctly. Also, the car seat should be of the right age, weight, and height for your child.
Set the car seat at the right angle
The baby car seat is set to recline at the correct angle to keep your baby from flopping forward or blocking airways. Most seats are meant to incline at somewhere 30-45 degrees but to sure make sure you read the manufactures manual to find out the correct inclination angle for your seat.
Carefully read the manufactures manual before installation or use of any car seat.
Premature baby car seat safety
Premature and preterm babies are babies born earlier than 37 weeks and weighing less than 4-pounds. Those babies do not fit the most baby car seat recommended weight and height.
For such a baby's car beds are safer than a baby car seat.
Make sure you follow baby car seat safety guidelines and tips to ensure your baby is safe while traveling.
Related articles: