Baby Washcloths are a must-have baby bathing essential. It is also useful when you are doing general household cleaning. How do you choose the best baby washcloths?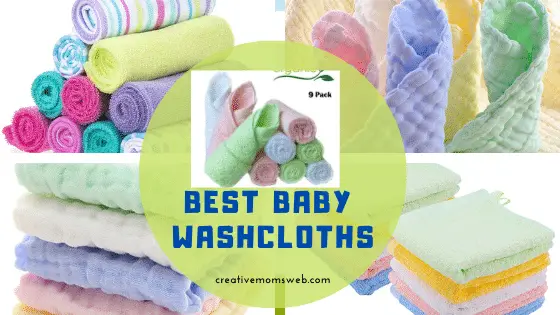 Many moms worry about how to bathe this delicate and tiny baby, especially the first days.
With the best bathing essential it makes bathe time comfortable, enjoyable, and safe for you and your baby.
Washcloths alternatives baby bath mitts
Since bathing your baby is almost done daily except for the first week where you do sponge baths to prevent your fragile baby skin from irritation and scratch. Either doing a sponge bath or full bath you will always need a washcloth.
Baby washcloths are one of the bathing essentials that you can't do without, it is explicitly designed for fragile baby skin, and when used together with baby soap, warm water, and bath toys they make bathe time complete and fun.
How to choose the best baby washcloths
The baby washcloth is meant to clean the delicate and sensitive skin of your little and when purchasing you need to be keen on the type of material.
The fabric must be soft, dry quickly, absorbent and hypoallergenic so as not to hurt your little skin.
Most of them are made of cotton, organic cotton, muslin, and bamboo which are soft and durable.
Related
Since you will be using a baby washcloth almost daily and after every use requires through washing, you need one that is made of quality material that won't fray or tear easily.
You don't need a washcloth that will be hard to apply soap on it.
The right size of the baby washcloth should be about 10 inches by 10 inches.
This is the right size to hold comfortably and lather when bathing your baby.
Most moms don't clean the washcloth after use.
Washcloths must be washed after use and hang to dry to prevent the spread of bacteria.
The washcloths should be easy to clean, remain soft after every wash, and withstands several wash cycles.
You can hand wash or use the washing machine to clean your baby washcloth.
Also, remember when washing washcloth uses a mild detergent.
Baby gets messy more often so if you have fewer washcloths you will end up doing laundry more frequently.
Sometimes you end up having no washcloth to wipe your baby.
Make sure you have enough numbers, when some of them are in the laundry or drying you have a back-up
Why do I need a special washcloth for my baby?
Most moms don't understand why they need to use baby washcloths where else there are many regular washcloths.
Others feel it is a waste of money.
Baby washcloths are made with soft fabric that helps clean the baby's delicate skin without irritating or harming.
Regular washcloth made of a rough material that is harsh on the baby's skin.
Fun ways to fold baby washcloths
How to fold baby washcloths into animals
How to fold a baby washcloth into a rose flower
How to make a butterfly using a washcloth
Do I really need a baby washcloths?
Baby have delicate skin so they require washcloths that are made of soft material and hypoallergenic. Baby washcloths are made of soft and organic material while regular washcloths are made of a rough material that is harsh on baby's skin.
What are baby washcloths used for?
Baby washcloths can also be used to wipe electronic in the house, teether, wipe face, during diaper changes, wipe spit-ups and drools, and more
Can you use baby washcloths as wipes?
What material is best for baby washcloths?
The main thing to consider when choosing a baby washcloth is fabric. Baby washcloths are made of different fabrics such as cotton, bamboo, a blend of fabric, terry, and muslin. All the materials are good but the best one is muslin bamboo, followed by bamboo then cotton blend. Muslin bamboo is lightweight, soft, hypoallergic, washable, and durable
Do you have any other tips to add on how to choose the best baby washcloths that you would like to share with us? Please use the comment section below
Related articles