Skin and skin contact is the best ways to help the baby adjust from the womb to the world. The method has more benefits and nowadays parents are advised to practice more.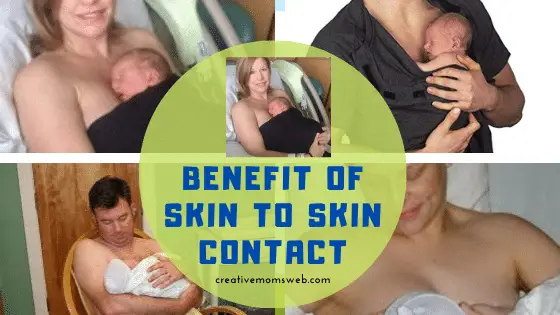 During pregnancy, babies are more connected to their mothers they get food, oxygen, warmth, and protection from the mom's body.
When the baby is born, they get disconnected, and everything becomes a new world.
During those first few months after birth, the baby needs moms more as they make the transition to this new changes luckily we can do skin to skin contact which is another way to meet all those needs and helps the baby adjust to life outside the womb.
Sometimes the practice is called kangaroo care.
If the mom is unable to do skin to skin contact due to birth complication dad may come in and help.
Skin to skin contact brings back the closeness we had in our baby when there are in the womb that's why skin-to-skin contact with the baby is a MUST after delivery and extend it for the first four months.
What is skin to skin contact?
Skin to skin contact is a practice where the baby is laid naked with the only diaper directly on the mother's bare chest after birth, and you can extend for the first four months. Both of them should be covered on a blanket to keep warm and left for more than one hour if possible.
Practicing skin to skin contact has more benefits, and maternity unit/hospitals should make sure they encourage all parents to commence skin to skin contact immediately after delivery and extend first months if possible.
What is the benefits of skin to skin contact?
Easily transition outside the womb
When babies are born they are welcomed to a new world it becomes hard to adapt to new changes, but skin to skin contact helps them adjust sooner.
When all the babies are born are not fully developed, skin to skin contact helps the baby develop first.
Also, on a preterm baby who lags behind regarding development and has undeveloped lungs skin to skin contacts regulate heart rate breathing and improve oxygen saturation.
It helps the baby gain weight better and stabilizes premature baby quickly this may reduce hospital stay.
Help to breastfeed easier
Babies who get the skin to skin contact breastfeed better and longer which help increase milk supply.
When a baby is placed skin to skin contact, they have an instinct which helps baby find breast on their own and latch without an assistant.
Skin to skin contact soothes the baby this helps the baby fall asleep more easily and sleep for a longer time.
It is an advantage to mom because they will have more time to rest and reduce stress.
The lower the danger of postpartum depression
Skin to skin contact help mom can fulfill bonding, kiss, nurse baby right after birth, hold, snuggle, warm and smell.
The touching helps release a particular hormone in mom called the hormone oxytocin which increases the mother well-being, and relaxation, therefore, reduces the chance of having depression.
Reduces chances of infection
One way that allows the baby to get exposed to mother good bacteria is through virginal birth.
Another way is through the skin to skin contact these good bacteria help reduce chances of infection.
Skin to skin contact promotes the bond between baby and mother or father

Help baby cry less
For the first few months, extreme crying is very common to all babies. One of the solutions prescribed to this is practicing skin to skin contact which reduces crying by 43 percent.
The practice helps new moms who don't know how to calm crying baby minimize stress.
It helps baby pain when they need to have done clinical procedures that may involve injection such as when they may need to have a blood test.
When it comes to keeping baby warm skin to skin contact is better than artificial warmer such as a heater.
Mom's temperature naturally increases when the baby is cold and decreases when the baby is too hot.
The baby uses blood sugar for energy. During pregnancy, they get from the mother through the placenta, and after birth, they get from mother's milk. Also according to NCBI skin to skin contact helps the baby stabilize blood sugar.
Other related articles you might like:
Liked this post pin it