Bath time should be enjoyable for both baby and caregiver, there are easy to use, colorful, and easy to clean baby bath toys to make bath time fun.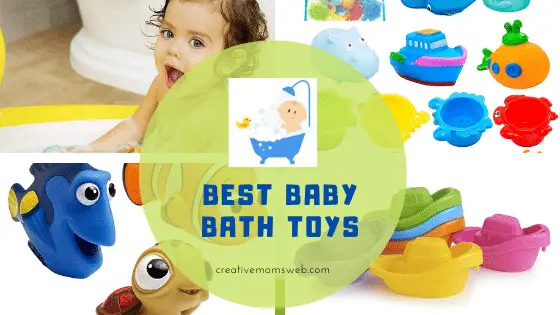 Here we have reviewed the best baby bath toy to make bath time fun.
Baby bath toy Comparisons
Choosing the best baby bath toys
Like any other product, there are factors to consider when buying baby bath toys? Such tips include:
Meet all safety standards
Bath toys should meet or exceed all safety standards mostly consumer product safety commission (CPSC) and ASTM
Baby bath toys are designed for various ages. Some toys are meant for newborns to mostly have fun sounds, others for toddlers which have interesting textures and for kids have some educational benefits.
You can check the manufacturer label to help choose the right age.
Most bath toys are made of BPA-free and mold-free material. Make sure you choose a material that is safe for your baby.
Bath toys get wet so you need the one made of a material that dries quickly to prevent molding and mildew.
Proper cleaning of bath toys is essential for baby health so choose toys that are easy to clean. Avoid toys that have nooks because are not easy to clean and at the same time they might stay dump leading to mold development.
Different styles and colors
Just because toys keep baby's busy bath toys are not an excuse to leave your baby unattended in the bathtub- they don't keep them safe.
Best baby bath toys in 2021
Baby bath toys reviews
These bath toys have lovely look and bright colors that will be easy to draw your child's attention.
The toy not only swims in water but walks on the floor.
Dmeixs Baby Bath Toy has a proper size for little hands and tiny fingers.
It is made of environmentally friendly plastic, safe, non-toxic, durable, and without color fading.
WowWee Pinkfong Baby Shark Bath Squirt Toy
The wow wee toy come in a pack of four which include Baby Shark, Mommy Shark, Daddy Shark, and William
It has a perfect size for small hands.
These bath toys squirt water making them a perfect bath toy.
It is made of BPA-free material and suitable for age 2 and above.
This product is packed in a plastic box that can be gifted.
2.KIDSTHRILL Baby Stacking Cups Toy
The KIDSTHRILL Baby Stacking Cups Toy is made from high-quality and safe plastic material, BPA, Phosphate, and Lead-Free.
It is a great educational toy for babies from newborns all through to 18 months.
The pack comes in a 10 piece set stuck up to 25 inches tall.
These toys help to improve motor control, hand/eye skills in young children, teach sorting sizes, counting to 10, and learning colors.
Each toy has an animal character embossed on the bottom for stamping play dough.
The KIDSTHRILL Baby Stacking Cups Toy can be used from tea parties, sandcastles at the beach, boat racing in the pool, or while bathing
3. Nuby Little Squirts Fun Bath Toys
The Nuby bath toys come in a pack of 10 which include different characters such as alligator, crab, shark, duck, fish, octopus, penguin, dolphin, starfish, and turtle.
It is made of soft rubber which squirts water when squeezed making bath time fun.
These toys are brightly colored and the perfect size for a baby's little hand to hold and squeeze.
The Nuby toy helps improve the baby's hand-eye coordination and encourages imaginative play.
The toys are made of BPA-free material and are ideal for 6 months above.
This product exceeds all government safety regulations and standards including Toy Safety Standard ASTM F963
4. Munchkin Float and Play Bubbles Bath Toy
The pack comes in a count of four bath toys which include two fun characters and two whirly toys that spin/roll and rattle.
Each bubble has a unique toy in the center that rattles, bobbles, shines, and spins.
This toy helps stimulate the baby's sense of sight, hearing, and touch.
The toy is great for both boys and girls four months plus.
These toys have easy to grasp design, easy to dry, and mold-free.
It has a textured ring that moves freely around the bubble.
5. Munchkin Bath Toy, Little Boat Train
Each pack comes with six-count of the brightly colored boat which has funny faces and is numbered 1-2-3.
The toys help in counting, ordering, and number identification. It also helps in hand-eye coordination, color learning, fine motor skills, and language learning.
These toys are lightweight and are designed for babies to grasps.
The boat scoops up water and strain when turned upside down.
6. Munchkin Wind Up Swimming Penguin Bath Toy
This toy is ideal for babies splishin' and splashin' in the tub. The penguin swims through the water every time your little one splashes water. The baby watches the penguin move. Make sure you wind up the arm and release the penguin to move.
The toy is lightweight and easy for the little one to grasps.
It is ideal for babies from nine months and above.
Munchkin Squirtin Bath Toy, Barnyard Friends
Yeonha Toys Bath Toy has flashing vividly color-changing light when touching the water, the light turns off when removed from the water.
Each set includes 4 different floating sea animal friends such as Ducks, Octopus, Frog, and Shark.
These toys have fun colors and shapes that stimulate the baby's senses. It also helps teach animal names during bath time.
You can use the toy in the bathtub, swimming pool, and fish tank.
It is ideal for babies from six months and up.
The toy uses a battery that is included, comes installed, and lasts long.
Laxdacee Bath Toy comes in a pack of 12 different styles of floating rubber animal toys including a unicorn, swan, mermaid, dolphins, crabs, little yellow ducks, foxes, turtles, sloths, lambs, pigs, and frogs. Different animals and colors help the kid have the ability to recognize animals and colors.
Each toy is sized 2.4 inches which is the perfect size to fit the baby's little hand.
These toys light up automatically and change brightly colorful light when they touch the water. The light can easily attract kid's attention therefore they will enjoy bath time.
It is made of high-quality non-toxic ABS plastic, the edges are well crafted with no rough edges.
The toy comes with a battery already installed and not replaceable. The battery normally lasts over 3-months and up.
This toy is recommended for toddler's 6-months and up and ideal for infant preschool gifts, a Bathroom, bathtub, fish tank, swimming pool party favor, and outdoor water activity like beach sandbox play games.
9. Dwi Dowellin Baby Bath Toys
These fish toys are completely sealed so you don't have to worry about water getting inside causing mold in them.
The whale can swim through the tub once you rotate clockwise and release it in the water. No battery is required to make the toy move.
It comes in different colors which help your kid identify colors.
These toys are used anywhere you can play it inside the bathtub, pool, beaches, and on the floor.
It comes in a set that contains 1pcs fishing pole, 1pcs fishing net, 4pcs fish (no holes), and 2pcs swimming whales making it suitable for babies age 18 months and up.
All the toys are made of non-toxic BPA-free material and fall within acceptable standards as currently defined by the Consumer Product Safety Commission (CPSC) and the American Society for Testing and Materials (ASTM) International.
The Dwi Dowellin Baby Bath Toys is a learning toy for the baby's it has a hook that they will try to hook fishes at first hooking 1 fish, then 2 fishes, 3 fishes, which will strengthen kids confidence and patience and developing hand-eye coordination and body balance ability.
10. Boon Boon Pipes Building Bath Toy Set
Boon Boon Pipes can be used individually or create a chain to pour water through.
They can suction to the wall.
The package includes 5 pipes with unique shapes and functions.
These pipes are made of BPA-free material and suitable for age 12 months and above.
11. Boon Cogs Water Gears Bath Toys Set (Pack of 5)
The Boon Cogs Water Gears come in unique shapes and functions.
These gears can be linked together to create a water power chain. They also suction to the wall for bath time fun. In addition to function, they spin when water is poured.
The package has a set of 5-colorful spinning gears bath toys.
It is ideal for babies 12 months and up.
After using the gears can be hand washed and air-dried.
More boon bath toys
Boon Jellies Suction Cup Bath Toys
Boon Spurt Squirties Baby Bath Toys, Blue Orange and Green
Baby Loovi Foam Bath Toys is made of high-quality material certified to toys safety standard US and EU.
These toys feature babies learn letters, colors, animals, puzzles and stick to the plain surface when wet. All these features make it interesting preschool educational floating bathtub toys.
A child can make up a word, find letters, and make a puzzle by insert to the corresponding animals
It comes in a set that includes 26 bright animals and 26 colorful letters, a total of 52 parts.
These toys are recommended for children over 3-years.
13. The First Years Disney Baby Bath Squirt Toys, Finding Nemo
Each pack contains 3 squirt toys that feature Nemo, Dory, and Turtle.
It has a compact size that easy grip for the little hand.
These interactive toys are recommended for baby's age 6-18 months.
The First Years Disney Baby Bath Squirt Toys
14. Robo Alive Junior Baby Shark Battery-Powered Sing and Swim Bath Toy by ZURU
This bath toy swim and sing along as it plays the Baby Shark song
The toy has a water activation technology when placed in water it automatically turns on and turns off itself after sing the baby shark song for four minutes, therefore, saves the power. To reset and sing along you only required to pick it and drop it in water.
It requires a battery to operate which is included and not recommended for children below 3-years.
The package comes with one baby shark toy and a user's manual.
This is a magical baby bath toy it moves freely in water with music and light on. It also squirts water with colorful lights making it a fun bath time toy. The water can be sprayed six inches higher making it look like a mini fountain in the bathtub or swimming pool.
It automatically activates upon contact with water so no switch on.
This toy is made of high-quality ABS electronic components, super durable, Round edges of the toddler toys to protect kids' skin during exploring and mold-free.
The ZHENDUO Bath Toys is 2 in 1 with a universal wheel, this toy can be placed easily on the ground and when you switch it on and place it onto the base it will become a UFO space spaceship. Also when you open the switch the toy can walk freely, sing and light up.
It is recommended for age 3 months and above and operated using 3 AA batteries which are not included in the package.
More ZHENDUO Baby Bath Bubble Toy
16. Click N' Play Assorted Colorful Bath Squirters
The Click N' Play Assorted Colorful Bath Squirters included.
Each set includes 12 assorted soft water squirting sea characters in fun and bright colors. The sea character includes whales, starfish, sea lions, and others.
It is made of BPA-free material and is recommended for baby's 6-months and up.
These toys are designed easy for little hands to grasp.
17. GOODLOGO Bath Toys Bathtub Toys
GOODLOGO Bath Toys include a waterfall station toy with rotating eyes, pipe outlet, rotary gear, and rotating propeller functions.
It is made of durable plastic BPA-free and ideal for baby's 1-3 years.
This toy has two strong suction cups at the backside just suction the cup on the bathtub, glass, or smooth wall in the bathroom.
More GOODLOGO Bath Toys
18. INNOCHEER Bath Toys and Stacking Cups
INNOCHEER Bath Toys come in a set of 12 toys that include 8*stacking cups, 1*fish, 1*pig,1* boat, 1* watering can 1*submarine,1 bath toys organizer, and 2 hooks.
These toys are recommended for 18 months plus and has great size for little hand to hold.
It is made of durable thick plastic that is BPA-free and smells free.
The toys have a colorful and unique design helps baby to recognize the color and improve their hand-eye coordination and imaginative.
They can be played within the tub, swimming pool, or at the beach and kindergarten classroom.
19. Hoovy Bath Toys Fun Baby Bathtub Toy
Hoovy Bath Toys include a shark grabber and 4 toy fish. They are made of vibrant colors to enhance motor skills and sensory. It can also help teach different fish that live in water.
The toy features a cute shape design, an ergonomic grasp for kid's little hands, easy to press and grab the fish.
It is made of high-quality material that is BPA free, mold-free, and non-toxic
20. Nuby 2-Pack Tub Tugs Floating Boat Bath Toys
The NUby boat bath toys float on water and squirt water from their mouth making bath time fun.
This product is soft textured and easy to hold making it safe and great for the baby's small hand.
It comes two in a pack and each has different colors blue and orange, multi, red and orange
The two-pack is available in police boat/ tug boat & firefighter boat/ submarine
The toy is made from BPA-free material and is ideal for 6 months.
More
Infantino Aquarium Bath Squirters
Safety precaution
Allow the toy to thoroughly air dry in a light airy location before being stored. Failure to do so may result in the growth of harmless yet unsightly aquatic algae.
Make sure the toy meets and exceeds all government safety regulations and standards including Toy Safety Standard ASTM F963.
The bath toy should be made of safe material, BPA free, Phosphate, and Lead-Free.
You should make sure you supervise your baby during bath time not to use the bath toy as an excuse.
How To Clean/Sanitize/Disinfect bath Toys
Do babies need bath toys?
Newly born do not need bath toys. Newborns require to be cleaned fast and covered by a towel to prevent catching a cold. Also, spending too long in the bath can lead to dry skin. As they get older you can start introducing the bath toys
At what age do babies need bath toys?
The introduction of bath toys should be at the age of six months. Once the baby has good head control and is able to sit up by themselves. Also, you can start to introduce toys when the baby shows some interest
Related baby bath articles: