A baby requires to develop their leg muscle strength before they start walking. One of the best ways to do this is by introducing a baby jumper to your baby at the right time, especially when they have good control of their neck without assistance.
In this article, I have prepared an unbiased review of the Best Baby Jumper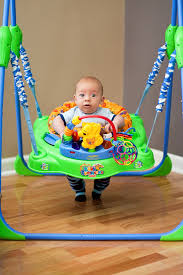 What is a baby jumper?
The baby jumper is a baby gear that has a padded seat attached to the elastic or rubber straps, allowing your baby to jump up and down.
Comparison table of the Best Baby Jumper
The benefits of baby jumper
Although baby jumpers are not a must-have item in the baby registry they can be beneficial to you and your baby in many ways. Such benefit includes:
The baby jumper keeps the baby safely contained and entertained in one spot, allowing the parent or caregivers to take care of another task in the house.
The baby jumper provides the baby with a seat to bounce, colored toys, music, and flashing lights, therefore, gives the baby a fun-filled workout. All these activities help the baby in health development, such as motor, auditory, visual, tactile, and learning skills.
Helps improve pre-walking skills, although it is not proofed the baby jumper focuses mostly on the lower body extremities this strengthens leg muscles making her ready to walk.
It prevents your baby from getting obese. With the baby jumper, easy movement and jumping features will keep your baby continuously busy. Such activities prevent the risk of getting obese.
It helps better sleep with your baby- the baby jumper will keep the baby involved the day and keep the muscles relaxed allowing your baby to sleep well at night.
Types of baby jumper
There are different types of baby jumpers on the market.
Baby jumper with stand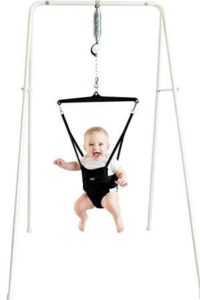 This type of jumper has a seat attached to an elastic cord and has a frame where the elastic cord is attached.
The baby jumper with a stand is a stationary jumper that allows your baby to bounce up and down and provides no additional entertainment.
Baby activity jumper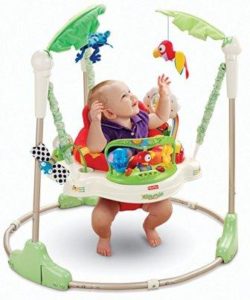 This type has a seat, elastic cord/ straps, tray filled with toys, and frame.
The baby is placed on the seat allows the baby to bounce up and down while playing with the toys on the tray or other activities scattered around the jumper.
Baby doorway jumper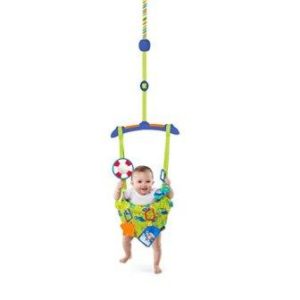 The doorway jumper is made up of the seat, elastic strap, and frame. The frame is attached to the door frame, the seat where the baby seat is on, and the tray where you can place toys.
This type is only suspended on the door frame and the baby is placed on the seat where he will keep bouncing up and down.
What to look for when buying a baby jumper
Babies grow very fast. You don't buy a jumper that you will only use for a few months. The baby jumper should be adjustable to fit your baby as he grows.
Recommended age and weight
Most baby jumpers have manufactures recommended weight and age. Make sure when buying you are sure of your baby weight so as to buy the right jumper for your child. Failure for choosing a baby jumper that is not fit your baby's weight may result in breakage injuring your child.
It is recommended to use a baby jumper for about 15 minutes, so most of the time it will not be in use. You need enough space to store your jumper if not so make sure you can easily disassemble it for easy storage.
Another jumper has foldable features that you can easily fold when not in use.
Babies are well known for making messes. Sometimes they spit or the diaper leak. You need a jumper that you can easily remove the seat or other pads for easy cleaning.
Babies are supposed to be supervised when they are placed on the jumper. So parent needs a jumper that is easy to move and be able to place it where there are attending other tasks for easy supervision.
Jumpers contain different parts made of different materials. Like frames some are made of metal others plastic and seats are made of fabric. The best baby jumper is the one made of a good quality material that will last longer.
In addition to the frame, the baby jumper is supported by the frame. You need a frame that is made of sturdy material, even if your child continues to jump up and down it can stand firmly in place.
Also, the material should be sturdy to withstand lots of uses for several years. If you are planning to have more children it can be used for multiple kids without buying for each one of them.
The value of the baby jumper depends on various factors. If the jumper has extra fun activities the more it will cost. Others can be costly because they need extra things like batteries. So check such things when buying a baby jumper.
You can buy a second-hand baby jumper or get it free. Read here to get free baby stuffs easily.
Safety comes first when you are buying baby products or gears. The same case applies to the baby jumper when buying makes sure if the jumper is made of plastic enquire whether the material is BPA or lead-free.
Check whether the toy has small pieces that your child can easily remove or frame can injure your baby when playing.
Fun activities
They are some baby activities that come with the toy. Some of these toys have electronic sounds and flashlights that keep your child entertained and help in health development.
360-degree stimulation
Some baby jumpers have a seat that rotates 360-degrees. This helps the baby move around easily to reach the toys around the jumper or not miss any action.
Review of the Best Baby Jumper

reviews

Stationary activity jumper
Stationary activity jumper
Fisher-Price Rainforest Jumperoo
This product is designed for use by a child who is able to hold his head unassisted and who is not yet to climb up or walk.
It features a rotating seat 360 degrees so the baby can play and interact on any side. Also has a soft spring cover that keeps little fingers safe from pinching.
The fisher price jumper can be adjusted to three positions for the custom fit.
Everything a baby needs during playtime can be found in Fisher-Price Rainforest Jumperoo starting from a soft-sided overhead toy bar with a squirrel roller ball and spinning lizard two woodland friends' spinners.
It also has a toy tray with an electronic toy at the front that has motion, bobbing elephant, music, and lights that can be activated by the baby spinning a drum or as the baby jump.
This jumper is easy to move, use, and store. The frame pivots to a nested position so it can be tucked away when not in use.
No doorway is required to make it easy to set up anywhere.
The maximum recommended weight is 18 pounds and requires 3AA batteries for the toy tray which is not included in the package.
Baby Einstein Activity Jumper Special Edition Neighborhood Friends
The seat can swivel 360 degrees to allow your baby to play in every way.
The activity center features 3 play stations and more than 12 activities for your baby to explore.
The Baby Einstein Activity Jumper has toys such as light-up piano that lets your baby compose their first musical masterpiece and a spinning frog bead chaser that encourages hand-eye coordination. It also has an extra link loop in which you can add a new baby's favorite toy.
It has a bounce chair that allows your little one to jump and dance, therefore, helps strengthen their developing leg muscles.
With no doorways required, you can go with a jumper whenever you need to be and watch the baby safely play.
You can adjust the jumper to 5-height adjustment, features volume control, operate in multiple languages, and requires 3AA batteries to operate.
The minimum weight recommended is 15 pounds and the maximum is 25 pounds.
The seat is machine washable, toys and frames need to wipe clean.
Disney Baby MINNIE MOUSE PeekABoo Activity Jumper
MINNIE MOUSE entertains the baby with 12 plus engaging toys and activities. This includes a built-in toy tray that has an electronic station with light and sounds along with 2-volume control options to keep the baby delighted.
The toys include a heart-shaped mirror for self-discovery, tactile leaf stalk, a spinning ball with colorful beads, a Minnie Mouse bead, and a chaser toy.
It also has 3-link loops that allow attaching more babies' favorite toys to keep playtime fresh.
The seat rotates 360 degrees so that the baby can easily reach all toy stations while jumping.
The seat pad is machine washable and requires 2AA batteries to operate which lasts 96 hours.
The Disney Baby MINNIE MOUSE Peekaboo Activity Jumper is recommended for age 6 months plus and a weight up to 25 pounds.
You can adjust the jumper four easy adjusting height options, therefore, grow with your baby.
Doorway jumper
Doorway jumper
Doorway jumper attaches to the door frame
Evenflo Exersaucer Door Jumper
This door jumper fits standard doorways 3-6inches thick that firmly affixed door trim at least 1/2inch wide.
For safety purposes, your child is fully protected by a fully enclosed spring that prevents the baby from touching the spring.
The Evenflo door jumper is a machine-washable seat and other parts you can easily wipe with mild soap and water.
It has a frame seat that fully surrounds the child and greatly adjustable straps.
The recommended maximum weight for the Evenflo door jumper is 24 pounds.
This doorway jumper entertains, exercise, and stimulate the baby through jumping fun.
Cons
It is limited to doorways and beams with trim.

This product is preferred used indoors with a wider frame.

There are no toys to keep your child entertained.
Baby Einstein Sea and Discover Door Jumper
This baby bouncer will have your baby jump for joy from a comfortable seat fastened securely in the doorway.
The door jumper comes with ocean-themed 4 toys that can be repositioned, detached, and rotated so that you can keep the jumper playtime fresh with an assortment of rotating toys.
In addition to keeping your baby entertained the jumper has a mirror for self-discovery, rattle, teether, and real-world imagery flash cards.
A sturdy door frame clamp provides a secure fit in the doorway. The frame is also lightweight for easy portability and storage.
It has a nautically themed padded seat for your baby's comfort.
Adjustable strap that allows the baby Einstein door jumper to be changed according to the baby's height. Also, it has an additional secondary strap for added security.
The Baby Einstein Sea and Discover Door Jumper maximum recommended weight is 24.2 pounds and for security purposes
Disney Baby FINDING NEMO Sea of Activities Door Jumper
The Disney baby door jumper includes 3 repositionable toys such as a Nemo bead chaser, a fun flashcard, and a soft dory plush toy.
It comes with a prop pillow for tummy time and support in the door jumper.
The padded seat ring ensures extra comfort and has a sturdy door frame clamp designed to provide a secure connection to most doorways. Also, they have added another layer of security with a secondary safety strap.
The straps can be adjusted as your baby grows and the maximum recommended weight is 26lbs.
It also comes with a play pad that converts to a carrying bag for storage and travel.
For care instruction, the seat pad is machine washable.
Frame/stand
Baby jumper with stand
Jolly baby Jumper Stand for Jumpers and Rockers
The standing jumper helps build baby develop coordination, rhythm, strengthening muscles, and improving balance.
This product features a portable frame perfect for homes without a door frame. The portable stand folds flat for easy storage and does not require a tool for set-up.
The jumper is best for letting the baby stand outside when the sun is out.
It features a scientifically designed saddle seat that firmly supports the baby's spine, corrects and an upright posture during exercise.
The spring action helps the baby bounces up and down with complete freedom and movement.
It is recommended for babies age 3-months and a maximum weight of 28lbs or 13kgs. The frame stands 52 inches high and has a footprint of 50 inchesx43 inches.
Different between activity center, swing, walker, bouncers, and jumpers
Jumpers as said earlier they bounce the baby up and down when your baby jumps off the floor.
Activity center- it is a stationary activity place where you place the baby to play

Bouncers- moves according to the movement of the baby

Swing – the main use of baby swing is to soothe and comfort the baby. They swing front and back without the baby movement.

Walker – the baby can move around while seated. Walkers are not recommended due to safety reasons.
For how long should the baby use the baby jumper in a day?
It is advisable that your baby can use a jumper for around 15-20 minutes every day it helps prevent putting too much stress on your little one leg muscle.
Baby jumpers are a safe place to put the baby compared with walkers. Since jumpers are stationary you just place them near your eye view and continue with your work without worrying might go where they are not supposed and fall.
What is the right age to introduce baby jumper to your little one?
The right time to introduce a jumper to your baby is around 3-6 months when their head does not need support and can control the neck on its own.
Most babies use jumpers for up to 18 months.
I hope you have liked and enjoyed reading our review of the best Baby Jumper.
If you are looking for the best baby jumper make sure you consider the above tips before making the final decision.
Also, if you use a baby jumper let us know the brand you use and your experience in the comment section below.
Also on this blog