Taking care of the baby teeth should start before the first come out that is first few days after birth. At this time you can start cleaning the baby tooth using a soft damp cloth to clean the gum. When the baby tooth starts to come out, that's when you are supposed to introduce a baby toothbrush to clean the teeth.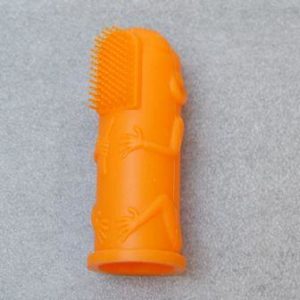 Baby toothbrush comparison table
It is essential to start cleaning the baby gum even before the first tooth come out because it will help clean off the bacteria and plague that cause teeth decay and gum diseases.
Related articles about baby tooth care
Choosing the right baby toothbrush
The baby toothbrush should be the one specifically designed for your little one tint tooth. How do you choose the best toothbrush for your baby?
Soft bristles
Baby gums are very delicate, so they need a toothbrush that has soft bristles that will not harm the gum.
Material
As said above the bristle should be made of soft material. Remember the baby toothbrush will spend most of the time in the mouth it should be made of non-toxic, BPA free or food gradable material such as silicone
The small size brush head
The brush head should be of small size so that it can fit well in the baby's tiny mouth.
Easy to hold
The brush should have a handle that is easy to grip using a small baby hand.
Long handle
The long handle is important mostly when the baby wants to hold the brush on themselves. When the baby begins holding for themselves, they use both hands so the handle should be long enough to fit them.
Also, when you are training the baby how to brush on their own, the handle should be long for the baby to grip and mom hand too.
Additional features
Bright design and colors
Bright colors and different design attracts the baby to make it easier to brush.
The brush can have characters of your favorite baby cartoon; the handle can have finger contours to attract your child to hold.
Different types of baby toothbrush
They come in different types such as:
Finger toothbrush (image of finger toothbrush)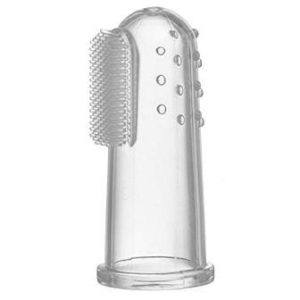 The finger toothbrush is also called baby gum brush. It is designed to fit mom's finger. They have some soft bristle silicones at the end. The toothbrush is inserted on the mom index finger, and the bristle gently cleans the baby gums.
This type is suitable for newborn up to 12 months.
They do not have a handle for babies to hold.
How to use a finger toothbrush
Place the brush over the adult index finger, get the brush wet, gently brush or massage baby teeth or gum,
Note: make sure the brush snugly fits on the fingertip to make sure it will not come out during use.
Do not leave the children unattended with the finger toothbrush and not a toy.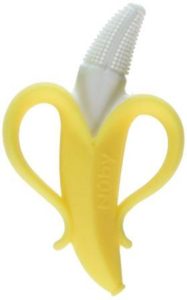 The teether toothbrush is also known as a chewable brush.
Unlike most teethers, teether toothbrush has silicone bristles that come to contact with the baby gum when the baby bites on it.
The soft bristle help soothes the teething gum and the same time wash off bacteria that can cause tooth decay.
You do not need the toothpaste on this type since the baby used as a teether at the same time clean the teeth on their own.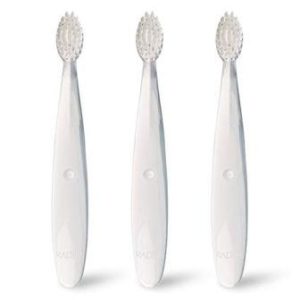 These are old toothbrush that everybody uses at home, but the baby toothbrush has small soft bristles. The standard toothbrush is available in different sizes; there are baby toothbrush ideal for babies from 6 -18months and toddler toothbrush suitable for age 18-36months/ three years.
Unlike finger toothbrush, this type has a soft, colorful handle for baby/mom to hold.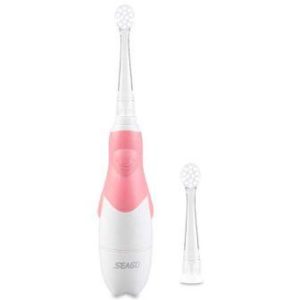 These types of brush are electrically powered.
They usually use AAA or AA battery to operate, but some have an inbuilt rechargeable battery.
When the brush is put on the vibration is passed via a motor to the brush head. The bristle moves gently on the baby teeth you only need to control the position of the brush head.
The advantage of using electric toothbrush it does a lot of scrubbing work for you and the movement can provide a thorough cleaning.
The brush head comes in different size small for age 0-18months and large for 18 months and above.
Electric baby toothbrush
Electric baby toothbrush
Brush-Baby BabySonic Electric Toothbrush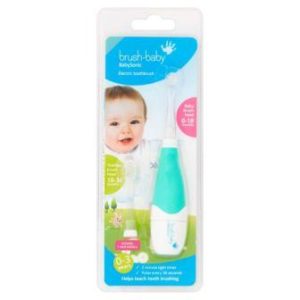 Check Amazon for the best price
The brush-baby brush is battery powered with soft sonic vibration. It uses one AAA battery.
It features a unique two minute light timer and 30 seconds pulse reminder.
In the package has one AAA battery and two tiny brush head (1-replacement head) with soft brushes.
The electric baby toothbrush is suitable for 0-36months (3 years).
Brush head can be replaced, and Brush-Baby BabySonic refill brush heads are available for replacement 
Nuby Electric Toothbrush with Animal Character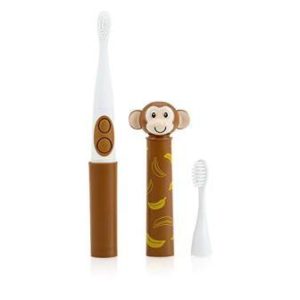 Check Amazon for the best price
The Nuby electric toothbrush is sized for your little one hand.
It also has played the music that plays for two minutes to make brushing fun and let you know when to stop brushing.
In the package includes one AAA battery and two heads for two stages of cleaning. Stage-1 soft gum massager for the parent to clean baby's delicate gum and stage-2 soft bristles to clean the toddler's new teeth gently.
The brush can be easily replaced, and 4-pack replacement toothbrush is available. Nuby Vibrating Toothbrush Replacement Heads 
Summer Infant Gentle Vibrations Toothbrush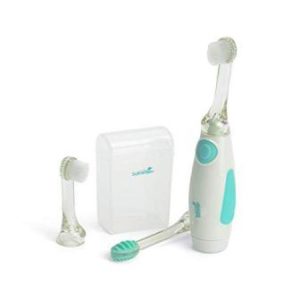 Check Amazon for the best price
The summer Infant toothbrush comes with three toothbrush head with four functions. One head is used as a gum stimulator to help soothe baby sore gum, and the other two toothbrushes head can be used for extended use.
The toothbrush is suitable for infants and toddlers.
It comes with a convenient storage case.
Baby Sonic Electric Toothbrush by SEAGO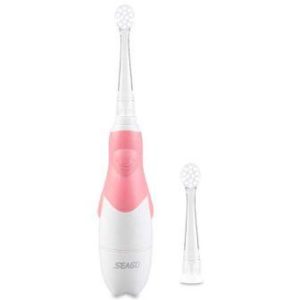 Check Amazon for the best price
The SEAGO electric toothbrush cleans up to 16000 times a minute making it remove plaque better than a conventional manual toothbrush.
The body is made of food-safe ABS and TPE soft rubber. The bristles of the brush head are DuPont bristles to protect the softer tooth enamel.
It has 30 seconds reminder and two-minute built-in smart timer, therefore, encourage dentist-recommended two minutes brushing time.
It features ergonomic designs on children hand is tuned therefore provide excellent grip, mini brush head to fit the baby mouth, LED light to help observe the teeth problem and appealing outer of penguin.
This baby toothbrush has IPX7 waterproof design making it easy to clean the toothbrush with water without damaging the battery.
It is suitable for six months to the four-year-old baby, uses AAA battery that can last up to 120 days and brush head can be replaced.
Other Electric baby toothbrushes that you might like
Baby buddy Brilliant Kids Sonic Toothbrush by Baby Buddy – Flashing Lights and Super-Fine Micro Bristles Make Brushing Fun for Parent and Child, Ages 3-8,… 
Kids Baby Toothbrush by ALLOMN Oral Care Baby Sonic Electric Toothbrush with two brush heads Soft Bristle LED Lights (Green Color) 
 FOREO Issa Mikro Rechargeable Baby Electric Toothbrush with Soft Silicone Bristles, Bubble Blue
LINSAM Kids Sonic Electric Toothbrush, Smart Toothbrush with LED Lights & 2 Replacement Brush Heads for 2-5 Years Baby Toddler Children
Ultrasonic Kids Toothbrush by Babyease 360+ Replaceable Brush Head, LED Light, Baby Electric Toothbrush without Charging, For three years and up (Green) – 
Aguard Tutus Electric Toothbrush Stage1 Soft Toothbrush for Baby and Toddler with LED Light Suitable for 1 to 4 Years Old (Mint) 
OTraki Kids Electric Toothbrush with Timer Battery Operated Child Sonic Toothbrushes w/LED Light for Baby Waterproof SG977 Electric Tooth Brush + 2 Replacement Soft Brush Heads for Age 3+ (Green) – 
Lucktao First Soniclean Baby Teething Toothbrush Toddles LED Light Waterproof Electric Toothbrush Battery Toothbrushes Oral Care 2
 AOZBZ Kid Baby Electric Toothbrush, Electric Battery Powered Soft Bristle Toothbrush with LED Light 2 Replacement Toothbrush Head (Green) 
Normal baby toothbrush
Normal baby toothbrush
Baby buddy Brilliant Baby's 1st Toothbrush Teether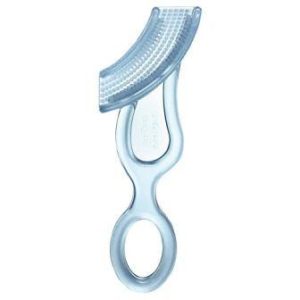 Check Amazon for the best price
The baby buddy tooth1st Toothbrush is an excellent training infant toothbrush from four months and up with or without teeth.
This toothbrush works with water to help clean sugar and bacteria from the mouth to prevent cavities.
The toothbrush can be chilled in the freezer to soothe tender gums during teething.
The brush has innovative H-shape to gently clean and messages upper and lower teeth and gum simultaneously.
This baby toothbrush is FDA approved food grade silicone which is natural, safe and BPA free.
It is available in a variety of colors for both girls and boys, dishwasher safe, easy to clean, convenient to use at home and on the go.
Dr. Brown's Infant-to-Toddler Toothbrush Set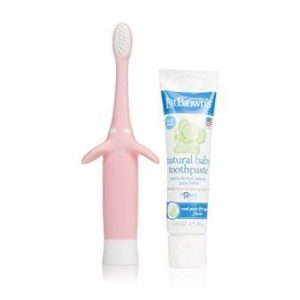 Check Amazon for the best price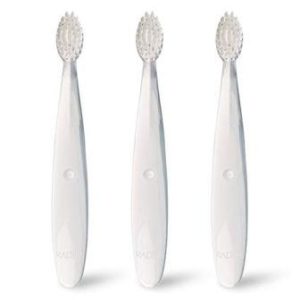 Check Amazon for the best price
The radius baby toothbrush is designed explicitly for delicate teeth and gums from 6-18 months. It softly massages the whole mouth as it works to remove plaque build-up on your little one's tiny teeth.
Features corner-less oval brush which is safe and sensitive for your tiny baby mouth, so you do not worry harming your baby when you brush correctly.
The brush has 8,000 pliable vegetable derived bristles. All the bristles are soft for cushioned brushing in your baby delicate mouth.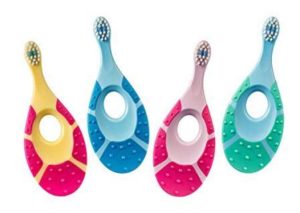 Check Amazon for the best price
The Jordan Step 1 Baby Toothbrush is designed to be used on babies from 0-2 years.
Featuring a short neck and unique teeth ring that helps prevent baby from swallowing the brush. It also has soft bristle and small head specially designed for the baby first tooth.
It has ergonomically shaped handle good grip for both baby and parent. Also, the handle of the toothbrush is nontoxic and can be used as a teething ring under parental supervision.
Other manual baby toothbrushes that you might like
Nuby 4 Stage Oral Care Set System (Colors May Vary) – 
Orajel Baby Tooth/Gum Cleanser, Apple Banana, 1 set, 2 Pack 
MAM Baby Toothbrush, First Brush, Unisex, 6+ Months, 1-Count 
Colgate Kids My First Toothbrush, Soft, Ages 0-2 (colors vary) 1 ea 
Thomas the Train Baby Toothbrush with Reward Stickers — Teething Toothbrush Toddler Infant by baby toothbrush
Rain Organic Bamboo Baby Toothbrush – 100% Safe Infant Toddler Kids Toothbrush for 6 to 12 Months and Up, Natural BPA-Free Biodegradable Toothbrush Extra Soft Bristles Children's Dental Care (1 Pack) 
 Baby Toothbrush Set (4 Pack) by BOLOLO, Infant Training Tooth Brush Age 0-2, BPA Free, Safety Cover Design(Multi) 
Finger toothbrush
Finger toothbrush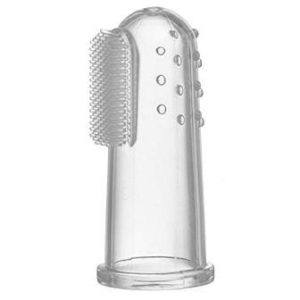 Check Amazon for the best price
Dr. Brown's Finger Toothbrush is a silicone brush which BPA free.
The brush is designed to fit over the adult finger to clean and massage the baby's sensitive skin.
It is dual sided meant to brush emerging baby teeth and messages, baby, sensitive gum.
The finger toothbrush has a protective case which makes brush great for travel use with or without toothpaste.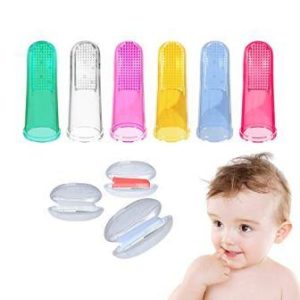 Check Amazon for the best price
The Bassion finger toothbrush is two-sided meant to brush the teeth and massage the gum.
It is specifically designed to fit snugly on the adult index finger for safety while cleaning your baby's mouth.
In the package has six pieces of finger toothbrush suitable for your children from birth to 12 years.
Summer Infant Finger Toothbrush with Case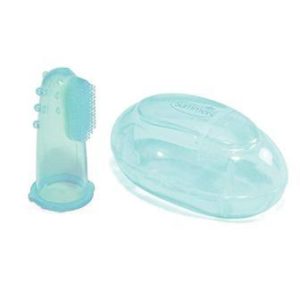 Check Amazon for the best price
The Summer Infant Finger Toothbrush is a dual-sided brush for cleaning and massaging the gum.
It comes with a case for easier storage and travel.
The toothbrush helps when those baby teeth start to emerge from newborn and up.
 Other finger toothbrushes that you might like
Baby buddy Brilliant Baby Finger Toothbrush 
Baby Orajel Sesame Street Elmo Tooth/Gum Cleanser Case Pack 6 – 571703
The Brushes – Baby and Toddler Toothbrush and Storybook – Willa The Whale!
NUK Infant Tooth and Gum Cleanser and Finger Toothbrush Set, 1.4 Ounce – 4 Count by NUK – 
COKAKA Baby Finger Toothbrush Infant Oral Massager Teether Food Grade Silicone with Colorful Individual Case 4pack for Infant and Toddler 0-2 Years (Finger Toothbrush 4-Pack) 
Teether toothbrush
Teether toothbrush
Nuby Nananubs Banana Massaging Toothbrush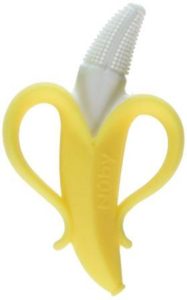 Check Amazon for the best price
The Nuby nananubs is made of soft silicone bristles which provide gentle cleansing for emerging baby teeth.
This product is sized enough for baby to hold, easy to clean, top rack dishwasher safe and recommended for babies from three months and up
Kid toothbrush
Kid toothbrush
Check Amazon for the best price
The brilliant toothbrush features soft round tippled 360 degrees bristles. The round brush head allows the kid to brush without twisting the wrist.  Also, targets hard to reach places easily and crevices without twisting their wrist.
It also features Over 12,000 soft round-tip bristles which enable greater removal of plague and food particles.  It helps to effectively clean the teeth and massage gum when compared to a conventional one-sided toothbrush.
It can be used in water only when at home or go.
The toothbrush is suitable for child developing teeth from age 5-9 years
Toddler toothbrush
Toddler Toothbrush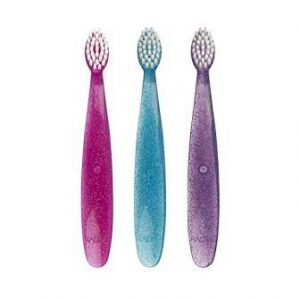 Check Amazon for the best price
The radius Totz is specifically designed for toddler age 18 months and above.
It is BPA, latex, and phthalate free.
Features perfectly small, smooth oval brush head thus guarantee your child won't cause harm to sensitive gum and teeth when brushing.
It also features 4500 soft vegetable derived bristles that are enough for small teeth and to get cleaning teeth job well done.
The brush has an easy grip handle that is easy for a small hand to grip on their own.
When to start brushing the baby teeth
Start cleaning the baby tooth as soon as the first tooth appears. It is very crucial to start brushing your baby teeth early so that they can easily incorporate brushing teeth as part of their daily routine.
You should brush the teeth twice a day in the morning and before going to bed.
How to brush the baby teeth
You start caring for the baby gum right away a few days after birth. At this stage, you don't require toothbrush.
Dampen the soft cloth in water
Gently wipe the baby gum all around the mouth twice a day.
You can wipe the baby gum after feeding and before bedtime.
Once the first tooth comes out, you should start to introduce the baby toothbrush to clean the baby tooth.
Wet the toothbrush with water for children between 0-18 months you can use water only with no toothpaste.
You can start using toothpaste when the baby reaches 18 months. Use little toothpaste about the size of grain rice for children between 18 months to six years.
Increase the amount gradually up to a pea-sized when the baby is age six years old or can spit out well.
Brush gently all around the baby mouth
You should brush the baby tooth until they hold enough to hold the brush alone. Continue supervising the process until the baby can rinse and spit without no assistance. It usually happens at around age six years old.
 Taking care of the toothbrush
After cleaning the baby, teeth rinse the toothbrush with clean water, store the toothbrush upright in an open container to allow it to dry.
 If all the family toothbrushes are stored in the same place making sure the bristles do not touch. It helps prevent the risk of transmitting germs from one brush to the other.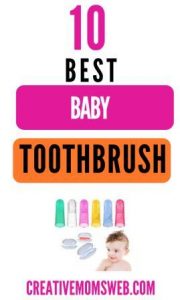 When should you replace the baby toothbrush?
 The baby toothbrush should be replaced after every three months or when the bristle starts to come out.
How to brush the baby tooth
Searching for: