The pacifier clip is a hook that holds the soother close and off the ground when the baby decides to spit-out from the mouth after use.
Pacifier/ binky/soother/dummy whatever you may call it in your language is one of the essential baby products every mom must-have. 
However, a pacifier can be irritating or drive mom mad the moment the baby throw it out of her mouth on to the dirty floor and get lost.
Just imagine how you feel when finding a pacifier under a seat or guessing where it is only to find it somewhere when it's dirty.
Pacifier clip is one of the items that can relieve all these stress no matter how many times your baby decides to spit –out a binky.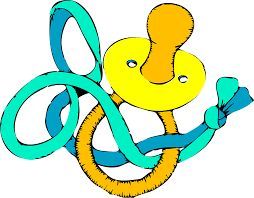 Pacifier holder comparison chart
The pacifier clip holds and keeps binkies close therefore prevent from falling on dirty floors or getting lost.
 It is also known as a pacifier holder.
 Some clips are made to be used as a holder or as a teether to relieve gum during teething time.
What to look for when buying pacifier clip
When buying baby's products always make sure the material is not sensitive on the little delicate skin.
The same case applies to pacifier clip some are made of polyester, nylon, and silicone.
Make sure the material you choose is best for your child.
You can decide to choose between cotton strap and clip made of beads.
Pacifier has a clip that attaches on baby clothes or bibs.
Make sure the jaw/teeth material does not damage your baby favorite clothes or bibs.
Most parents choose pacifier clip made of plastic than metal because plastic doesn't easily tear your baby clothes.
The pacifier clip should be easy to work on almost all pacifier brands available in the market.
Nothing annoys like buying a clip only to get at home and find out cannot hold the brand of pacifier you have at home.
In addition to compatibility, it should easily attach to different places like toys, car seat, strollers, bibs, blanket, teething toys, and baby clothes.
How to attach a dummy/soother or pacifier holder/clip onto a baby's dress
https://www.youtube.com/watch?v=S3V69DeO-6E
All baby products should be easy to clean.
Most parents prefer buying clips made of beads.
Beaded pacifier clip are easy to clean.
Also, when on the go you can use pacifier disinfectant wipes to clean and is ready to use compared to clips made of cotton straps.
Meets pacifier clip safety standard
The pacifier clip should be able to meet all safety standard required.
You can read safety standard required from the Australian Government federal register of legislation or pretty little polka dot website 
One of the main Pacifier clip safety standards is that
The length is supposed to be longer than 22cm,

Should not easily break,

Fall off or come loose even if you throw against the wall or step on it.
You can also check from the brand website whether the product is independently tested and meet safety standard by bodies such as CPSC or CPSIA.
Added features that are not a must-have
Customized pacifier
Customization only applies if you take your baby in the baby care. You can prefer buying a clip that is customized made for your little one.
Brands like Ulubulu have a field name on the back where you write your child's name for easier identification.
Related articles:
Colors
You can consider choosing a clip that matches well with your baby clothes color or specifically designed for baby boys or girls.
Here is the review of best pacifier clip and holder
We participate in affiliate programs from various companies mentioned in this post and earn a commission when you click from our site. It won't charge an extra cost but you will get a small commission. Read the disclosure.
pacifier strap
Pacifier strap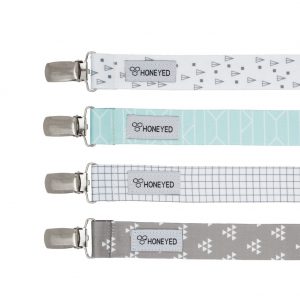 Honeyed pacifier clips are made of ribbon which is washable, The quality of the ribbon is premium such that do not fold when wet.
The clip is made of metal which keeps a gentle but firm grip.
This holder is 11 inches long and 1 inch wide.
Honeyed pacifier clips have been fully tested for child safety by a CPSIA certified lab.
It is made of a material that is non-toxic, phthalates free, lead-free, and fully comply with the small parts and sharp edge regulations that keep our little ones safe.
 Best Pacifier Clip for MAM, Unisex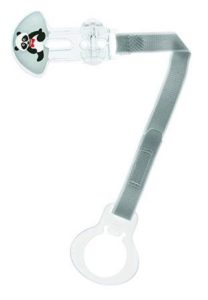 MAM pacifier holder is made of removable silicone ring and plastic sliding locks.
The material is BPA and BPS free that meets and exceeds both US and European safety standard.
With plastic sliding lock that allows one-handed attachment and detachment of pacifier clip from clothing. 
Also, with removable ring makes these binky holder not only compatible with MAM pacifier but also with other brands with ring or ribbon such as Dr. Browns, NUK, Avent, Tommee Tippee and Smilo.
If you need MAM ring pacifier adapter, you can buy here 
The MAM pacifier holder is multifunctional it can also be used to prevent the loss of teether, toys, and other accessories.
This product is available in different colors and also available with a pacifier for breastfeeding babies.
It is also available specific for baby boys or girls. You can find here 
Looking for more varieties of MAM pacifier clip buy from Amazon 
BABYGOAL Pacifier Clips Solid Color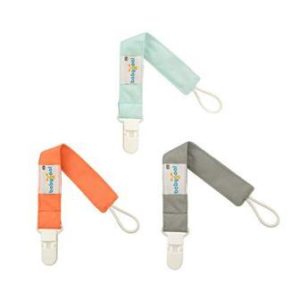 The BABYGOAL is made of polyester with waterproof PUL fabric comes with a plastic clip which is BPA, phthalate, latex and leads free.
The plastic clip is not easy for your baby to pull-off, will not harm the baby clothes and safe on babies teeth if they chew.
Each pack has 3-pieces, and no pacifier included. It is also available in a pack of four which comes with a case () and six.
In addition to the packaging, they have a specific set for girls and boys 
Baby Pacifier Clips by Upsimples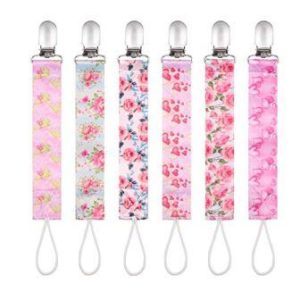 The Upsimples pacifier is made of the metallic clip and plastic teeth making it easier to take off and attach on baby's clothes.
The strap is made of polyester which is washable, durable and soft.
The strap material can be washed by hand using cold or warm water. You can use a soft brush if lightly stained.
This product is one inch wide and 9.2 inches long including metal clip and loop.
The elastic loop fits well on a pacifier, teething toys, and soothie.
Each package includes six unique stylish clips.
The Upsimples is available for baby boys and unisex.
Baby Pacifier Clip Girl by Akeekah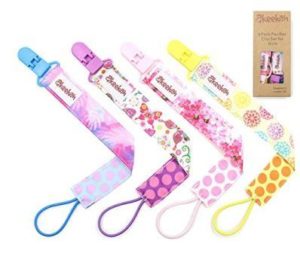 The Akeekah are made of the elastic loop that is easily tied on dummies and teething toys.
The clip is made of plastic material which is BPA free and can easily attach on baby's clothes and bibs without damage.
The strap is made of long-lasting polyester ribbon
This clip complies with the safety standard, so you don't need to worry about your baby safety.
Pacifier Clips Holder for Girls and Boys Bubble pressure – Soothie Pacifier Clip Holder, Unisex & Universal Pacifiers Clips, Newborn Baby Soother, Best Cute Pacifier Leash Holder 
BooginHead Baby Newborn PaciGrip 
The pacigrip has a loop that easily and quickly attaches to your favorite pacifier, therefore, makes it compatible with all brands of soothers.
The grip is made of nickel material with a smooth beveled edge that is gentle on your baby's cloth. The strap is made of polyester.
This pacifier comes with a variety of designs and patterns available here
Mud Pie Women's Unicorn Pacy Clip 

The mud pie pacifier holder is made of polyester.
This holder is available in different patterns and colors to match your baby's clothes. The design is available here
NUK Disney Pacifier Clip, Mickey Mouse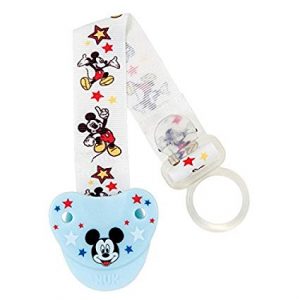 Nuk pacifier holder features Disney design, such as Mickey Mouse, Minnie Mouse, and others.
It fits both pullers and buttons pacifier brands.
Choose the design of your choice here
Munchkin 2-Piece Pacifier Clips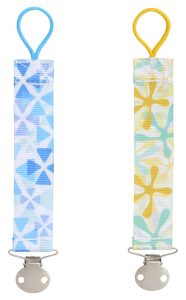 This pacifier holder works with all pacifier styles.
The package comes with 1-blue and 1 green pacifier clip.
Dr. Brown's 3 Pack Pacifier Clips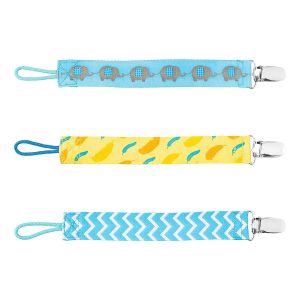 Dr. Brown's pacifier holder feature a durable metallic clip that is attached to baby clothes.
It works with most brands of pacifiers and soothers.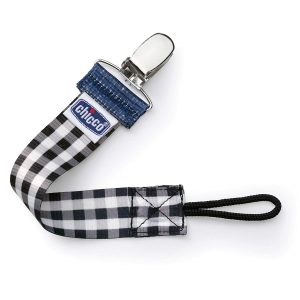 The clip features a cloth loop that easy to use and attach to all pacifier brands.
Nuby Cloth Pacifinders with Plastic Clip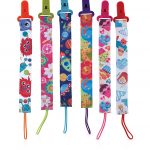 This holder has a plastic clip that you can securely attach on shirt or bib
Nuby cloth Pacifinders work with any pacifier that has a handle.
It comes in the following patterns Butterflies, Elephants, and Monkeys, Frogs, Circles, Rectangles, or Hearts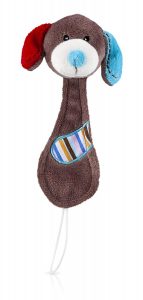 It is made of polyester and plush animals to keep the baby entertained.
This Pacifinder is available in different animal styles, such as Dog, Lion. Elephant, Bear, or Rabbit.
It is ideal for babies from 0+ months and is BPA free.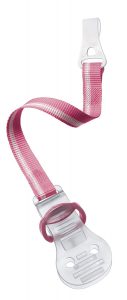 Philip Avent pacifier holder comes 2 in one pack, which is suitable for babies from 0-18 months.
It fits all pacifiers that have ring handles.
The clip is gentle on cloth does not leave marks on your baby's clothes.
RaZbaby Keep – It – Kleen Pacifier Holder 
Baby Pacifier Clip Holder for Girl Kiddy byte– 4 Pack Teething Clips for Babies, Perfect for Binky, Soothie & Stuffed Animal Toys 
Baby Pacifier Holder for Boy Kiddy byte 
Baby Pacifier Clip with Case Holder for Boy and Girl kiddy byte
natural pacifier holder
Organic pacifier clip
Organic lifestyle natural pacifier holder
Prevent your baby pacifier from falling on the ground and getting dirty or lost using organic lifestyle, natural pacifier holder.
On the back of this product, you can write the children name for easier identification mostly in daycare or public places.
This pacifier holder is made of organic cotton which is GOTS certified, wooden rubber tree clip to attach to clothing and Velcro sticker to attach a pacifier.
To clean the pacifier holder wipe using a damp cloth, air dry and do not tumble dry.
It comes in different colors brown, pink and blue
Beaded
Beaded Pacifier clip 
Most all beaded pacifier clip are made of chewable silicone which is provide teething relief and gum massage.
The beads are made of BPA free material which is safe on your baby
Pacifier Clip Girl, BPA Free Silicone Teether by ITYBITY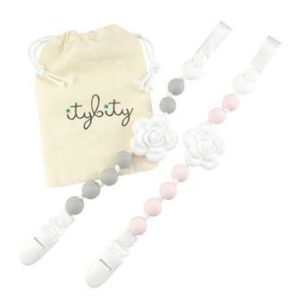 The ITYBITY is handmade design with custom bead colors.
The beads are made of chewable silicone, therefore, provide teething relief and gum massage.
The beads are BPA, phthalates, lead, PVC, metal, and cadmium free.
This product has locking snap on each end of beads and safe clip. It also meets safety length requirement and certified by CPSC and CPSIA.
The pacifier holder works on a different brand like MAM and NUK pacifiers.
It holds pacifier and teething toys, and you can attach to clothes, blanket, toys, strollers, and car seat.
Comes in different teething toy styles includes cupcake teething toy, Bow Pacifier Clip, Football Baby Teething Toy, Butterfly Teething Toy, and  Baseball Baby Teething Toy.
It is also available in four different colors, specifically for boys and girls 
BONbino Teether Pacifier Clips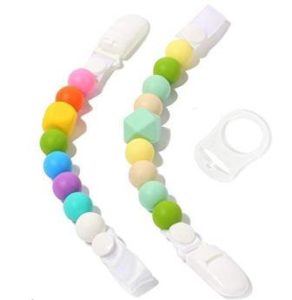 The Bonbino comes with free ebook worthy $10 which contains essential information remedies for teething. The book is accredited by experts and will help learn about the teething process. It also comes with an adapter for soothie and MAM pacifiers.
The clip is easy to use even be used with one hand. It can easily attach on car seat straps, bibs, stroller and blankets
The beads come with different shapes which allow the baby to gnaw and bite to soothe their aching gum. The beads are non-toxic, BPA, and phthalate free.
It comes in two colors pink and purple.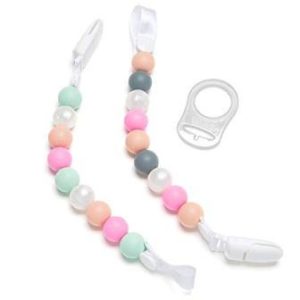 This product is independently tested and approved by CPSC and CPSIA
With an adapter for round pacifier meaning JOMOLLY clips fit all your favorite brands of pacifiers and soothers.
It is made of quality material that will not break when chewed as pain relief or rust. Also, the material is non-toxic it is BPA, lead, phthalate, and latex free. The clip is made of plastic.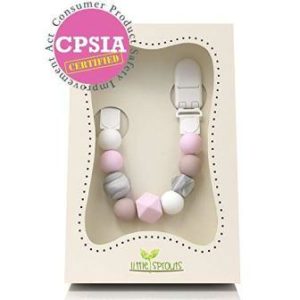 The little sprout is designed and crafted featuring marble-like beads. The colorful beads are easily chewable therefore massage and soothe teething gums.
It works with different pacifier brands and attaches easily on baby clothes, toys, bibs, strollers, and car seat.
This product is independently tested and approved by CPSC/CPSIA. Also, the clips are carefully inspected and tested by two separate companies. It meets the consumer product safety commission for safety in both material and design of the products.
The beads are made of silicone which is BPA, PVC, lead, metal, and phthalate-free. The beads are easy to clean with disinfectant pacifier wipes making more sanitary than cotton strap pacifier clip. In addition to beads, they are food-grade, have no taste or smell.
TYRY.HU Pacifier Clips Silicone Teething Beads
Vesta baby Universal Baby Pacifier Clips with Silicone Teething Bead
Blue moon innovation Silicone Pacifier Clips Girls
Silicone Pacifier Clip by Dodo Babies
baby girl pacifier clip
Baby girl pacifier clip
Ulubulu Muted Girl Pattern Combo Pack of 3 pacifier Clips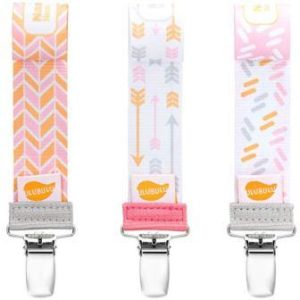 The Ulubulu girl pacifier clip is made of the cotton strap, nylon loop and sturdy metal clip with the plastic jaw. The metal clip ensures the pacifier is securely fastened and plastic jaw /teeth guaranteed your baby's cloth wouldn't get damaged.
It fits most pacifier brands and complies with US and European safety standard.
This clip keeps pacifier attached to the baby's clothes
It comes with 36 different styles. You can find the styles that will interest you here.
Each package comes in a set of three and has a personalized name field at the back to keep things straight at daycare or park. Just write your name using a ballpoint pen or sharpie.
leather pacifier clip
Leather pacifier clip
Leather Suede Braided Pacifier Clips Zelda Matilda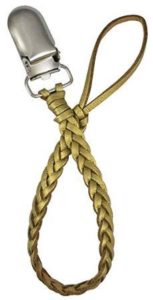 The high-quality handcrafted pacifier clip is made of vegan suede leather. It knotted and braided to the highest quality standard that it looks beautiful on both sides.
The clip is nickel and lead-free which makes it safe for your baby. Also, the inner part is a plastic grip that ensures your baby clothes are not damaged.
This product is 10 inches long from end to end which is a right size. It has vibrant colors that won't fade.
Boy's pacifier clip
Boy's pacifier clip
Liname Pacifier Clip for Boys with BONUS Teething Toy & eBook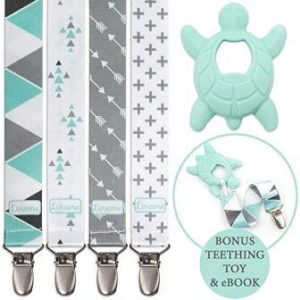 Liname pacifier clip comes in four-set with free teething toy and Ebook. The teething toy attaches easily on the clip allowing you to hang it on your baby for easy access. Also, the teething toy is soft providing solution to massage delicate irritating gum, and its shape is for a small hand to hold.
The strap is made of satin durable satin ribbon that is soft to touch and washable. It also has a cute double-sided design with modern colors that will compliment any outfit. The bonus teething toy is made of food-grade silicone.
This product will connect to all types of soother and pacifier with or without a ring. It has plastic teeth which easily attaches on the bibs, baby clothes, teething toy and blankets without damage.
When it comes to safety, you can rest with the confidence that the product complies with CPSC safety standard. It is BPA, lead, Phthalate free
It also available for girls with bonus teething toy and ebook.
silicone
Best silicone pacifier clip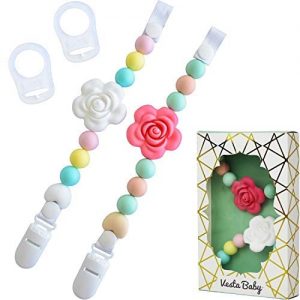 The vesta baby pacifier clips will not only keep your soother in place but also help soothe your baby's sensitive gums.
It is made of soft food-grade silicone beads and roses for your little one to bite on and relieve the pain of teething while helping the development of her teeth.
The food-grade silicone is non-toxic and BPA free.
It is compatible with all brands of the pacifier and can hold teether toys for your little one to bite on
This holder without clip is 22cm. The measurement meets American, Australian, and European safety length standards.
TYRY.HU Pacifier Clips Set of 2 (Green, Gray)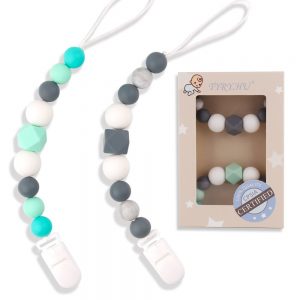 The TYRY.HU Pacifier Clips is 26 cm in length.
These paci clips are sized just right to attach easily on the pacifier, Binky, Soother, Dummy, Soothies, drool bibs, clothes, teething toys, blankets, strollers, play gyms and car seats.
It is made of food-grade silicone beads which are BPA, PVC, phthalate, lead, metal-free, Non-toxic and rust-free.
The beads have textured surface, which is chewable therefore provide instant teething relief and gum massage.
This holder comes in vibrant colors which can help for visual perception, motor, sensory development.
For a safety guarantee, the holder is CPSC/CPSIA CERTIFIED.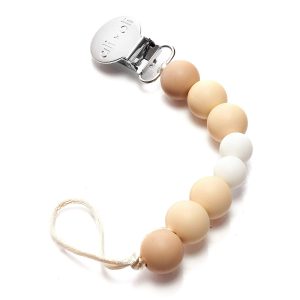 The Ali and Oli pacifier clips is made of food-grade silicone chew beads which are BPA, PVC, Phthalate Free.
It comes in 19 different colors which makes it easier to choose the color that fits you.
It has an 8-inch length which help keeps your pacifier and teether toys off the floor away from germs and bacteria.
The clip is made of stainless steel which helps keeps your baby's pacifier clip firmly attached.
This clips are sturdy and can hold any toy, plushies, teether toys or teethers that you can fit the cord loop through
Silicone Pacifier Clip by Dodo Babies Pack of 2 + Pacifier Case
Babygoal Silicone Pacifier Clip
Liuyaxi Silicone Pacifier Clip for Baby Boys & Girls, 4 Pack 
How to use pacifier clip
The pacifier holder has two ends. One end with a loop or snap closure and the other end has a plastic/metallic clip.
The clip is attached to the baby clothes.
The loop or snap closure attach to the pacifier.
Follow the website below to learn step by step guide
https://www.wikihow.com/Use-a-Pacifier-Clip
Other accessories you might need
Plastic pacifier clips
These are Plastic clips for  for making pacifier holders, bib clips, toy holders, and various other ribbon or sewing crafts. They have grabbing teeth that secure tightly.
KAM Plastic Pacifier Clips/Suspender Clips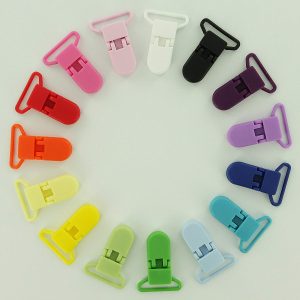 Check best price
The clips are great for making pacifier holders, bib clips, toy holder, sewing and ribbon crafts
In a pack has 15 pieces with gripping teeth that will secure tightly and Random Mix of the color.
These clips are 15/8 inches long and 5/8 inches wide. The loop for holding ribbon is 1 inch making it easily hold ribbons up to 1 inch.
It is made of lead and phthalate-free material, making it comply with CPSIA requirements regarding harmful substances in children's products.
Marrywindix 25pcs 1″ Pacifier Suspender Clips
LIHAO 50x Pacifier Clips Holders for Teething Toys Baby Blankets – 10 Colors-
How to clean and take care of pacifier clips
Simply clean with disinfectant pacifier wipe mostly beaded or leather clips.
You can also use warm soapy water, on the top rack of the dishwasher.
After washing, let it air dry completely or dry it with a soft clean cloth.
 Store in a pacifier holder case or clean container or a zip lock bag until ready to use.
Pacifier clip safety standards
The pacifier clip safety standard means all the requirements to anything that is designed to be attached to baby soother or dummies like ribbon, cords, chain, pins, yarns, strings, twines and leathers.
The pacifier holder is supposed to meet a certain safety standard which includes.
The soother chain should have a length of 22 cm to prevent the risk of strangulation.
No part of dummy chain\ribbon\yarn should tear, break or separate. This includes opening and closing jaw of the fastener, which is clipped on the baby clothes.
Stickers, labels and decal should not be attached to the soother holder as they can become ingestion and choking hazard.
Other safety measures buyers should be aware
The clips are not for use while your baby is asleep.
 Never leave your baby unattended with pacifier clip.
 Before each use, carefully check your pacifier holder for damage to prevent a choking hazard.
Are pacifier clips safe
The pacifier holder is safe as long they have met all the standard requirement needed.
The standard requirement needed includes the length of the holder should be 22 cm, including the jaw itself so as to prevent strangulation risk.
Are beaded pacifier clips safe
The beaded pacifier clips are safe as long as they meet the above-stated safety requirements.
PIN IT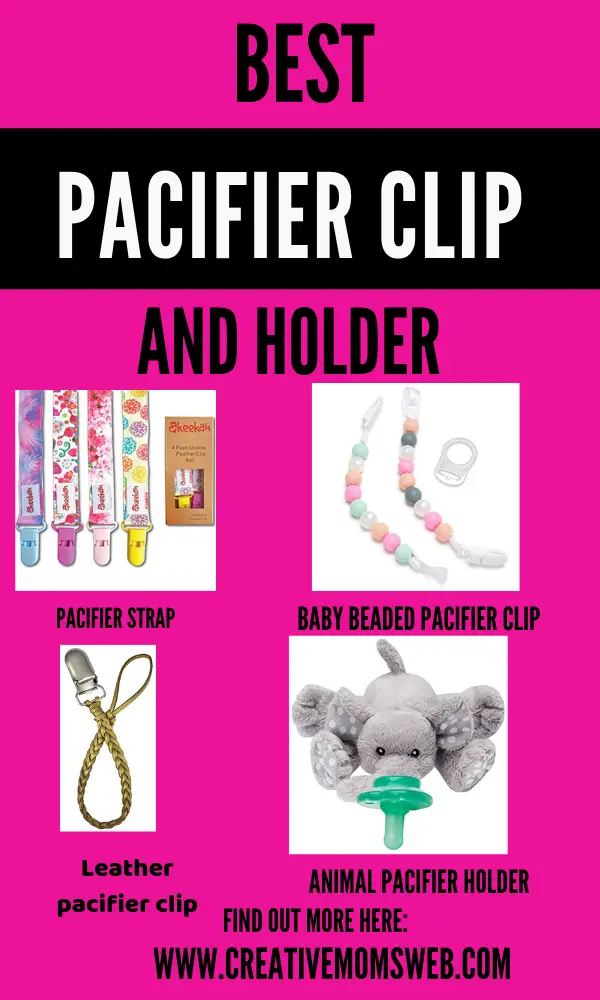 More baby and mom products