Do you want something to help your baby relieve teething pain? Since there is no quick way to fix teething issues having the best teething toys for babies can help relieve the pain and discomfort experienced during this period.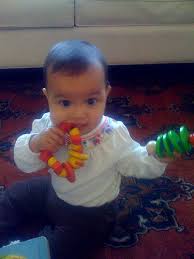 Teething is a stage that every child must go through to some it can be an irritating, painful, and uncomfortable time.
The pain and discomfort can cause your baby to become fussy, sick, or have a sleepless night so most parents find a quick way to fix the problem.
Using baby teething toys is the only quick solution.
What is a teething toy?
The teething toy is a baby toy specifically designed such that the baby can chew so as to relieve teething pain, sore and sensitive gums.
The teething toys are made of different designs including:
Baby teether toothbrush-this look the same as a toothbrush
Teething jewelry is made in the form of a necklace or bracelet. The teething jewelry is made with safe material that the baby can easily chew and can be worn by moms or babies.
When to use baby teething toys
Babies start teething from four months upward at this time you will notice some of the baby drool and most of them trying to put anything on sight even their figures in their mouth to get some relief.
When you notice such signs that would be the best time to introduce the teething toy.
What are teething toys made of?
Teethers are made of different materials such as natural rubber, wood, silicone, BPA-free plastic, or fabric.
What to look for when buying baby teething toys
Teething toys are made of different materials such as wood, silicone, natural rubber, BPA-free plastic, or fabric. Choose the material of your choice and make sure there are free from toxic chemicals.
Teether should be of a perfect size that is easier for your child to grab. The easier the baby can hold the teether the higher chances of liking it.
What inside the teething toys
Teethers are filled with content to help your child feel better. That content can be purified water or gel, make sure you are sure what is filled inside.
Constant chewing the teething toys can create a small hole risking your baby ingesting the liquid-filled inside. Choose the teether made of a stronger material that is tear-resistant.
Teethers will spend most of the time on the baby's mouth. The small-sized teething toy can be a health hazard as your baby can easily swallow and choke them leading to death.
Teething toy with attached clips
Nothing is so irritating as bending all the time to pick the teethers on the floor especially if it is dirty. The best way to solve this is to buy a teether that has an attached clip on it or you can easily attach it to any available brand of the clip.
Best Teething toys
Baby teething toys review
Teething toys alternative
Teething toys are not must-have baby products.
Also, there are babies who are not fun of teethers there are other alternatives you can try before buying a teether.
You can use eco-friendly washcloths
You only need to find washcloths made of non-toxic fabric, wet it and put in a Ziploc bag.
Put the wet washcloth in the freezer until it is frozen.
The soft material and the cold washcloth can be used for soothing on tender and sore gums.
You can keep the baby mouth cool
The same case with washcloths you can find cold substances to cool your baby sore gum.
You can freeze carrot or silverware anything cold can relieve the pain of teething.
Extremely cold substances can be harmful to your baby health so use refrigerator to cool off but not the freezer.
You can use moistened gauze pads
You can use your clean finger to rub your baby gum but if you feel uncomfortable to put on the gauze pad
When do babies need teething toys?
When to give baby teething toys depend on your baby. Some are early teethers and most babies start teething from four months upward
Are wooden teething toys safe?
Wooden teething toys are safe as long as they are made of wood which is free from toxic, BPA free and eco-friendly suitable for toddler chewing.
Also, make sure it is well polished and sanded such that it has no rough spot to hurt your baby.
Can you put teething toys in the dishwasher?
Yes as long as manufacturer recommends is dishwasher safe
Is the liquid in teething toys safe?
The liquid in teething toy consist plain water, salty water and glycerine. This liquid do not pose poison danger even if they get into children mouth.
Can you sterilize teething toys?
Yes you can use boil them for five minutes.
How many teething toys do I need?
You can have a number of them like four
When to stop teething toys?
The teething process happens between 4 and 31 months. You can stop teething toys when the baby reaches the final stage.
Can you freeze teething toys?
You should not freeze the teething toys. Extreme cold can lead to health problems for your baby. A teether should be cold or chilled and not frozen. You should refrigerate
Related baby and mom products