For those who don't know, the toddler travel bed is a portable bed that provides a comfortable and secure sleeping environment for your children on the go or at home.
Parents can agree with me on this when you are traveling for the holiday or want to take your children upcountry to visit grandmother, relative or friend during the holidays, everyone worries where the children will sleep or the place may not have a suitable sleeping area for your children.
The bed is easy to fold, portable, compact, occupies small space, and ensures you have a great sleeping environment for your children wherever you travel.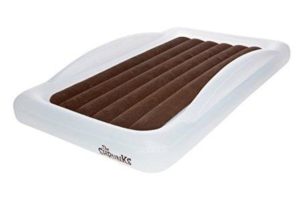 Toddler travel bed comparisons
What to consider when buying the best toddler travel bed
Choosing the best toddler travel bed can be confusing, but we have prepared factors to consider when buying.
Type of toddler travel bed
There are two types of toddler travel bed
Inflatable toddler travel bed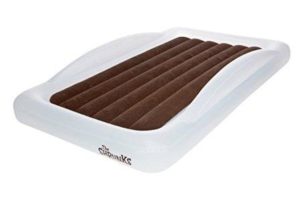 The bed requires being filled with air when you are setting up and let the air out when you want to take it back down again.
It comes with an electric pump to deflate or inflate.
Advantages of inflatable toddler travel bed
Most of them are raised on the side help prevent the baby from fall in the fall.

There are made of tear-resistant and quality plastic making the best durable and last longer.

Once the air is blown out they back down easily and are compact, allowing them to store and move from one place to another. Also, they can easily fit into the airplane hand luggage.

When blown up the bed is ultra-comfortable.
Disadvantages
The bed is expensive compared with a foldable travel bed.
Foldable toddler travel bed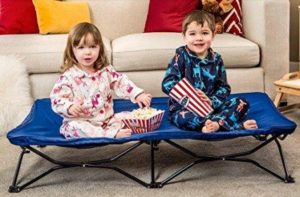 The bed is made of frames that simply fold up. The bed is not raised sides as an inflatable toddler bed, but it relies on the baby weight to make the bed sag in the middle.
Advantages of foldable toddler travel bed
The foldable bed can be used as an outside bench for toddlers or camping chairs.

It is suitable to use around the home and can easily fit in the car trunk, making it best for the road trip
Cons
There are bulky they cannot fit into airplane hand luggage
There is no need to buy a toddler bed that just fit your child for one month and the next two months you need to buy.
Also, the size of the toddler bed plays a vital role, especially if you travel a lot.
For instance, if you travel by air the choice of bed you choose has to be in small size to fit airplane hand luggage.
An inflatable travel bed is the best choice when traveling by air because is compact.
Where else foldable bed is the best fit when traveling by road as long as the bed fit into the car trunk.
Nothing frustrating than buying a bed that requires a complicated mechanism to fold up, inflate, and deflate.
It is important to buy a bed that you can easily inflate, deflate or assemble together.
There are beds that require more effort to set up or dismantle.
In the inflatable bed, you just require a pump to inflate.
Make sure before buying the bed it meets American safety standards and if your baby is active or roll while sleeping choose the bed that is raised on the side to prevent the baby from falling.
You can also consider buying a portable toddler bed rail to prevent the baby from rolling out the bed.
Most toddler travel beds are suitable for babies from 2 years and up.
Choose the bed that has a larger age range you can use for a longer period.
If your baby is less than two years old opt for a travel crib.
It is good to choose a bed that is lightweight.
For instance, in camping cases where you are forced to walk a distance to find a place where you are setting up a tent you need a bed that is lightweight you can easily carry on your back.
Every toddler travel bed has a label of the maximum weight you can label check on that before buying.
Make sure the bed is comfortable and doesn't move when the baby is placed.
Also, make sure the bed doesn't produce noise or shriek sound that might irritate your sleeping toddler.
The benefit of toddler travel bed
Toddler beds you can easily fold into a small fit easily in a bag and take along whenever you travel. Also, it can easily fit in the car trunk
The bed doesn't take too much space can be placed in a small space within a room.
You can easily place it beside a parent's bed if the hotel room doesn't have extra room for your children.
If you are going camping the bed is perfect for daytime naps everywhere you go or even fit inside the tent
If you don't have more money to pay for the extra room the toddler travel bed saves you money because you can easily place next to the adult bed.
Most toddler travel bed is easy to install without hassle others you don't require professional to help folding up or set up.
10 Best toddler travel bed
Best folding toddler bed
Best folding toddler bed
The Regalo my cot is made of a steel frame and sturdy canvas material that can stand up to the use of little one.
The bed is perfectly suitable for both indoor and outdoor activities.
Comes with easy to carry case, which makes the Regalo my cot simple for portability.
It folds to a fractional size and sets up in seconds for travel or storage.
Includes cotton fitted sheet which is machine washable and air-dried.
This portable bed has been certified by the Juvenile Products Manufacturers Association (JPMA) and meets American safety standards.
It measures 48" L x 24.5" W x 9" H, perfect for children age 2-5 years and weight up to 75lbs
This portable bed is made of a sturdy steel frame and top-grade nylon fabric.
The Joovy footcot child cot is perfect for camping, travel, daycare, cruises, sleepovers, playing, and hotels and.
It features two storage pockets perfect for the toy, storing snacks, a toothbrush, flashlight, and favorite book, travel bag with shoulder straps.
The bed supports children up to 48 inches tall and 75 pounds.
When folded the bed measures 8 x 24.5 x 6 and assembled has a dimension of 48 x 25 x 9.5
This bed supports the baby up to 200lbs and is 57 inches tall.
Made of tubular steel frame and heavy-duty polyester fabric which ensures the bed is a durable and long life for use.
The legs are U-shaped which distribute weight to reduce the chance of damaging a tent or house floor.
Folds in half and includes a storage bag making the bed for easy transportation and storage.
Inflatable toddler bed
Inflatable toddler bed
The award-winning toddler travel bed since 2007 is perfect for sleepovers, hotel, kid's transition to a big bed, and travel.
The soft flocking top ensures the shrunk bed does not produce squeaky noise.
Features tuck where standard-sized crib sheets and blankets tuck into the inner air mattress. It also features a security guard rail that prevents your child from falling and stay in the bed.
The bed includes a powerful jetaire electric pump constructed with the safest material which makes the inflation job done quickly and within 30 seconds.
It also has a carrying making the bed portable easy.
The shrunk bed is suitable for age 2 years and above holds 6lbs.
The bed is constructed of the safest material that is BPA, phthalates, and leads free.
This portable toddler bed dimension when Inflated is size 60 x 37 x 9 (inches)/ 152 x 94 x 23 (cm), Approximate deflated size is 16 x 7 x 7 (inches)/ 40 x 18 x 18 (cm) and Maximum weight capacity of 150 lbs, 68 kg
If you want for original shrinks bed just look for the orange valve.
How to set up Shrunks Toddler Inflatable Travel Bed
The Worlds Apart Junior ready bed is a portable inflatable bed with soft covers, bedhead that wraps around the side. The cover is made of Polycotton which is machine washable and the mattress is made of plastic.
Comes with an easy-to-use pump, which makes the inflation of this bed easy.
It also includes a carry bag which makes storage and transport easy.
The bed is recommended for toddler's ages 18 months to 3 years and dimension of 51" L x 24" W x 9" D
The Intex Kidz travel bed comes with a carrying bag for convenient storage and transport.
It also includes a manual pump for easy inflating.
The travel bed measures 42″ x 66″ x 10″, uses standard bed sheets, and is made of PVC.
This bed is appropriate for ages 3-8 years.
Hiccapop inflatable toddler travel bed is lightweight and portable perfect for families on go.
The package includes an XL travel bag and electrical turbo-pump which makes sure setting up the bed is painless and speedy.
This bed fits almost all standard-sized crib sheets.
The bed dimension is 38 x 62 x 11 in and best for a toddler from 18 months and above.
Hiccapop is made of 40% thicker vinyl and double reinforced seams ensuring no leakage or puncture issues.
Looking for a safer toddler travel bed, Hiccapop features extra long bed rail bumpers for added safety, meets all federal standards for children's safety, and is made of BPA, lead, and phthalates free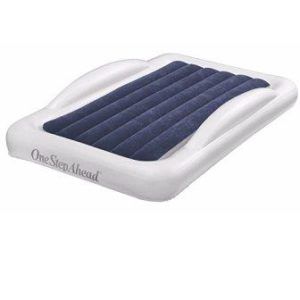 One step ahead of toddler inflatable travel bed is the resulting collaboration between the shrinks and one step ahead. It is made of PVC and phthalates-free material.
It features a larger detached mattress for smuggler sleepovers and easier linen changes. It also has a flocked sleeping area that is calming and not sticky.
The bed has built-in safety bumpers and 5-inch security walls that prevent the baby from rolling out.
The package includes a repair kit, an electric pump for easy inflation, and a tote bag for storage and transportation.
When inflated the bed measures 60X37 inches, toddler size sleep area measures 49.5 by 27 inches, therefore, supports kids up to 150 pounds.
A perfect toddler traveling bed for camping, grandma's house, vacation, and use of transition bed from infant bed to their beds.
This travel bed is made of puncture-resistant vinyl, reinforced seams, and a heavy-duty air valve that ensures against air leakage. The vinyl fabric is lead, BPA, and phthalates-free.
The inflatable mattress with sides protected your little one from rolling out the bed.
The package includes a high-speed compact electric pump for faster inflation and a travel bag for easy transportation.
It fits all standard crib sheets and blankets.
The Inflatable bed with removable and machine washable cover.
The package includes a mattress, pillow, duvet, sleeping bag, backpack, and easy-to-use pump.
It also has a handy pocket to keep your favorite things safe.
Accessories
Best accessories for a toddler travel bed
Portable bed rail –they prevent the baby from rolling or falling out of the bed. Also known as cot sides or side rails. You can find the best portable bed rail here. 
Toddler pillow- read a good review of organic toddler pillow that is safe for your baby sensitive skin
Electric air bed pump– help fill the inflatable bed with air.
Before you travel familiarize your baby with the travel bed it will be much easy to use it while you are away.
Do you use a toddler travel bed when you are on the go? Allow us to know your experience with the toddler travel bed by commenting below