We participate in affiliate programs from various companies mentioned in this post and earn a commission when you click from our site. It won't charge an extra cost but you will get a small commission. Read the disclosure.
Gone are those days where placing your palm on the baby forehead or on the chest to determine if your child has a fever or not. Also," touch test method" is not the accurate or reliable way to tell if your child is running hot and sad thing babies don't have a way to know if they are sick or not, so you need a reliable method and that's where a baby thermometer comes in. In this article, we have rounded up top 10 best Digital thermometer baby available in the market.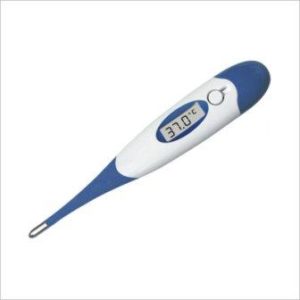 What is a Digital thermometer baby?
A digital thermometer examines the baby's body temperature. It has a probe on one end and LCD screen to show the result. They can be used to take the temperature on the mouth (oral), rectal (anus/rectum), ear, and underarm (armpit/axillary).
What to check when buying Digital thermometer baby
Accuracy- this is the main thing you should check when purchasing a digital thermometer. It should give results that are accurate not misleading readings.
Right age – not all digital thermometers are suitable for all ages. Here is the age guideline:
Births to 6 months- use a rectal thermometer and infrared thermometer to take the temperature for babies below three months.
Six months to four years- take baby rectally, armpit, forehead, and ear. If you are not sure about the result, confirm using rectal thermometer it is the most accurate method.
Four years and above that you can take them in the ear, oral (under the tongue), armpit or use an infrared thermometer to take temporal artery thermometer or ear canal which research has proven is accurate.
Speed- most babies under one year hate to be taken temperature other don't have the patience to wait. You need a digital thermometer that takes the accurate temperature with less time possible most probably a few seconds.
When buying digital thermometer find one that has LCD that is easy to read when done taking the reading.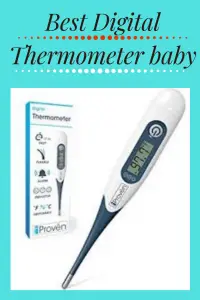 It should have an easy to press the start button.
The digital thermometer should have a signal indicating it is done taking a reading you don't have to keep checking whether is done recording the results or not.
Choose between the rigid and flexible probe or tip. If you are taking the temperature rectally make sure it has a flexible probe which is more comfortable. Most rigid tip thermometers can be used to take temperature orally or armpit.
It should be easy to clean to reduce transmitting germs.
 Other additional features
The backlit screen which helps take the reading in the dark environment.
Battery indicator- most digital thermometer use battery to operate, so battery indicator help know when it's time to replace.
Automatic shut off- to help preserve battery.
Fever warning- when the temperature is high the thermometer gives a warning sign.
Cleaning indicator- this is more important if you are taking the temperature rectally. Some thermometer has a small icon next to temperature reading reminding you to clean thermometer after use.
Safety covers- some thermometer has:
Lid/probe cover – some battery has a lid to close once you have cleaned it makes sure the thermometer remains clean and undamaged.
Protective case covers to prevent your thermometer from damage.
Built-in memory – once the thermometer is switched on it display previous or last temperature reading.
What you need to know about the Digital, thermometer baby
If you have planned to use a digital thermometer to take temperature orally get another one for rectal, do not use the same thermometer on both areas to avoid spreading germs.
Taking temperature on the armpit is the least accurate. Just imagine your baby is having clothes or swaddled in the blanket and then you take the temperature will you be getting the correct readings. Sometimes the armpit the baby can be sweating so it is wet.
Taking the baby temperature rectally is most accurate.
The digital rectal thermometer should have a wide base and flexible tip so that you won't insert it more than an inch to avoid hurting the baby.
Here is a review of Top 10 best Digital thermometer baby
prooral Digital Thermometer Oral or Axillary Underarm

Perfect for both orally and armpit thermometer
You can easily change mode from Celsius to Fahrenheit
Gentle flex tip and water-resistant design
Easy to clean
Enji Medical Thermometer for Oral, Rectal, Axillary armpit Underarm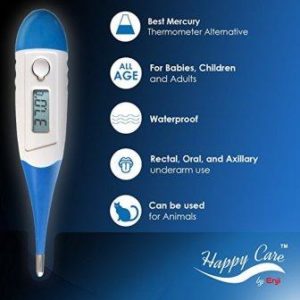 This baby thermometer provides temperature reading in 10 seconds, and you can use to measure 3-ways Rectal, Oral and Axillary
The thermometer features easy to read display and one button to switch from Fahrenheit to Celsius
It is approved by professional such as CE – FDA  and clinically tested that guarantees excellent readings
Comes with clear instructions, probe covers and protective case for storage, so you don't have to worry sanitary
iProven DT-R1221B Best Rectal and oral Baby Thermometer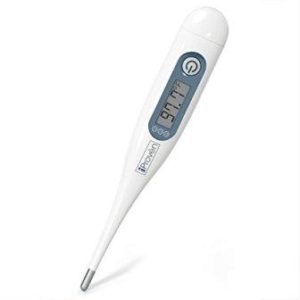 Where to purchase
The baby thermometer takes the temperature within 10 seconds.
It has a highly sensitive tip which is best for taking temperature mouth, armpit and rectal. The tip is waterproof thermometer which is very easy to clean with soap and warm water or rubbing alcohol
The thermometer indicates when the temperature is right, high or too high. It has a face indicator accompanying the readings (happy face means good temperature; straight face means slightly temperature and bad face high fever)
It stores the last temperature sensed and keeps an aware variation of your baby temperature
Feature dual mode, makes the thermometer give the reading either in Fahrenheit and Celsius
Cons
The only disadvantage the thermometer doesn't have a backlit display, therefore, makes hard to take the readings in the darkness.
It doesn't have flexible tip which makes it easy to insert rectally (check the best iproven thermometer with flexible tip below)
iProvèn DT-K117A Digital Thermometer for Rectal, Oral and Axillary Measurement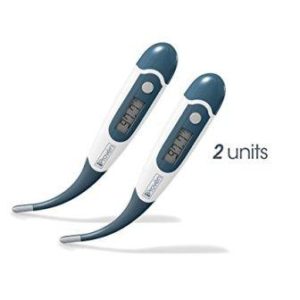 Where to purchase
The thermometer has a flexible tip which is easy to use and high comfortable to the baby.
Features waterproof tip which makes the thermometer easy to clean with warm water and soap or rubbing alcohol.
Reads the temperature in either in Fahrenheit or Celsius which is easily switched.
It is suitable for Rectal, Oral and Axillary Measurement and comes with a transparent case
Clinical Digital Thermometer Best to Read & Monitor Fever Temperature in Quick 15 Seconds by Oral Rectal… http://amzn.to/2nvdRU7
Where to purchase
The thermometer is free from BPA, lead and mercury make it safe to use for infants, toddlers, babies, kids, adults, animals, pets, and livestock. Also, to guarantee safety, it is FDA and CE approved.
Advanced microchip and highly sensitive sensor tip make it's comfortable to use in the mouth without hurting and chafe.
It takes the temperature in 15 seconds and Delivers the best, reliable results with oral, rectal, and axillary (underarm) methods
You can take the temperature in either Fahrenheit or Celsius
It is not only used to take baby temperature but Generation guard Digital Thermometer is also appropriate for checking basal body temperature (BBT) to track ovulation and fertility
The thermometer features fever indicator, easy to read large LCD, the record of last reading, and auto-off power saving
Robust design with a soft, nonslip bendable tip and 100% water resistance, makes the thermometer effortless cleaning
Cons
No beep sound or alert when done readings

No color coded if it is no fever, fever and slightly elevated.

No backlit so not suitable for dark rooms.
Clinical Digital Thermometer by generation guard
Where to purchase
Measure your infant, kid, and adult temperature using generation guard clinical digital thermometer.
It has Generation Guard's superior microchip and highly sensitive accurate dual mode tip sensor best for the mouth, anal and armpit use.
Enjoy taking the temperature with accurate, reliable and build with the high-quality thermometer which is FDA and European approved by regulators as medical supplies for the home or workplace.
Not only is this thermometer used to monitor temperature Oral Rectal Underarm & Axillary it is also used for reading basal temperature for ovulation.
You can read the readings in either Fahrenheit or Celsius.
 Kinsa QuickCare Smart Digital Thermometer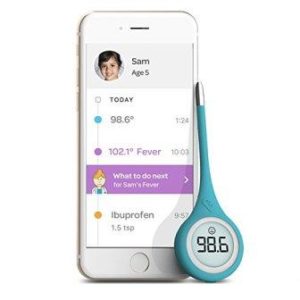 Where to purchase
The Kinsa is smart digital Bluetooth thermometer designed for use with your smartphone.
Provides reliable, fast and accurate reading within 8-seconds or less makes the thermometer best for your family.
It is pediatrician recommended, and FDA approved for accuracy as a rectal, underarm or oral thermometer use for all ages.
Kinsa free app not only gives you number readings but guide you what to do next. For instance, it can guide on how to soothe the symptom, call doctor or take medicine.
Kinsa works with all Android phones running 5.0 or above and all iPhones running iOS 10 or higher.
Clinical Digital Thermometer FDA Approved 10 sec by gear district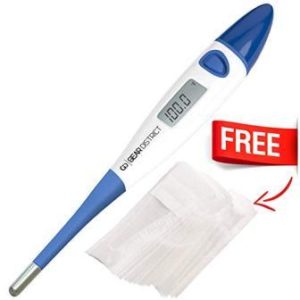 Where to purchase
FDA approved and tested baby thermometer to be used for Oral, Rectal, Basal, Axillary – Armpit Fever Measurements.
With flexible tip makes the thermometer fit for infants, kids, adult, and even pets.
Takes the reading within 10 seconds and one-touch button makes easy to power on your thermometer faster.
 You can choose between Fahrenheit and Celsius reading.
Other features that the thermometer has is auto power off, alert beep when the temperature reading is done, fever indicator, memory recall (display took readings) and low battery indicator
In the package includes free ten disposable probe covers and digital guidebook for healthy remedies.
Where to purchase
The SANPU digital thermometer is best for oral, rectal, and armpit use.
This product has big size LCD, alerts when done taking readings, backlight design such that you can comfortably read the results even in the dark.
Featuring high-temperature alarm function; when the temperature is normal the thermometer display green light and when high above 99.7℉/37.6°C it displays a red light.
You can easily change between Fahrenheit and Celsius with a touch of a button and displays the last reading.
The thermometer is designed with a gentle, flexible tip, waterproof, safe and easy to clean.
Care Touch Digital Thermometer -with 50 Probe Covers, Oral Rectal and Underarm Use for Baby Child Adult and Pets
 RMS Royal Medical Solution -TH-88014 CRAZY Colors Digital Thermometer for Rectal, Oral and Axillary Underarm Measurement, Ideal for Baby, Children, and Adult, Blue 
Safety 1st Advanced Solutions Easy Read 4-in-1 Thermometer 
Digital Medical Baby Thermometer for Oral, Rectal & Underarm by happy care enji
Lotfancy Medical Thermometer -to Monitor Body Temperature Fever by Oral Armpit Rectal Axillary 
ANKOVO Medical Digital Thermometer -Oral Rectal and Armpit for Baby Fast 8 Seconds Reading Waterproof with Fever Indicator FDA and CE Approved 
Medical Digital Thermometer by friendly 18 -10 Sec Quick Read with Fever Indicator and Flexible Tip – Best Adults/ Baby /Kids /Infant Thermometer- Basal Armpit /Rectal /Oral… – 
Axencare Baby Thermometer – Best Fever Thermometer to Monitor Oral and Axillary Armpit Temperature – Fast Read – Clinical and Medical Thermometer – FDA – Digital – Mercury free with Battery – Flexible  – 
Rectal thermometer
Rectal Thermometer

The thermometer has a short probe tip making it safe for rectal readings.
It is fit for newborn up to three months and rectal use only.
Vicks thermometer features large backlit LCD and beep signal when reading is done.
How to operate Vicks Baby Rectal Thermometer
Make sure the thermometer is clean before use
Position the baby as advised above
Insert the thermometer gently not more than a ½ inch in the rectum
The reading will take 10 seconds, and the beep signal will sound when reading is complete
Cons
Amazon reviewers complain the thermometer comes with a dead battery or fails after few times of use
Safety 1st Gentle Read Rectal Thermometer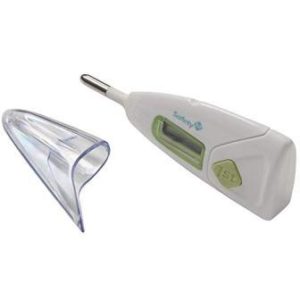 The safety 1st Gentle Read Rectal Thermometer has a flexible tip and over insertion guard that makes comfortable and safe to take baby temperature the rectal way.
It takes reading in eight seconds and beeps when done.
This product has a replaceable long-life battery.
You can easily change from Fahrenheit to Celsius.
What you need to know about a digital Rectal thermometer baby
A rectal thermometer is inserted into the baby anus. Although it is not comfortable and some baby hates to be taken the temperature rectally, it is the most accurate baby thermometer.
It is suitable for newborn to three months
What to look for when buying a Rectal thermometer
When purchasing a rectal thermometer, make sure you are buying the one that has a
Wide base it won't allow inserting the thermometer more than an inch

Flexible tips.
How to use a rectal thermometer
Make sure thermometer is clean. You can use warm soapy water and rinse with cold water or clean tip with rubbing alcohol.
Apply the tip with the petroleum jelly
How to hold the baby when taking the temperature rectally
Hold your child in either of these positions
Note: choose the one comfortable for your child.
Lay the baby on his back on the flat surface like changing table or bed with his legs bend to his chest.
This is the most comfortable position for most of the baby since they are used to when changing the diaper and still he can see your face, so you will be able to distract him with communication.
Alternatively, hold the baby across the lap, stomach down and bottom up.
Insert the thermometer ½ inch to one inch.
Wait until you hear completion alert that indicates it has finished reading.
Remove the thermometer slowly and take your reading
Do and don't
ü  If you feel resistance when inserting the thermometer into the anus, you are not supposed to force but stop with immediate effect
ü  Always use lubricants before using a rectal thermometer.
ü  Use a rectal thermometer when the core temperature is needed. First, use an underarm (axillary) thermometer if the temperature exceeds over 99 degrees Fahrenheit that when you use a rectal thermometer for accurate readings
ü  Do not take the temperature using a rectal thermometer if the patient had rectal surgery, rectal disorders, cardiac disorders and a decrease in platelets
Advantages of a Rectal thermometer
ü  Accurate
ü  Suitable for newborns to 3 months
ü  Affordable
The disadvantage of a Rectal thermometer
ü  Not comfortable when inserting at the anus
Bonus video how to use a rectal thermometer
What you need to know about a digital Armpit thermometer baby
Armpit thermometer is also known as under the arm or axillary thermometer. It's put under the arm and suitable for any age.
How to use Armpit thermometer
Make sure the thermometer is clean.
 Remove child cloth from the waistline and above
Sit the baby on your lap or place the baby on the bed or changing table
Make sure the armpit is dry
Put the thermometer under the arm (when the child is clothed make sure it will only touch the baby skin and not clothes for the accurate result)
 Hold the baby arm tightly to keep a thermometer in the right place and wait until you hear the completion alert.
Advantages of armpit thermometer
Cheap
Best fit any age
Disadvantages of armpit thermometer
Inaccurate – sometimes might give the wrong result
What you need to know about a digital oral thermometer baby
It's placed under the tongue and is right for children above four years.
It should be avoided by infants and toddlers since they can chew or try to swallow the whole thing.
How to use an oral thermometer
Make sure thermometer is clean, and your kid mouth is clear from gums or food.
Place thermometer under the tongue and verify that the child closes the mouth to hold in place.
Hold until you hear finish beep.
Note
If your child was taking the cold or hot drink, wait for 15 minutes before you take the temperature.
Advantages of an oral thermometer
Affordable
Gives an accurate reading to children above four years
Disadvantages of an oral thermometer
It's not safe for infants and toddlers since they can chew or swallow causing choking hazards.
What you need to know about a digital ear thermometer baby
 The ear thermometer should not be used to babies below six months because their ear canal is not fully developed. Also, it can give misleading results if the ear has an infection or wax.
Please let us know which digital thermometer are you comfortable taking with your baby temperature in the comment section below.
More baby and mom products