How can I breastfeed without using my hands? Hands-free breastfeeding products are the only option to free your hands.
These products include a hands-free breastfeeding pump, bra, pump, sling, carrier, and pillow
Breast milk is one of the important things a mom can give her baby. Even though it is one of the best things I am sure mom will agree with me nothing takes all your time, sucks, strain your body, and makes you remain stationary like breastfeeding.
When you are breastfeeding or expressing, it is impossible to do some other duties in the house.
Hands-free breastfeeding products are the best option for busy moms, Stay-at-Home Moms, and working moms. They give mom valuable time by freeing their hands for other tasks, saves moms time, and allow them to relax when breastfeeding or expressing.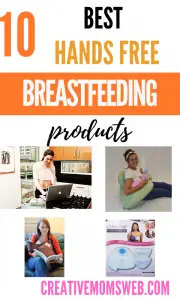 Most nursing mom ever wishes if they can have a free hand or two while breastfeeding to attend to other tasks.
Thanks to technology have made the journey of breastfeeding easier by providing the best hands-free breastfeeding products that are a time saver to a nursing mom.
What is hands-free breastfeeding? 
Hands-free breastfeeding is the ability to breastfeed your baby and at the same time you are attending other duties such as talk on the phone, work on the computer, attend to other house chores and read a book
The benefit of hands-free breastfeeding
Hand-free breastfeeding products are a time saver to a nursing

mom. They allow moms to attend to other chores in the house or look after other children.

They help ease any strain in the arm, back, and neck by supporting the baby's weight. They also help mom breastfeed or express milk in a more comfortable position.

Hands-free breastfeeding products allow for comfortable nursing in public areas.
Hands-free breastfeeding bra
Hands free breastfeeding bra
All nursing moms whether working or stay at home mom can agree with one thing, nothing sucks and takes a lot of time like pumping milk.
Even though you are using an electric pump trying to do anything else is impossible. When pumping milk, you have to remain stationary, sit down, and spend half of your day holding and filling each bottle.
Thanks to the technology that there are hands-free pumping bras that can enable nursing moms to express milk.
You can pump milk and at the same time attend to other tasks.
There are so many varieties of hands-free pumping bras in the market but choosing the right one becomes hard.
Reasons being they are some that are made to the perfect fit home, others are best for office, some can be both nursing and pumping bra and others can only be used for pumping you put them back in your bag or shelve and wait the next session of pumping.
With the right choice of hands-free pumping bra, you can express milk and use your free hands to attend to other tasks. All those reasons have made us provide the best review of the hands-free pumping bra available in the market.
Comparison table of Hands-free breastfeeding bra
Simple Wishes Hands-Free Breastpump Bra
The hand pumping bra has a secure bottle-holding design, and the tight seal of breast shields and flanges which hold the bottle firmly makes easier, efficient pumping and Reduces milk spillage.
The bra is machine washable, made of 83% soft cotton and 17% of spandex for lasting comfort. The seams have been designed such that do not irritate sensitive skin areas.
For versatility and support the bra aims to be used with all breast pumps manufacturers such as Spectra Baby, Lansinoh, Medela, Evenflo, Philips AVENT, and Bellema
Also, the bra slips on easily with or without removing the nursing bra, nursing tanks, or T-shirt.
It is adjustable to a nursing woman changing shape. The bra back panel can adjust its width up to 10 inches while the front zipper panel provides two inches of additional between the breasts. This combination allows the mother to customize the bra to their changing body and breast size guaranteeing a perfect fit from the first pumping session to the 1000th.
This hand free pumping bra allows to pumps milk at work, during breakfast and lunch
The package or box comes in three sizes XS/S/M
Medela Easy Expression Hands-Free Bustier
The bra is compatible with most electric pump
Made of cotton and spandex fabric makes it comfortable and machine washable
Medela Easy Expression hand free bustier is easy to wear and wash
It is comfortable to put on its own or over a nursing bra and camisole
Rumina's Relaxed Nursing Bra with a built-in Hands-Free Pumping Bra
It saves your precious time. You don't have to wear another pumping garment to hand free the pump.
It is the only no-hole nursing bra which means no irritating openings over your nipple.
With a "no-hole" patented design it uses layers for optimal suction and naturally positions the funnel to your unique nipple position.
No zippers, Velcro, and openings to show through your shirt or no one will know you are wearing a pumping bra
For comfortable support, the bra is made of cotton and spandex fabric.
Rumina nursing bra you can nurse and pump at the same time.
Bravado Designs Women's Clip and Pump Hands-free Nursing Bra 
The bra is soft and made of a breathable cotton modal fabric blend
It can be worn on its own or over a nursing bra or tank
Features adjustable 4-row hook, wide, stretchy, and comfortable bottom band
You have the option to pump on one side and feed your baby on the other side
Pump Strap Hands-Free Pumping Bra 
Pump strap hand-free pumping bra you not only use it to express milk but you can use it as a nursing bra. You pump on one side and feed your baby on the other without leakage
Adjustable with all postpartum body changes and can only be worn when breastfeeding or expressing
Works with all breast pumps manufacturers.
You can wear it on its own or a nursing bra or tank.
PumpEase hands-free pumping bra
It accommodates all breast pumps on the market.
The bra is made up of high-count polyester and spandex which is durable, comfortable, and soft against your skin, excellent stretch and memory (doesn't baggy or shrink after use or wash), quick-dry, breathable and can be washed by hand or machine in water.
It can be worn over your nursing bra or bare skin
The package consists of only a pumping bra.
The bra has bold graphics and colors which help the visual development of your baby.
You can pump on one side and nurse on the other side
Simple Wishes DLITE Hands-Free Breastpump Bra (L-PLUS)
The bra has an adjustable band that can be adjusted up to 10" for a perfect fit during the entire breastfeeding period
With racerback straps which can be attached for extra support or a more standard feel. You can decide to go strapless
Pump Strap Hands-Free Pumping Bra –Adjustable Breastpump Bra
The bra can be adjusted to all postpartum body changes. It Fits 30 to 60 inches around
The bra is made up of sturdy and comfortable nylon, and neoprene fabric guarantees long-lasting.
Works well with all the main breast pump manufacturers.
If the bra strap fails in the first year of use, you will replace it free of charge
It can be worn on its own or over any nursing cloth.
Rumina's Strapless Nursing Bra with built-in Hands-Free Pumping Bra – Black, 1X/2X/3X
It comes in sizes from xs- 3xl that makes the bra to be adjusted to your changing body.
It is one strapless bra, no Velcro or zippers, no hole patent design with an inbuilt hand free pumping bra perfect for all nursing mom
TANZKY Womens Double Breastpump Hands-Free Pumping Bra with Underwire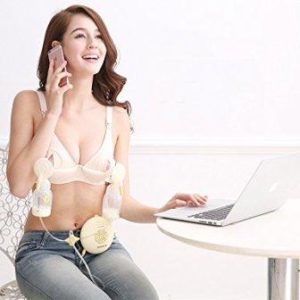 The bra is made up of cotton and spandex fabric which makes it comfortable and durable.
It works with all-electric breast pumps
Unlike most pumping bras, the TANZKY bra is made of Cartilage Underwire while other bras are made of steel rings that cut the skin.
The bra is adjustable which makes a perfect fit for your changing nursing body each step of the way.
Arshiner Women's Easy Simplicity Hands-Free Breastpump Nursing Bra Medium to X-Large
The bra comes in three sizes- medium, large and extra-large. You can adjust the width up to 10 inches by placing the Velcro on the back panel
Hands free breastfeeding nursing cover
Hands free breastfeeding Nursing cover
IntiMom Breastfeeding Nursing Cover
The cover is long and has perfect coverage gives you the confidence to breastfeed in public and allows you to use a breast pump while in the office.
It is made up of 100% cotton fabric which is machine washable, durable, and comfortable.
With a neck strap that is very easy to adjust and closed-loop your cover will not surprise you and open when you don't that to happen.
It has a rigid neckline which allows air circulation and baby eye contact
IntiMom nursing cover can also be used as a seat cover, stroller, or as a changing blanket.
Udder Covers Breast Feeding Nursing Cover
It is made up of 100% breathable cotton and is machine washable.
The cover completely covers while breastfeeding and the rigid neckline bow gives you direct baby eye contact.
The neckline has stainless steel D-rings which are easily adjustable.
Udder Covers Breast Feeding Nursing Cover other than nursing cover it can be used in different ways such as shawl, Halter Top, Poncho, Blouse, Sun Shade, Baby Blanket, Car Seat Cover, Baby Carrier Cover, Swaddle Blanket and Burp Cloth.
It is made up of lightweight cotton fabric.
The package comes with bonus Ebook and baby shower gifts
Copper pearl baby car seat cover canopy and nursing cover
It is 5in 1 cover that can be used for nursing, seat cover, high chair cover, infinity scarf, and shopping cart cover.
Easy to put on and remove the cover
With the cover, you can easily see and access the baby while breastfeeding.
Bebe Au Lait Premium Cotton Nursing Cover
With patent rigid flex, an open neckline allows air circulation and maintains child eye contact.
It comes in one size that fits all.
It features two terry cloth pockets for clean up and storage
The product is made up of 100% cotton which is machine washable and durable.
The Bebe Au Lait Nursing Cover has a neck strap that holds the nursing cover in place so you can breastfeed confidently in public areas.
Hand-free breastfeeding pillow
Hands-free breastfeeding pillow
It is 6 in 1 twin support and feeding pillow
The pillow is great back support for nursing two at one time and mom too.
My Brest Friend Original Nursing Pillow   
The product is suitable for babies between 3 to 6 months.
The pillow is made of cotton and polyester which is easy to wash, great choice hand washes, and air dry.
It is used for breastfeeding hands-free.
The pillow takes 360 degrees around the mom's body and maintains an ideal baby position for latch thus relieves mom from back and neck pain.
It has a side pocket that can hold the bottle.
My best friend's nursing pillow offers a mini pillow that fits the baby's head from moving and makes it easy for baby feeding.
The product allows the mom to interact with the baby hand-free.
It can be used until the baby reaches 16 pounds or can roll over on its own.
With carrying handle and lightweight makes the pillow portable
It is perfect for latch breastfeeding.
M'Baby Nursing Pillow 3 in 1 Maternity Pillow
The M'baby Pillow is a multi-purpose pillow that can be used as sit-up support when baby begins to sit, comfy tummy time cushion, and free your hands when you are breastfeeding.
Mom can use a pillow for back and cervical spine support.
It is best suited for babies from 3 to 6 months.
The pillow is made up of cotton and polyester fabric
Hands free breast pump
Hands-free breast pump
Walking away from co-workers, relatives, friends, and family members to pump is isolating and time-consuming. With a hands-free breast pump, you can express milk in public, with your clothes on and hand-free.
Best Hands-free breast pump in the market
Freemie Freedom Double Electric Hands-Free and Concealable Breast Pump
The Freemie breast pump is designed for double or single pumping.
The package contains an electric Freedom pump with smoothly adjustable suction. Also includes two -8oz concealable collection cups, two breast funnel sets, and one Freemie Freedom connection kit.
It fits inside your regular bra or nursing bra beneath your clothing; you can pump when and where you need to.
Willow Pump Wearable Breast Pump 
If you are looking for a wearable breast pump, fits in your bra and with your clothes on, moves with you; willow pump does all these.
Hands-free breastfeeding sling
Hands-free breastfeeding sling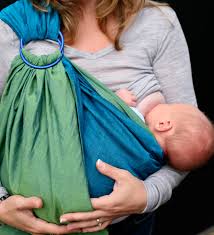 A breastfeeding sling is the best babywearing product for a child who is unable to support to hold their neck firmly. They hold your little one in the right position and support the undeveloped neck.
How to breastfeed your baby in the ring sling
Hands-free breastfeeding wrap
Hands-free breastfeeding wrap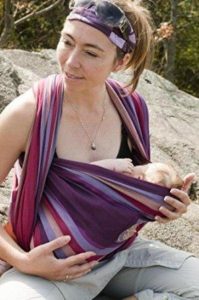 The wrap carrier is made of two fabrics stretchy and woven materials. They are also best for breastfeeding the newborn because they make feeding your baby upright easier.
How to breastfeed your baby on the Moby wrap.
Hands-free breastfeeding Meitai
How to breastfeed on M

eitai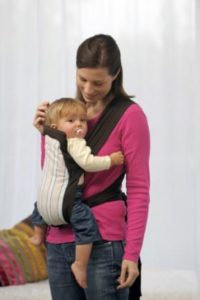 The Meitai is also ideal for older babies who can hold their necks firmly. Meitai is an Asian-style wrap made of straps to attach to the mom and material that holds the baby.
Hands-free breastfeeding Carrier
Hands-free breastfeeding carrier
A hands-free breastfeeding carrier is great for older babies they are challenging to learn how to breastfeed.
We highly recommend LILLEbaby SIX-Position, 360° Ergonomic Baby & Child Carrier since you can carry your baby front, hip, and back carry.
Learn how to breastfeed on a Lille baby carrier
KOALAKIN hands-free breastfeeding sling
KOALAKIN hands-free breastfeeding sling
The KoalaKin, Hands-Free Breastfeeding Pouch helps ease mom's hand, arm, and back strain from holding the baby in the same position.
This product is an easy, comfortable, and adjustable sling that allows switching the baby from side to side.
When you want to lay the baby to sleep this pouch is friendly to unclick the pouch and put the baby to sleep without waking her.
It is created for moms who need little extra support to achieve their breastfeeding goals.
If you have a favorite Hands Free Breastfeeding Products that are Time Saver to a Nursing mom, please share with us using our comment section below.
Related articles