Introducing a pacifier to your baby sometimes can be tricky, some babies love it and others hate it. If your little one won't take a pacifier here are some tricks on how to get baby to take a pacifier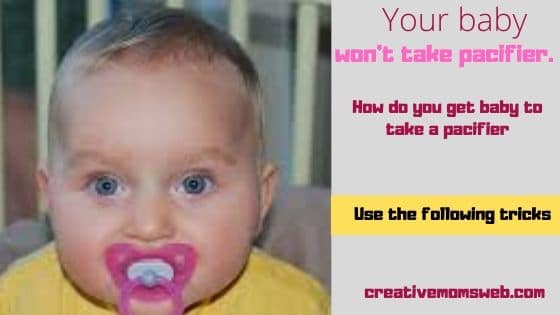 #1: Choose the right time to introduce the pacifier
The American Academy of Pediatrics (AAP) recommends introducing the pacifier when the breastfeeding routine is well established. This is around 3-4 weeks. 
Once your baby gets used to breastfeeding you can start introducing the pacifier.
Also, well-established breastfeeding babies are used to opening the mouth to take a breast if the baby is well fed he/she can take a binky with no problem to satisfy the urge of sucking. 
#2: Using reverse psychology by Dr. Harvey Karp
Dr. Harvey Karp has found reverse psychology as one of the best methods to help the baby take a pacifier and keep it in the baby's mouth.
Put the pacifier in the baby's mouth when the baby has finished breastfeeding/once sucking has slowed or toward the end of sucking.
Once you remove the breast in the baby's mouth slide in the pacifier immediately. 
When the pacifier is snugly in the baby's mouth you should wait for the baby to suck on it.
Once the baby gives a little suck you pull it away a little bit until they suck harder.
The above method according to Dr. Harvey Karp is called reverse psychology and teaches the baby how to keep the pacifier in his mouth. It works best on babies who are 6 weeks old and below.
You can repeat the process a few times a day until the baby gets used to it.
For the first time, the baby can still resist don't give up but repeat the same process a few times a day until your baby gets used to it.
#3: Choose the right pacifier
There is a variety of the pacifier in the market but your baby requires the one that is right for his/her development stages.
If you are introducing a pacifier choose the binky that has a nipple that imitates the breast nipple.
Also, pacifiers come in different sizes according to baby age choose the right size.
In case your baby is in the teething stage you can introduce an orthodontic pacifier.
Best orthodontic pacifiers in the market
#4: Dipping the pacifier in breast milk or formula
You can choose to dip the pacifier nipple in the breast or formula milk before offering it to your baby.
#5: Try a different pacifier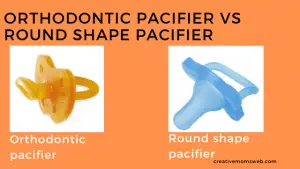 Pacifier comes in different colors, designs, and in two nipple shapes (round-shaped and orthodontic).
Also, there are made of different materials such as silicone or natural rubber.
You may decide to try the different pacifiers until you find your baby's taste.
For instance, if you tried a pacifier made of silicone material and he/she refused you can try the one made of natural rubber. The same case shapes, colors, or designs.
#6: Try your partner or caregiver to introduce a pacifier to your baby instead
This case most applies to a mom who is breastfeeding and not bottle feeding.
If you are breastfeeding, your baby connects you with that kind of comfort. They may refuse to take anything else from you except breastfeeding.
In the same case when weaning most babies refuses to take food when given by their mom they only want to breastfeed and not anything else.
In such an incidence, you can try your partner or caregiver to help introduce the pacifier.
#7: Stop trying continuously if the baby refuses
Your baby can refuse to take the pacifier you can decide to take a break for a few days or weeks.
As your baby grows they keep changing about the likes and dislikes.
After a few days or weeks of break, you can start to introduce a pacifier and see whether she has changed her mind.
#8: Introduce pacifier when the baby is calm/ well feed
Always do not substitute feeding time or your attention with a pacifier. Make sure before giving your baby pacifier is calm, burped, well played, cuddled, and well feed.
Give baby pacifier after he/she is well fed to make sure he gets all nourishment needed.
#9: Try a warm or cold dummy
As said earlier baby's taste can be different some may like something warm and others cold.
You can try to put a pacifier in warm water or put it in the refrigerator to make it cool.
Try to give a pacifier during nap time or bedtime
Watch the video you may learn something on how to get baby to take a pacifier
Tips
Even after trying the above tip if your baby won't take the pacifier as a parent know it is okay and you should not force, just respect her preference and let it go.
Make sure you follow all safety guidelines when introducing a pacifier to your baby.
The safety guidelines include:
Do not tie the pacifier around the baby neck or the crib to prevent the risk of strangulation
Keep the pacifier clean using warm water and soap or pacifier wipes. Do not clean the pacifier using your saliva. Adult saliva may contain bacteria that you can easily spread to your baby and cause oral thrash or cavities.
Do not dip a pacifier into juices or sugar coat because it can cause cavities to your baby.
Do not give pacifiers when the baby has not established a good breastfeeding routine or gained enough weight.
When did your baby start taking pacifiers?
It is recommended to wait until the baby has established a breastfeeding routine and this is around 3 to 4 weeks after birth.
How do I introduce a pacifier to my baby?

Wait until your baby has established a good breastfeeding routine. This is around 3 to 4 weeks.
Make sure the baby is well feed and calm
Simply give the baby pacifier by putting it into the mouth. If the baby refuses to take you can wait for some time and try again or try the above method on how to get the baby to take a pacifier.
When should we wean pacifier?

Try to stop the use of pacifiers when the baby reaches two years. Most Pediatricians advise waiting until the baby reaches 6-months to 12 months so as you can start taking away the pacifier gradually.
At six months the baby has reduced the risk of sudden infant death; after 12 months the pacifier can interfere with the baby's language development skills.
Related articles: