When buying any type of baby monitor one thing to consider is range. Standard baby monitor covers a range of around 600 to 1000 feet but a range above 1000 feet (300m) is considered a long-range when it comes to buying a baby monitor. In case you want a monitor that covers more than 1000 feet that is where a long-range baby monitor comes in.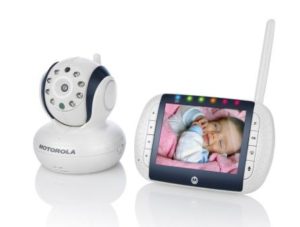 Long-range baby monitor comparisons
For those who don't know, a baby monitor is a device that watches your child when you are in a different room.
For instance, if your child is asleep and you are around the home or garden doing various activities, baby monitors act as an extra ear and eye, it watches and listens to your child while asleep.
How does baby monitors works
I am sure most moms don't know how the device works.
The baby monitor has two parts a radio or transmitter device with a microphone and antenna that are placed in the baby room.
 It has a receiving unit or parent unit in which you place where you are. The receiver should be portable so that the parent can carry it whenever he/ she goes.
Radio or transmitter transmits the signal to the receiving unit.
So when your baby wakes up or cries the receiving unit you have with you, will alert you in the form of sound, alarm, or other ways.
The baby monitor is an excellent device that I'll advise stay-at-home moms who have children age five years and below to buy since it will watch your kid while you are doing house chores. 
Also, for moms who work at home online or do home business a baby monitor is a solution for you.
How to choose a long-range baby monitor
Monitors transmit data or signals from the transmitter to receiver using frequency.
The frequency is measured using megahertz (MHZ)
Most monitors use 49 MHZ which is standard, but there are others that handle up to 900 MHZ which is a more extended range and can be subject to interference.
The new technology monitor has shifted to gigahertz (GHz). They range up to 2.4 GHz.
Most monitors work well anywhere within the standard home.
If you are moving outside the house maybe in the backyard, garden, or garage you need a monitor that has an extended range.
Some manufacture boost distance up to 600m which is a good range for a parent working outside the house.
There are two types of baby monitors. These include:
Audio monitors only transmits sound to the receiver.
Video monitor allows the parent to watch the baby while the baby is asleep.
Monitor transmits signals in two ways Digital or analog.
Analogue is an old method that picks up other signals from other electronic devices such as radio, television, and telephones.
It is not best because it will provide interfered signals rather than of your child.
Digital is the best, and most modern monitors transmit signals using this method. It doesn't pick signals from other electronic devices in the house.
The signals are not likely to interfere.
It is one of the factors that you must check when you are choosing a baby monitor.
Monitors are designed using a technology called digital enhanced cordless technology (DECT)
The technology ensures the nursery or baby room images, video, and sounds cannot be seen or heard by the neighbors or strangers.
Also, the DECT technology is designed such that the transmitted signal from the monitor can only be understood by the receiver, no other gadgets.
There is another technology called digital lock which prevents the video from being seen by other people, neighbors, or strangers.
Make sure your monitor has such technology features to ensure maximum security for your baby.
The monitor has two parts transmitter and receiver. The transmitter is placed in the baby room and receiver that you carry around.
Make sure the receiver is light and can be carried easily in the pocket or clipped to the belt.
Sound activated light
The receiver flashes or lights up when the sound or noise is detected in the child's room.
You can track the child when talking, when headphones are on, vacuuming, and listening to the radio.
Multiple receiver and transmitter
The standard baby monitor has one receiver and transmitter.
A baby monitor with multiple receivers and transmitter means you can leave one receiver in the house with a caregiver and carry the other one in the garage or garden.
Most monitors brand you can buy an additional receiver to serve when need extra.
For instance, you have more than one room that you need to track you need more than one monitor to serve you better.
Remote access
Nowadays monitors are manufactured using advanced technology there is a monitor that is connected to laptops, tablets, and smartphones so you can watch the baby from anywhere.
You can use WiFi to watch the baby.
Out of range signal
When you move far from a distance required the receiver will alert you that you are out of range and you won't be able to receive the transmitted signal.
Talkback feature
There is a monitor that allows talking to the baby using a receiver when you are in the other room.
Night vision
Night vision helps because you can see the baby when sleeping in a dark room.
Sooth music or lullabies
Some monitor plays songs or soothing tune when the baby cries.
Room temperature tester
Some monitors have an inbuilt thermometer that helps detect the baby's room temperature.
Power
The baby monitor requires to be charged. Some use batteries or can be charged using electricity.
Make sure you choose the monitor with a power source available in your areas.
There are some monitors that use both batteries and electricity. When there are power outages you can put the battery and still use your monitor.
Also, serves you best when traveling to remote areas where there is no electricity.
Low battery indicator
You need a monitor that signals when the battery is almost finished or alert it's time to charge.
SD slot
It helps to record the video or audio
Nightlight
Provide light at night to your baby room
Power saving option
13 Best long range baby monitors 2020
Long-range baby monitors reviews
Do I need a monitor?
Most moms say the baby monitor is not a necessity, but my advice this is one of the gadgets that will give you peace of mind.
You don't have to keep running to check on your sleeping baby.
If your baby sleeps in a different room, you need a monitor to signal you when the baby has woken up for breastfeeding, changing a diaper, or comforting.
For instance, you work outside the house like gardening, laundry, and cleaning house where you can't see or hear the baby clearly; the monitor might be a help to you.
Those parents with visual disabilities can use the audio monitor to watch for her baby.
What about parents with a hearing disability? The video monitor is a help to them.
If your home is sound-proofed or the house has thick walls you can use the monitor to watch your baby efficiently.
What is the longest range of baby monitors?
Standard baby monitor covers a range of around 600 to 1000 feet. The longest range of the baby monitor is 2000 feets
How far will a baby monitor transmit?
Standard baby monitor covers a range of around 600 to 1000 feet but there are some brand that covers up to 2000 feet
More related baby safety product