An orthodontic pacifier is only recommended for babies age six months and above.
As your baby grows and reaches six months and above you will need a pacifier that will not interfere with jaw development and reduces pressure on developing teeth.
Orthodontic pacifiers are designed to prevent tooth misalignment. Finding the best Orthodontic pacifiers is not easy. That is why we have created a list of the best orthodontic pacifiers.
Best orthodontic pacifier comparisons
Orthodontic pacifier Meaning
Orthodontic pacifiers sound like a scientific name, so it becomes a confusing word to many people what they are.
For those who do not know Orthodontic pacifier is a type of pacifier which fits your baby's mouth better than a round-shaped pacifier.
It has a nipple that is round at the top and flattened at the bottom. The figure looks like a scoop-shaped nipple.
This unique design offers enough space for the tongue to move, reduces pressure on developing teeth, prevent tooth misalignment, and encourages the natural development of the jaw and teeth
Orthodontic pacifiers do not interfere with your baby suckling. During sucking the nipple flattens in the baby's mouth like the mother's nipple, therefore, provides natural sucking action reducing pressure on the gums during teeth development.
This type of pacifier can be introduced after four weeks when breastfeeding habits are firmly well-established.
Also, dentists and pediatricians recommend the use of Orthodontic pacifiers from four weeks, but if your baby has not established a good breastfeeding habit, you can start introducing your little one with a pacifier for breastfeeding babies or a round-shaped pacifier.
Also, the American Academy of Pediatrics (AAP) advises a parent to introduce a pacifier at naptime to reduce the risk of sudden infant death syndrome SIDS
What is an Orthodontic pacifier made from?
Most pacifiers are made from silicone and latex.
The silicone material is hard for the baby to bite, easy to clean, sturdy, and doesn't keep odor.
Latex material is a soft material that may encourage the child to chew easily.
What to consider when buying an orthodontic pacifier
Look for a pacifier that has vent holes in the shield
Pacifier tends to have moisture under the shield this causes your child to develop rashes.
Make sure around the shield it has vent holes to let air get to the baby's skin, therefore, prevent your baby from rashes.
Always make sure all your baby products are easy to clean to prevent contamination.
The same case to pacifiers makes sure it can be easy to clean, sterilized, boiled, or dishwasher safe.
Choose one piece model pacifier.
The one-piece is made of a single material, so there are no chances for pacifiers to easily come apart reducing the risk of choking.
The nipple should be soft and made of a material that is not allergic to your baby.

The pacifier should be at least 1-1.5 inches across so the baby should not put the whole pacifier in his/her mouth, therefore, preventing choking.
Top 15 best Orthodontic pacifiers
Orthodontic pacifier for baby and toddler reviews
How many orthodontic pacifiers do you need?
You need two or three pacifiers. One in hand to use in case of loss or you has dropped on the dirty floor. to avoid frequent falling on the ground you can use a pacifier clip.
You need to have an extra pacifier to use between washings.
How to clean orthodontic pacifiers
Clean the pacifier using clean, warm water and mild soap. Rinse thoroughly after washing and then sterilize by putting it in the boiling water for few minutes or use a sterilizer. You can use the dishwasher (top rack only) to clean your pacifier. Never place your baby pacifier in your mouth to clean it with your saliva.
The comparison video between round-shaped and orthodontic pacifier
Are orthodontic pacifiers safe?
The pacifier is safe for a baby under 2-years old.
Pacifiers have a negative effect on children above 2 years. It affects baby's teeth alignment and mouth shape.
The pacifier should be introduced until the baby has established good breastfeeding habits. This is around three to four weeks old to most babies. Introducing at such time helps prevent nipple confusion.
Use of a pacifier for the first one year help reduce sudden infant death, strengthen jaw muscles, and provide comfort for your baby.
Orthodontic pacifier vs. round pacifier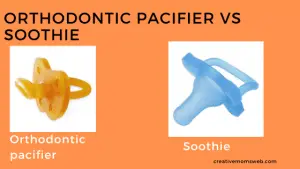 The difference between the orthodontic and round pacifiers is the shape of the nipple.
The orthodontic pacifier has a nipple that is flattened at the bottom and round at the top
The soothie has a round-shaped nipple like a feeding bottle and imitates the breast nipple.
Do pacifiers cause orthodontic problems?
Prolonged use of pacifier cause the dental problem
Are orthodontic pacifier better?
Most people worry use of pacifiers because it causes baby teeth problems and for this reason, the orthodontic pacifier was invented.
Orthodontic pacifiers were designed to protect against teeth problems in the baby's life later.
But both traditional round-shaped nipple pacifiers and orthodontic pacifiers have been found to cause teeth problems.
The only solution to the dental problem caused by pacifiers is to minimize the amount of time a baby spends with the pacifier and take away the pacifier before the baby turns two years old.
Do you use a pacifier on your baby please tell us which type do you prefer angled shaped nipple, round-shaped nipple, butterfly, or round shape shield.
Please let us know in the comment section below
Related articles: