An orthodontic pacifier is only recommended for babies at age six months and above.
As your baby grows and reaches six months and above you will need a pacifier that will not interfere with jaw development and reduces pressure on developing teeth. 
Orthodontic pacifiers are designed to prevent tooth misalignment. Finding the best Orthodontic pacifiers is not easy. That is why we have created a list of the best orthodontic pacifiers.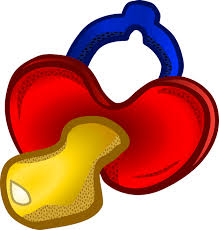 Comparison table of the Best orthodontic pacifier 
Orthodontic pacifier Meaning
Orthodontic pacifiers sound like a scientific name, so it becomes a confusing word to many people what they are.
For those who do not know Orthodontic pacifier is a type of pacifier which fits your baby mouths better than a round shaped pacifier.
 It has a nipple that is round at the top and flattened at the bottom. The figure looks like the scoop-shaped nipple.
This unique design offers enough space for the tongue to move, reduces pressure on developing teeth, prevent tooth misalignment and encourages the natural development of jaw and teeth
Orthodontic pacifiers do not interfere with your baby suckling. During sucking the nipple flattens in the baby's mouth like the mother nipple, therefore, provides natural sucking action reducing pressure on the gums during teeth development.
This type of pacifier can be introduced after four weeks when breastfeeding habits are firmly well-established.
Also, dentist and pediatricians recommend the use of Orthodontic pacifier from four weeks, but if your baby has not established a good breastfeeding habit, you can start introducing your little one with a pacifier for breastfeeding babies or round shaped pacifier.
Also, the American Academy of Pediatrics (AAP) advises a parent to introduce pacifier at naptime to reduce the risk of sudden infant death syndrome SIDS
What is Orthodontic pacifier made from?
Most pacifiers are made from silicone and latex.
The silicone material is hard for baby to bite, easy to clean, sturdy and doesn't keep odor.
Latex material is a soft material which may encourage the child to chew easily.
What to consider when buying an orthodontic pacifier
Look for a pacifier that has vent holes in the shield
Pacifier tends to have moisture under the shield this cause your child to develop rashes.
Make sure around the shield it has vent holes to let air get to the baby skin, therefore, prevent your baby from rashes.
Always make sure all your baby products are easy to clean to prevent contamination.
The same case to pacifiers make sure can be easy to clean, sterilized, boiled or dishwasher safe.
Choose one piece model pacifier.
The one piece is made of a single material, so there are no chances for pacifier easily come apart reducing the risk of choking.
The nipple should be soft and made of a material that is not allergic to your baby.

The pacifier should be at least 1-1.5 inches across so baby should not put the whole pacifier in his/her mouth, therefore, preventing choking.
Related articles:
Here is the review of best orthodontic pacifier 
We participate in affiliate programs from various companies mentioned in this post and earn a commission when you click from our site. It won't charge an extra cost but you will get a small commission. Read the disclosure.
Night time orthodontic pacifier
Night Time orthodontic Pacifier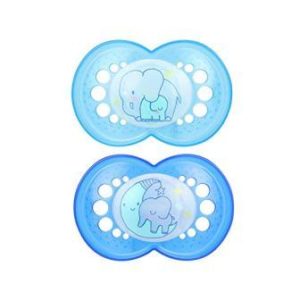 Check best price
Material- silicone
Nipple shape- symmetrical orthodontic nipple
Age- 6-18 months
MAM pacifier is designed by parents and the medical expert to feel like breast nipple to relax babies who are six months and above.
Made of silicone material which makes easier to clean the pacifier and sterilize in the microwave for three minutes.
The pacifier comes with a case for keeping MAM pacifier clean which is also easy to sterilize in the microwave, ideal for traveling and on the go.
MAM pacifier is the right product to use at night it glows softly in the dark making it simple to be found at night without switching on the light.
The MAM pacifier has large holes that allow air in to reach the baby's skin, therefore, allows the baby skin to breathe preventing your child from skin irritation.
It has a curved shield and innovative bump in the inner shield surface which prevents the pacifier from lying completely to baby's face and keeping the drool from becoming trapped against the skin.
If you are worrying whether you are going to place the pacifier in the wrong direction this brand is designed with that in mind, it has large orthodontic symmetrical nipple so the nipple can never be placed the wrong way always right side –up or upside down.
Also, orthodontic nipple ensures the proper development of baby's teeth, gum, and palate.
Philips AVENT Orthodontic Pacifier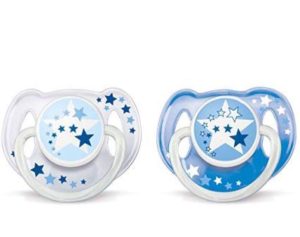 Check best price
Material- silicone
Nipple shape- symmetrical orthodontic nipple
Age- 6-18 months
Made of silicone that makes the Philip AVENT pacifier easy to clean, dishwasher safe, BPA free, can be sterilized, won't become misshapen and discolored over time.
Also, the silicone pacifier is taste and odor free making it an easy transition between pacifier, breast or feeding bottle.
It comes with a snap on hygienic cap to keep the nipple clean and includes two pacifiers inside the package.
The pacifier has symmetrical orthodontic nipple designed for natural oral development and ideal for age range 6-18 months.
It has a handle that glows in the dark making it easier for parents and babies to find the pacifier in the dark.
Featuring handle glow in the dark or night time that makes the pacifier ideal for night time use.
Tommee Tippee Orthodontic Pacifier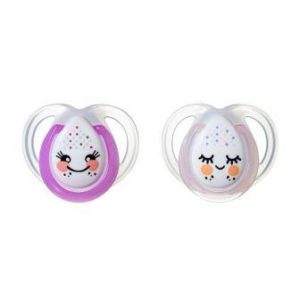 su_button url="https://amzn.to/2RCGSHM" target="blank" style="soft" background="#eb1811″ size="10″ text_shadow="0px 0px 0px #2a9010″]Check best price[/su_button]
The Tommie tippee orthodontic nipple is available in three age stages 0-6 months, 6-18, and 18-36 months. 
It is also available in a pack of two, three, four and six.
Find out more packaging here 
This pacifier is made of silicone and polypropylene which is BPA and phthalate free.
orthodontic baby pacifier 6+ months
Orthodontic Baby Pacifier 6+ Months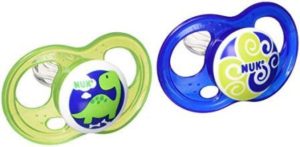 Check best price
Material- silicone
Nipple shape- orthodontic asymmetrical nipple
Age- 6-18 months
The pacifier has unique infinity shield design with large air holes which allows airflow for a comfortable fit on baby's face with less skin irritation.
With orthodontic asymmetrical nipple shape naturally fits baby's mouth and less palate pressure. The scoop nipple shape maximizes tongue movement.
This pacifier is appropriate from 6-18 months and is sold two in one pack. It is also available in the other two age stages 0-6 Months, 0-3 Months and 18 months +.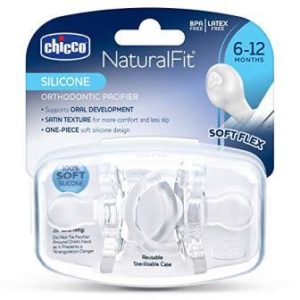 Check best price
Material- silicone
Nipple shape- angled shaped nipple
Age- 6-12 months
The Chicco pacifier had tiny ridges, grooves and angled shaped nipple that allows even distribution of the tongues pressure against the palate, natural positioning, and movement of the tongue.
It is sold in two pieces which comes in a sterilizable case for easier storage.
This pacifier is ideal for 6-12 months but available in different age stages o+ months,  0-2 months, and 12 months +.
The shield is soft, has curved shape, one-piece construction and ventilation holes for air circulation to help prevent skin irritation due to a gathering of saliva.
With narrow base makes the pacifier allows for extra flexibility and optimal mouth closure.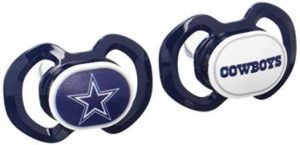 Check best price
Material- silicone nipple and plastic shield
Nipple shape- N/A
Age- N/A
The baby Fanatic, Dallas Cowboys pacifier, is made of silicone nipple and plastic shield which is BPA free.
In the package includes two pacifiers decorated with team logo and colors.
Munchkin Latch Lightweight Pacifier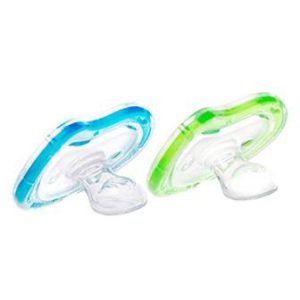 Check best price
Material- silicone
Nipple shape- N/A
Age- 6+months
The Munchkin pacifier is designed with pediatric, dentist, and mom to soothe the baby.
It is made of silicone that is lightweight and one-piece construction to keep germs out.
This product is ideal for 6+ Months, but Munchkin pacifier is also available for different age stages – 3+ Months and 0+ Months
Featuring naturally shaped nipple and heart-shaped shield that fits comfortably under the bay's nose and mouth.
Natural rubber orthodontic pacifier
Natural rubber orthodontic pacifier
HEVEA Star & Moon Orthodontic Pacifier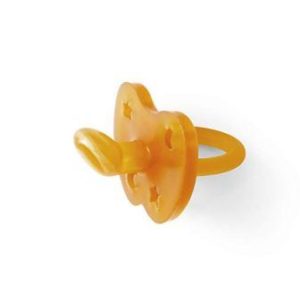 Check best price
Material- Natural rubber
Nipple shape- N/A
Age- 3-36 months
The HEVEA orthodontic pacifier is made of natural rubber which is completely free from PVC, BPA, phthalates, plastic and artificial colors.
Features ergonomically Butterfly-shaped shield is allowing the pacifier fit comfortably on your baby's face and allows space for the baby's nose and chin.
The seamless construction or one-piece eliminates cracks and joints, therefore, prevent the build-up of harmful bacteria making it highly hygienical.
It has orthodontic ventilated teat which fit naturally between tongue and palate. Also, has ventilation holes in different shapes- (star and moon, Car & Ufo, flower, and duck) that allow free air circulation.
Ecopacifier NP Orthodontic Style Natural Rubber Pacifier by ecopiggy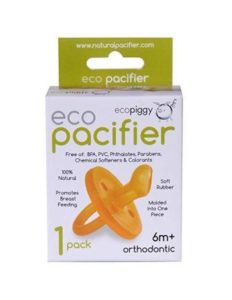 Check best price
Material- Natural rubber
Nipple shape- N/A
Age- 6 months and up
The ECO orthodontic pacifier is made of natural rubber which is free from BPA, Pvc, Phthalate, Paraben, chemical softeners or colorants.
It is appropriate for six months and up. Also available for 0-6months 
Organic lifestyle natural rubber pacifier
The pacifier is made of natural rubber which PVC, BPA, phthalates and artificial colors free. Natural rubber is an excellent alternative to plastic-based pacifiers. The material is soft and gentle on baby's delicate skin.
It on piece pacifier design meaning no cracks, joints or edges, therefore, eliminate hiding areas for bacteria or germs.
Features anatomical shape making the pacifier leave enough room for the tongue and eases airflow within the mouth. Also, the shape to support the shape of mouth, palate, and jaws. The anatomical shape simulates the shape of mother nipple so that to encourage suckling the natural way.
It has an ergonomic shape with plenty of space for the nose and chin.
This product is tested to prove they meet EU standard EN1400, US regulations CPSIA and AUS regulation AS 2432-1991
It measures 8 x 4 x 12.5 cm and ventilation holes to let moisture out, therefore, eliminate allergies in babies.
Organic lifestyle pacifier is available for available for 0-3 months and 3-36months. It also comes in two design crown, star, and moon.
Natursutten BPA-Free Natural Rubber Pacifier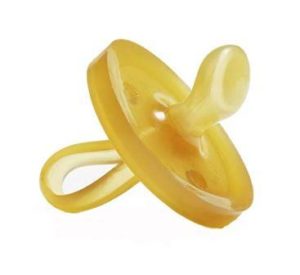 Check best price
The Natursutten pacifier is made of natural rubber which has no BPA, PVC, phthalates, chemical softener and artificial coloring.
It is one piece construction meaning it has no joints and cracks where dirt can hide therefore eliminates the accumulation of germs and bacteria.
The pacifier meets pacifier safety requirement as determined by European and US standard
This pacifier is suitable for 0-6 months but also available for 6-12 months, 12 Months and above 
orthodontic baby pacifier 0-6months
Orthodontic pacifier from 0-6 months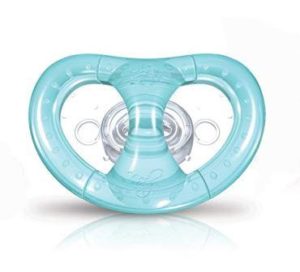 Check best price
The NUBy pacifier has orthodontic pacifier which promotes oral development.
It has soft and has natural flexing action that imitates the motion of the mother's nipple during feeding which is easy to hold in the mouth.
With teething a nub which helps massages and soothes baby's sore gum.
In the package come in two packs which are Phthalate Free, BPA Free, Latex Free, and PVC Free. It also comes in different packaging three packs and 4- 2PKS, Total of 8 pacifiers
The First Years GumDrop Orthodontic Pacifier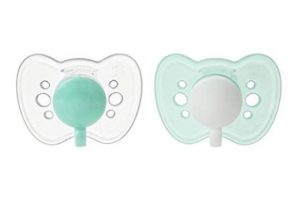 Check best price
It is constructed using latex-free silicon and contoured design to fit baby's face while staying clear of his or her nose.
Featuring orthodontic nipple that may help promote healthy oral development and perfect for babies from 0-6 months.
This product is available in different in assorted bright colors and patterns. You can match with your baby's wardrobe. Choose the color and design you will like here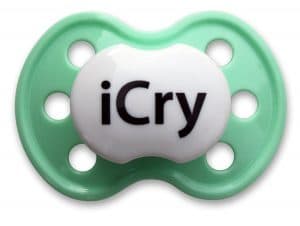 Check best price
The Boggin head pacifier is made of silicone, which is BPA, PVC, and phthalate-free.
It features orthodontic silicone nipple designed to ensure the safe, natural development of your child's palate, teeth, and gum
This pacifier conforms to all CPSIA and CPSC regulations.
It is ideal for babies from 3 months and above.
baby pacifier thermometer
Best baby pacifier thermometer 2019
Where to buy best baby pacifier thermometer
Summer Infant Pacifier Thermometer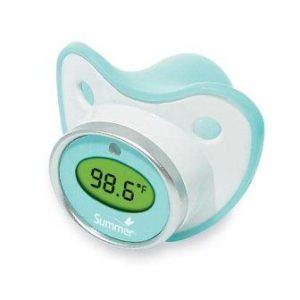 The thermometer features fever alert glow which indicates temperature and beep when readings are done.
It has a memory which recalls last-child readings
Summer infant can provide measurement in both Celsius and Fahrenheit.
It has a comfortable orthodontic nipple.
It comes with a protective cover for clean storage or travel.
TenderTykes  Pacifier Thermometer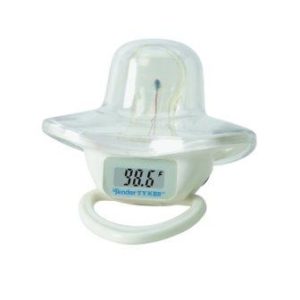 Made of nontoxic material, BPA free plastic and orthodontic which who is waterproof and impact resistant makes it safe for the child 
It comes with storage cover which keeps nipple clean.
The thermometer gives accurate temperature reading and has memory reading which gives the last result.
It has Non-replaceable battery sealed for safety.
This pacifier type thermometer monitors child temperature after every five minutes and automatically shut off after approximately 25 minutes.
The product indicates a temperature above 99.9 degrees Fahrenheit.
How many orthodontic pacifiers do you need?
You need two or three pacifiers. One in hand to use in case of loss or you has dropped on the dirty floor. to avoid frequent falling on the ground you can use a pacifier clip. 
You need to have an extra pacifier to use between washings.
How to clean orthodontic pacifiers
Clean the pacifier using clean, warm water and mild soap. Rinse thoroughly after washing and then sterilize by putting it in the boiling water for few minutes or use sterilizer. You can use the dishwasher (top rack only) to clean your pacifier. Never place your baby pacifier in your mouth to clean it with your saliva.
The comparison video between round-shaped and orthodontic pacifier
Are orthodontic pacifiers safe?
The pacifier is safe on a baby under 2-years old. 
From the above 2 to 4 years has a negative effect on your baby teeth alignment and mouth shape.
The pacifier should be introduced until the baby has established good breastfeeding habits. This is around three to four weeks old to most babies. Introducing at such time helps prevent nipple confusion.
Use of pacifier at for the first one year help reduce sudden infant death, strengthen jaw muscles, and provide comfort for your baby.
Orthodontic pacifier vs. round pacifier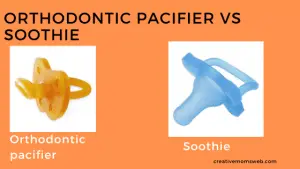 The difference between the orthodontic and round pacifier is the shape of the nipple.
The orthodontic pacifier has a nipple that is flattened at the bottom and round at the top
The soothie has a round-shaped nipple like a feeding bottle and imitate the breast nipple.
Do you use a pacifier on your baby please tell us which type do you prefer angled shaped nipple, round-shaped nipple, butterfly or round shape shield.
Please let us know in the comment section below
Liked this post? Pin it!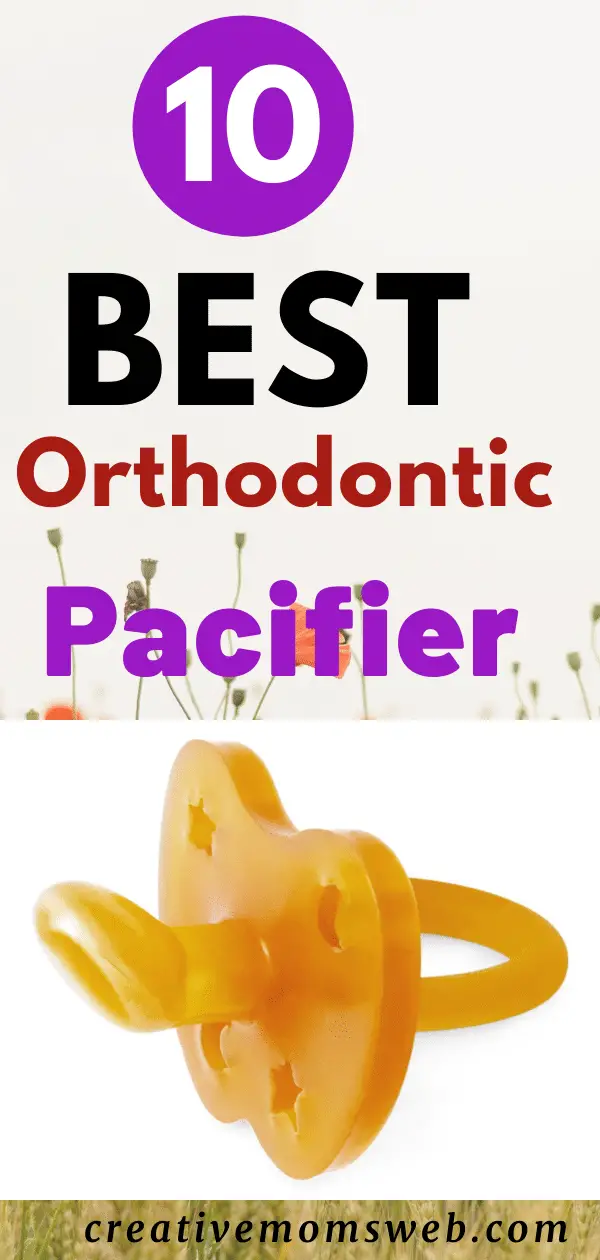 More baby and mom products suggestions