A woven baby wrap is a simple piece of woven fabric that is wrapped around you and your baby.
Woven baby wrap carrier comparison
What is a woven baby wrap
It is a long piece of cloth that is used to carry your baby.
It is made of varieties of fabric and blends such as cotton, linen, hemp, wool, bamboo, and silk which are woven on a loom by hand or machine.
It can be used from day one when your baby is born until they become a toddler.
How to position woven wrap
They can be placed in different ways. It can be used:
Front carry

Back carry

Hip carry

An asymmetrical carry,

Torso carry
How to position your baby using a woven wrap front carry
Woven wrap buying guide
How do i choose a woven wrap. The following are factors to consider
Woven wrap sizes
Weight
Fabric
Thickness
Most manufacturers recommend the woven wrap to be used from birth to 40-45lbs.
The size of the wrap you need depends on your body size and which position (front, back & hip) you need to wear your baby. Many people choose a wrap which they can use to tie front wrap carry cross and tie behind your back referred to as your base size.
For you to know the correct size of a woven wrap, you need to know your T-shirt size(s, m, L, XL, XXL, 3X).
The wrap is measured in meters commonly referred to in sizes.
For easier understanding:
2.7 meters woven wrap is Size 2 – very small and can be used as a scarf.
3.1 meters of woven wrap is Size 3-.
3.6 meters woven wrap is size 4- best size for those wearing XS or S t-shirts, but if you are wrapping a toddler you need to size up to size 5
4.2 meters woven wrap is size 5- best size for those wearing S or M t-shirts. Size up if you are carrying a toddler.
4.6 meters woven wrap is size 6- this is the most popular woven wrap because it is best to average wearers and for those wearing a medium, large, and XL T-shirt
5.2 meters woven wrap is size 7- if you weigh more than 180lbs, have broad shoulders and large breasts this is the best size for you. Also, the best size of those wearing XL or 2X t-shirt sizes.
5.6 meters woven wrap is size 8- best for those who wear 2X or 3X t-shirts or dress size 22US/24UK or larger.
Most stretchy wrap brands come in one size that fits all, and that is size 7 or 8.
They are made of different fabric such as
Cotton- best for any baby age, affordable, best for the first-time wearer, and soft.
Linen- best for toddlers and hot weather because are thin and breathable. Some linen wraps are blended with other materials such as cotton. The linen woven wrap is not best for first-time wrappers.
Wool- soft, breathable but not comfortable to maintain.
Hemp- is most expensive, thicker than linen, and best for heat during the summer season.
Silk – woven wrap made of silk are tricky to buy. Make sure its thickness and weight are appropriate with the weight of the baby you are carrying. Thicker silk is best for carrying a toddler comfortably. Look for much thicker silk wrap as your baby add weight if not it will start digging on your shoulders. They are soft and easy to maintain hand wash in lukewarm water and hang out to dry not direct sunlight. You can throw it into the washing machine.
Bamboo- they are soft and hypoallergenic making them best for the newborns sensitive skin. The bamboo woven wrap is frustrating to tie appropriately not best for first-timers.
Blend – this is woven wraps made of a combination of more than one material. Others are made of recycled material such as water bottles, Eucalyptus pulp, and recycled fabric scraps.
How to tell the right thickness/ thinness
The thickness of the woven wrap is measured in weight – Grams per meter squared (g/m2).
Up to 180 g/m2 very thin

180 – 220 g/m2 thin best for newborn

220 – 260 g/m2- medium best for new wrappers.

260 – 300 g/m2- thick

300 g/m2- very thick
Thick and very thick best for the person who is used in wearing. They can be harder to tighten the knot and also the knot can be enormous to work.
Woven wraps are the best way to wear your infant all the way toddler years. Following the above guide, you will be able to get the right woven wrap for your baby.
Different between a woven wrap and a stretch wrap
A woven wrap is woven on a loom using hand or machine and has no stretch length or width while stretch wrap has a lot of stretch on them.
Stretch wrap comes in a plain color, one size that fits all (around 5.5 meters, between a size 7 and size 8) while woven wraps have different sizes (explained above) and are colored.
Stretch wrap can be used in hip and front carries but not for back carries while woven wrap can be used for back, front and hip carries.
Stretch wrap is suitable only for few first months of your infant while the woven wrap is ideal for newborns and toddlers
Stretch wrap are not supportive to carry heavy babies comfortably meaning they have a limited lifespan while the woven wrap is made of sturdy material makes them be able to support much more baby weight.
Stretch wrap is easier to use it can be pre-tied before the baby is in while woven wrap cannot.
Best woven baby wrap carrier reviews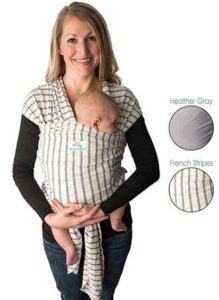 Summary
Weight limit- newborn+

Carries- front tummy to tummy and hip carries

Material –cotton and spandex blend

Available colors-3
3-in-1 baby wrap that can be used as a carrier, nursing cover for breastfeeding and blanket to keep baby comfy.
Made of cotton and spandex blend makes it easy for Bambini & me woven wrap easy to wash even after baby drools, spit-up, and diaper leaks mess. The fabric is also machine washable and soft on the baby's skin.
This product is perfect for breastfeeding and has a dimension 205" x 22."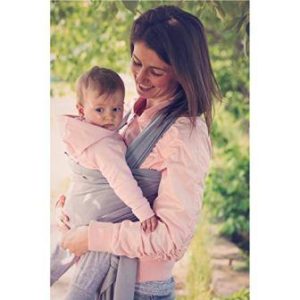 The Totwrap woven wrap is made of cotton and spandex which is breathable, do not sweat
Organic Woven Wrap Baby Carrier Green Miel et Malice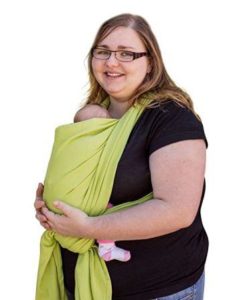 This product is made of organic cotton dyed with non-toxic dyes in beautiful colors making it machine washable.
It provides comfortable full-torso weight distribution for the front, back, or hip carries and ergonomic support to parent and baby.
The Green Miel et Malice is suitable for babies from birth through the years.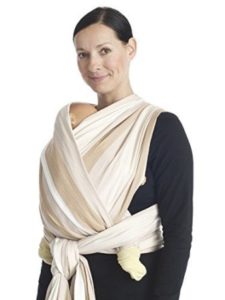 Made of organic cotton which makes Dolcino Woven Ring Sling machine washable.
The Non-stretch woven yarn-dyed according to IANT standard and holds babies from 8lbs up to 60lbs.
What others are reading
Liked this post pin it