As a stay-at-home mom, you are a superhero juggling countless responsibilities, but it's equally important to take time for self-care. Those moments of self-pampering can make a world of difference in your well-being. One often underestimated aspect of self-care is the choice of home footwear. In this blog post, we'll delve into the recommended Home Footwear for Self-Care and significance of self-care for stay-at-home moms.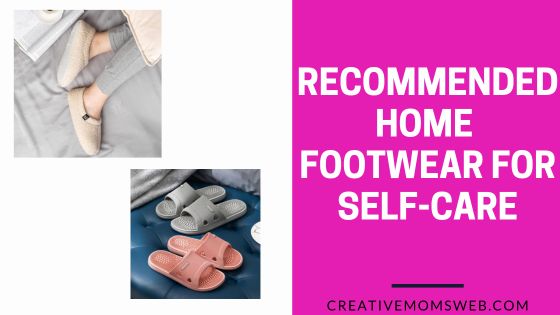 The Importance of Self-Care for Stay-at-Home Moms
Before we dive into footwear recommendations, let's briefly touch upon why self-care is crucial for stay-at-home moms:
Recharge Your Batteries: Self-care is like recharging your batteries. It gives you the energy and resilience to tackle your daily tasks and challenges with a positive mindset.
Mental Well-Being: Self-care practices, even small ones, can significantly improve your mental health. It's a way to manage stress, anxiety, and feelings of overwhelm.
Modeling Healthy Habits: When you prioritize self-care, you're not only benefiting yourself but also setting a healthy example for your children. They learn the importance of self-care by watching you practice it.
Balanced Life: Self-care helps you strike a balance between your role as a mom and your identity as an individual. It reminds you that you deserve care and attention too.
Choosing Comfortable Home Footwear for Self-Care
Now, let's explore how your choice of home footwear can enhance your self-care routine:
Plush Slippers:
Invest in a pair of plush, memory foam slippers that cradle your feet in comfort. They're perfect for those moments when you want to unwind, read a book, or enjoy a cup of tea.
Some of the recommended plush slippers include
Litfun Women's Fuzzy Memory Foam Slippers Fluffy Winter House Shoes Indoor and Outdoor
The Ethylene Vinyl Acetate sole of these cozy slippers provides exceptional comfort and durability. With a wool-like faux fur lining and soft coral fleece interior, complemented by breathable suede and a plush collar, these slippers offer warmth and comfort throughout the day. They feature a premium memory foam footbed that molds to your foot's shape, offering both cushioning and support, making it feel like you're walking on a fluffy pillow. The ultra-light rubber sole is robust and has anti-slip texture, ensuring a secure grip for indoor and outdoor use, whether it's walking the dog, running errands, or checking the mailbox. These slippers are also easy to maintain, as they can be machine-washed in cold water, and they remain fresh and durable over time. Their luxurious style makes them an ideal winter gift for family and friends, all at a competitive price.
RockDove Women's Teddy Fleece Closed Back Indoor Slipper
These closed-back slippers feature a rubber sole that provides reliable traction and durability, ensuring your feet stay secure and protected from heel to toe, even during moments of relaxation. The Sherpa fleece upper is incredibly cozy and gentle on the skin, complemented by a breathable microfiber lining that keeps sweat and odors at bay. These slippers are ideal for spring and autumn wear, and for colder winter days, they pair perfectly with thick socks for added warmth. RockDove slippers are not only comfortable but also environmentally friendly, as they are vegan and machine washable. The memory foam footbed offers cushioned comfort akin to resting on a pillow, and the ergonomic design with a roomy toe box ensures your toes won't feel cramped. The slightly inclined back of the slipper grips your heel securely, preventing any slipping with each step. Furthermore, the lightweight rubber soles allow you to move quietly in the bedroom while protecting your feet on cold, hard floors. They are also suitable for quick trips outside to grab the mail. When it comes to sizing, consider going up by one size if your regular shoe size falls between two size ranges. These slippers are listed in medium width, so adjust accordingly for a wide or narrow fit.
NineCiFun Women's Slip on Fuzzy House Slippers
These open-back fuzzy bedroom slippers with a rubber sole offer easy slip-on style and ultimate comfort. Crafted with fluffy plush and a soft plush faux fur lining, they feel like a dream, providing a cloud-like experience for your feet. Their chic design features a knitted upper and horn button detail, making them a stylish choice for women and girls. Thanks to the high-density memory foam footbed, these slippers offer lasting support and comfort, whether you're relaxing at home or working in the office. Their versatile nature allows for indoor and outdoor use, as the textured bottom grips to the floor, and the rubber outsole muffles your steps, making them ideal for bedroom use. With a variety of colors to choose from, these slippers make an excellent Christmas and New Year's gift for women of all ages and lifestyles, perfect for expressing warmth and love to your mom, surprising your loved ones, or treating your family. Plus, they are easy to clean, as you can either hand wash them or use a washing machine with cold water, just remember to place them in a shoe bag before washing.
Massage Slides:
Consider massage slides or sandals with acupressure points. These not only provide comfort but can also stimulate blood flow and relax your feet.
Recommended massage slides
Acupressure Massage Slippers for Plantar Fasciitis for Women
BYRIVER Foot Reflexology Tools Pressure Point Massage Mat Slippers Slides Sandals Shoes
Cozy Socks:
Soft and cozy socks are a simple pleasure. Opt for a pair made from breathable materials that keep your feet warm without overheating them.
UGG Women's Cozy Chenille Sock
Open-Toe Slippers:
If you enjoy pedicures as part of your self-care routine, open-toe slippers are ideal. They allow your freshly pampered toes to breathe and dry without smudging your nail polish.
Joomra Pillow Slippers for Women and Men Non Slip Quick Drying Shower Slides Bathroom Sandals
Fuzzy Booties:
On colder days, treat yourself to fuzzy booties with non-slip soles. They provide warmth and a sense of coziness that's perfect for lounging.
WOJWSKI Slipper Socks for Women Cozy Warm Lined Slippers with Non-Slip Indoor Slippers
Aromatherapy Footwear:
Some slippers and sandals come infused with aromatherapy scents like lavender or eucalyptus. These can add a soothing dimension to your self-care rituals.
Bed Buddy Foot Warmers with Aromatherapy
Conclusion
Self-care is a vital practice that every stay-at-home mom should embrace. It's not selfish; it's self-preserving. And your choice of home footwear plays a role in this. By investing in comfortable and nurturing home footwear, you're taking another step towards prioritizing your well-being. So, on those self-care days, slip into your favorite cozy slippers, relax, and let the pampering begin. Your body and mind will thank you for it.