Here is the simple stay at home mom schedule for a toddler 2 to 5-year-old that is working for me.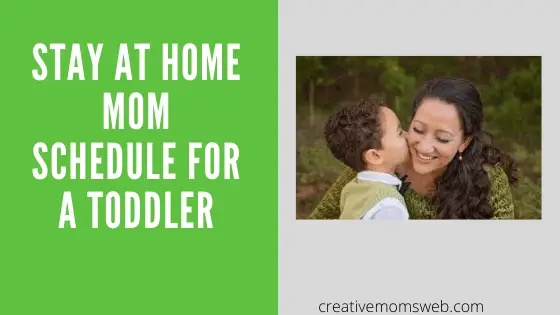 Here is Stay at home mom schedule for a toddler
My schedule for five and one year old
5:30 Am
Wake up and prepare breakfast
5:45 Am
Take breakfast together with my husband
5:55 Am
My husband leaves home to go to work
6:00 Am
Back to sleep for 30 minutes (I always tell Mom's naps in between makes your body feel relaxed and fresh to work for the next hours).
6: 30 Am
I wake up have a bath for 15 minutes and make my bed.
6:45 Am
Wake my five-year-old son.
6:50 Am
My son takes breakfast, and my daughter is up for a cup of milk.
7:00 am
Prepare my son to go to school
7:20 am
Take my son to school
7:35 am
Back from school and make breakfast for my one-year-old daughter
8:00 am
Baby naps for 2 hours (if your child has a sleeping problem this book can help you).
8:10 am
Start my online jobs. I work on my blog since my daughter will sleep for two hours (check online jobs, crafts, or business you can do at home as a Stay at home mom).
Two hours are enough to write a new blog post since its morning; there is no interruption and the mind is fresh.
9:30 am
I take my 10 o'clock snack as I meditate about my day. I love doing it alone for 30 minutes before my daughter wakes up.
10:00 am
The baby wakes, and she eats her breakfast. At this time I am energized after taking a snack, the little one is full we take 30 minutes to play. If you have other children at home for holidays, you can read a book together or do some art in their drawing books.
11:00 am
I am still energized after taking a snack and happy mom after playing with my daughter, so I start my cleaning time. This the time I do laundry, it takes one hour or less since I do laundry daily.
My daughter is either seated on the baby activity center playing or sitting on the mat playing with her toys. I always put her somewhere I can watch her, and she can see me too this cools her.
11:40 am
Give my daughter a fruit and continue with cleaning the house. I use a mop to clean the house, and at the same time, I can carry my daughter on the wrap if she is fussy.
I can wash the dishes that we used for breakfast while I am still carrying my daughter.
Sometimes I give my daughter fruits that she can easily hold with her hand and feed herself and make sure it's her favorite fruit so that she can do it alone while I am cleaning.
I never do general cleaning on weekdays I spare that for the weekend.
There are babywearing products (like a wrap or sling) you can use to wear your baby and at the same time attending other activities in the house.
Read more benefit on babywearing
12:45 pm
We take lunch. Most of the time I prepare my daughter lunch early in the morning as I make breakfast and I take last night leftovers. Preparing my daughter lunch early in the morning saves me time.
1:30 pm
My daughter takes a shower and has an afternoon nap. Me too I take 30-minutes naptime. Make sure you have a wind-down routine/me-time it is not necessary you sleep, you can do exercise at this time/read book or meditate.
2:00 pm
Wake up and continue with my online jobs where I had left in the morning for about one hour 30 minutes.
Sometimes I even start preparing dinner when I feel not working on my blog.
3:30 pm
Baby wakes up, and I give her a snack.
3:45 pm
Pick my son from school as I buy supper, the following day snacks, lunch for my daughter and fruits. Since I walk a distance while I pick my son, I consider it enough exercise.
Remember I am alone, so I am still carrying my daughter on my back using a sling. That is another exercise (ha ha ha weight lifting).
In the morning I still walk (when taking my son to school) that is enough exercise for me.
4:30 pm
My son takes a snack and tea.
5:00 pm
We do homework for 30 minutes, and the kids go outside to play together as I prepare dinner.
6:00pm
My son takes a shower.
7:00 pm
My son and daughter take dinner
8:00 pm
My husband and I eat dinner, clean the dishes. If he is home earlier, we take the same time with the kids.
Between 6:30-8 pm we enjoy time together we can read kids' books for 20 minutes, give stories, watch television or listen to how my son spent his day.
Also, at this time we fold the clothes that I washed during the day.
My son and daughter prepare to go to sleep at 8 pm.
I like putting my son to sleep at 8 pm by the time is 6 o'clock in the morning he has already slept 9 hours plus. In the afternoon my son has a nap of 1-2 hours at school.
How many hours of sleep do kids need?
Newborn to 2 months- 16-18 hours (8-9 at night 7-9 daytime naps)

2-4months- 14-16 hours (9-10 hours night 4-5 for 3-naps)

4-6months- 14-15 hours (10 at night 4-5 for 3-naps)

6-12months-14 hours (10-12 at night, 2-4 for naps)

12-24 months -13-14 hours (11-12 at night 2-4 for naps)

2-3years-12-14 hours (1-hour nap)

3-5years-11-13 hours

5-12 years- 10 -11 hours
Make sure your child sleeps enough hours.
9:00 pm
Children sleep and I start tidying the house. Putting toys in the right place.
9:20 pm
I read and prepare tomorrow's to-do list. I can read a bible or a book. There are books for stay-at-home moms you can read.
Before I sleep, I make sure my husband's outfit and son uniforms for tomorrow are ready. This makes my morning less stressful.
10:30 pm Sleep time
On the weekend I alter the schedule I never wake up early since my husband is at home I usually wake at 8 am.
Also, in the weekend I don't work on my blog. I create time for my family and me-time.
My daughter has grown and is now three years I have survived with the same above schedule from 1-3years except I stop breastfeeding at 2 years.
Some things have changed since I am earning from my blog I hire someone to do laundry in my house twice a week.
Daily Toddler Schedule for 2-Year-Old (24-Months) to 3 years
7:30 am – Wake up & Play
8:15 am – Breakfast
8:45 am – Playtime
10:00 am – Snack
12:00 pm – Lunch
12:30 pm – Nap
2:30 pm – Nap Ends
2:45 pm – Snack
3:00 pm – Playtime
5:30 pm – Dinner
7:00 pm – Bedtime routine – Bath and Pajamas, reading and snack

7:45 pm – Sleep
The schedule has changed my daughter is now going to school I am alone home. Hurray more me-time and extra time to work at home on my blog.
Read:
If you are staying at home mom and you have a toddler between age 1-5 years please share with us in the comment section below your Stay at home mom schedule for a toddler.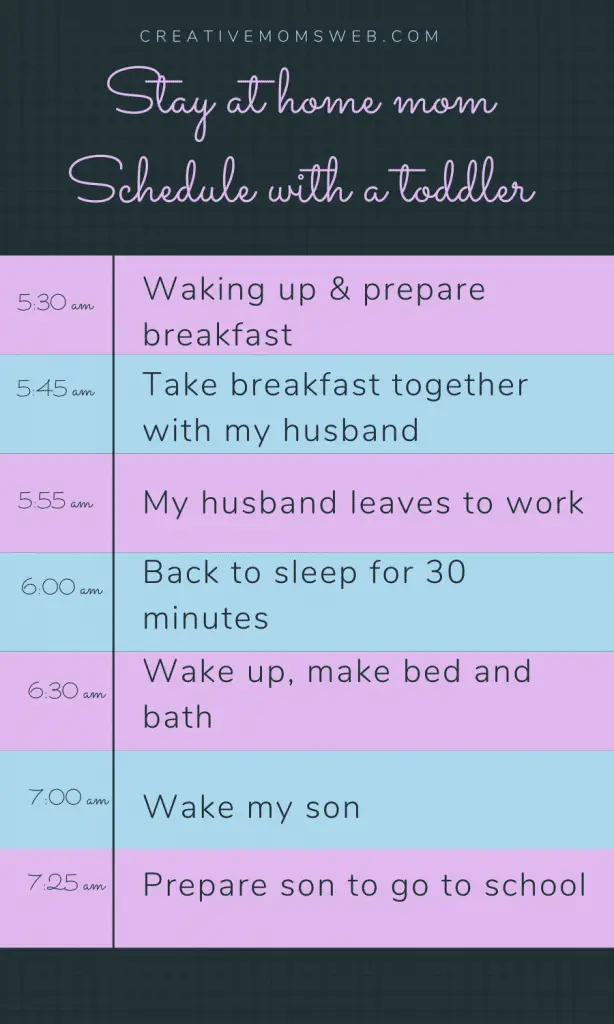 Follow creative moms web on Pinterest