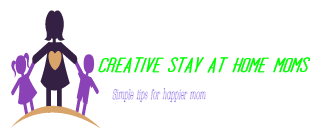 About creativemomsweb.com
This is a blog that talks about life as a Stay-at-Home Moms (SAHMs) with babies, toddlers, and kids.
I started creativemomsweb.com as a passion and to enlighten stay at home Moms how to balance everyday life, make most of the little they have, learn to turn their passion into a tool to earn on it and become successful while they are in the comfort of their home.
Our aim is to provide the best content that can enlighten, encourage, empower, and educate stay at home moms.
What to offer
Provide content for advising and educating stay at home moms.
At creativemomsweb.com I'll write about how to manage your time as Stay at home moms with, different ways to earn money at home while looking for your kid and tips to use and be successful while you are at home.
Provide honest and best information about various products to use at home
Since being at home involves a lot of tasks like cooking, cleaning, and working online or offline. I'll be providing best and unbiased product reviews that will help stay at home mom's life much easier, make your chores less tedious, and lists gadgets that will help you spend less time as you work.
Also, will be keeping you up to date on the latest developments about stay at home moms with baby.
If you have any query feel free to drop an email at [email protected] or fill the Contact Form below. I will try to respond less than 24 hours.