The baby activity center keeps your child entertained and safe as you complete home chores.
All moms can agree with me parenting comes with challenges.
There are times your baby doesn't allow you to attend even a single task in the house unless you provide for their toys or someone to keep them entertained. 
Most parents during such times find a solution like using walkers and activity centers so the baby can move around with mom wherever she goes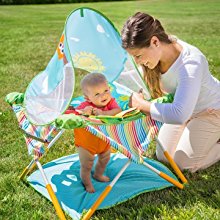 Comparison table
What are baby activity centers?
The baby activity centers are also referred to as play saucer/stationery play centers/exersaucer / stationery entertainer.
Baby activity centers guarantee your baby is not moving, therefore, prevent your baby from dangers such as falling.
They are used when the baby has good control of the head and neck that's why most of them are ideal from 6 months.
Children start to crawl and scoot around the home at six months old.
At this age, most moms realize it is not possible to leave their child unattended and do some house chores in the house. Having Baby activity centers and entertainers makes things possible it allows moms to do some tasks.
Reasons why every parent should buy baby activity center
When you need a place to put your baby and attend other duties such as getting dressed or taking a shower baby activity center is perfect for this.
A baby activity center has toys and other objects that keep your child entertained and engaged.
Except for toys that keep the baby active, the baby can also walk around; bounce, and several other activities which keep the whole body active thus help in the baby development
What to consider when buying Baby activity center
Types of baby activity centers
Baby activity centers are available in five types that include baby activity tables, jumpers, mats, walkers, and chairs.
Baby activity table- The baby activity table is a small table and has different toys on the surface for the toddler to play with. The table does not have a chair making this type of activity table ideal for toddlers.
Baby activity jumper– baby activity jumper is a table with a seat inside for your baby to get placed inside. The seat is designed to bounce up and down.
Baby activity chairs
Baby activity chairs are a seat or small sofa with a tray on front. The tray has different types of toys to entertain your child.
Baby activity walker
The baby activity walker has wheels to move the baby around the house without disrupting playtime. It also has a seat to place the baby inside. The seat bounces up and down
Baby activity mat
This type includes a fabric mat and loops to hang toys
Before buying check the appropriate age for baby activity centers some start at birth and most of them you can start to use from four months to two years.
Buy Baby activity centers and entertainers that have different features such as toys.
The toys help your baby to learn and entertain themselves while doing some jobs in the house.
It also helps your child increase skills, strong baby physically, assists the baby is growing properly, and multiple senses.
Some Baby activity centers and entertainers have light and sound that entertain your baby.
When buying Baby activity centers and entertainers choose the one that you can adjust the size as your kid grows.
Others allow adjusting the setting such as change the seat angle or depth
All baby products must be easy to clean.
Choose an activity center that doesn't have corners where dirt can hide.
Also, to make cleaning easier you can find one that you can easily remove the toys or seat pad to clean.
If the seat pad or toys are not easy to remove you can easily use a wet cloth to wipe
Baby activity centers and entertainers should not be bulky and hard to store.
They should be easy to fold and transported from one place to another.
Make sure it has firm footings safe for the baby to walk with and jump.
To add to this make sure it is made of quality material that can stand several movements without breakage and can serve you for a long time just like one year
For security purposes, it should be made from free-standing steel frames,  non-slip footings and doesn't have to be secured by anything.
It should be safe for the baby to walk with and jump.
With multipurpose I mean an activity center that you can easily transform into a play mat or play table to be used when your baby grows to stand on their own two feet.
Multipurpose factor helps a mom who worries to buy something, use for a few months and won't get much use in the future.
 Activity centers such as Evenflo ExerSaucer Triple Fun – Jungle can be converted as a play table, play mat, or exersaucer.
Baby activity center either use batteries or electricity to operate others doesn't need any power to operate. 
Consider whether to buy an activity center that has a source of power that is available in your location and doesn't cost much.
Our top pick
When can a baby start using an activity center?
The right age the baby can start using an activity center is at 6 months.
Baby activity centers and entertainers are the sources of entertainers to the child they keep them safe. Don't keep your child for too long; keep your eyes on them because they are not babysitters.
More baby play item