Once you realize your kid has an interest in sewing the best thing is trying and find all the means to nature the talent. To make your kid's dream become real the best way is to buy the best beginner sewing machine for kids because they give them real results they are proud of.
In this article, we will provide an unbiased guide and review the best sewing machine for kids.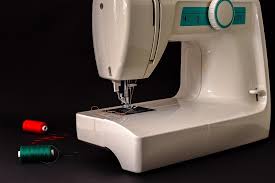 Comparison table 
What to look for when buying the sewing machine
Know different types of sewing machine for a kid
What are different sewing machines for kids available out there?
Standard sewing machine
The standard sewing machine is the first sewing machine if your kid is getting started. It has a dozen or few stitches for your kid to start learning on them.
2. Embroidery-only machine- once your kid has learned initial stages of stitching you can upgrade to this type of machine. The machine has a unique pattern and design that will help your kid learn new challenges and be creative. Also, there are brands that you can easily connect to the internet to stay updated to new patterns and firmware.
3. Entry-level Serger sewing machine –this type of machine use multiple threads and the best way to create a safety hem. Also if your kid is okay with how to control thread tension, then this type of machine is best for them.
The best type of sewing machine for your kid will depend on their current ability level.
If your kid has just started to learn start with the standard machine once is okay in learning a few stitches, control the feet and the pedal you can upgrade to the next level which is intermediate.
At the intermediate level, the kid can use the embroidery-only machine. After intermediate, you can upgrade to an advanced level which she can use Entry-level Serger sewing machine.
If your child is capable of pushing the pedal with her feet and at the same time use her hand to feed the fabric on the machine, then you can use the machine that has a pedal. But if your child has a hard time pushing pedal you should not worry because nowadays there are the machine you do not push the button.
Threading the needle is a most discouraging aspect to children or even adult who are learning how to stitch. You should buy a machine that is not complicated how to thread the needle or purchase a beginner model that has an auto-threader.
Some machines have a hundred options of built-in stitches. The more, the better but make sure you if your child is a beginner start with a machine that has basic stitches such as straight, zigzag and reverses.
Find the machine the kid will be able to manage the speed. The push button model has more control of speed compared to the pedal model.
 Also, the push button model you can slow down and focus on teaching your children how to stitch correctly.
The bobbin should be easy to wind and load. Also, the bobbin slot should be easy to find and install. You can prefer a machine that has a top loading drop-in bobbin system as they are less likely to jam and easy to install.
Lightweight – to help the kid move the machine from one place to another.
Finger guard 
It helps to prevent the kid from sewing their fingers. Some machines come with integrated finger guard, but if your machine doesn't come with one, you can buy finger guard separately and install them.
What is the best age to introduce your kid to the sewing machine?
At the age of seven years is the right age to introduce your kid to the sewing machine. At age six if your child has an interest in sewing you can introduce hand stitching once they have learned a few stitches then it's time to introduce the sewing machine.
14 Best kid sewing machine
Best kid sewing machines reviews
The Singer Simple 3232 Portable Sewing Machine features 32 built-in, stitches, built-in 1-step buttonhole, built-in needle threader, and a heavy-duty metal frame.
The built-in threader makes threading the whole machine easy. You can thread the machine from the spool to the needle eye in seconds and effortlessly.
It has a sewing speed of 750 stitches per minute so making the machine also suitable for large projects.
This machine has a high presser foot lifter which makes it easy to sew several layers of thick fabric. The higher presser foot lifter can be easily raised higher position for easy positioning of your thick fabric.
Looking for an automatic reverse sewing machine, the Singer Simple 3232 is the right choice with a press of an automatic reverse button you can easily sew in reverse and reinforce the stitching.
You can easily adjust stitch length and width with just a turn of a dial. It also offers effortless access to collars, cuffs, pant hems and other hard to reach areas.
In the package comes with free accessories such as Seam Ripper / Lint Brush, Edge / Quilting Guide, Pack of Needles, Thread Spool Caps, Bobbins, L-Screwdriver, Darning Plate, Instruction Manual, Power Cord/Foot Control, and Soft-Sided Dust Cover.   
Other singer kids sewing machine
Singer Start 1234 Portable Sewing Machine with 6 Built-In Stitches – Built-in 4-step Buttonhole, White/Teal, and Free Online Owner's Class Video
Singer Zigzag Chainstitch Sewing Machine
SINGER Fashion Mate 3333 Free-Arm Sewing Machine including
Features  23Built-In Stitches Fully Built-in 4-step Buttonhole, Automatic Needle Threader, LED Light, perfect for sewing all types of fabrics with ease
Singer Deluxe Toy Chainstitch Sewing Machine
The Sew Cool Machine is a Threadless machine that has made sewing easy and is perfect for a first-time sewing experience. There are no skills required, turn on, push the button, and start creating your project.
It easy to use the machine because of no thread, no foot pedal, no bobbin to the wind and no needle thread.
The package includes 1 Sew Cool Sewing Machine, 8 Sheets of Sew Cool Fabric, 3 Sew Cool Pre Cut Featured Projects, 1 Sew Cool Strap, 14 Pre-Cute Decorative Pieces, 8 Plastic Buttons, six other projects, Instruction Guide and 1 Bag of Loose Stuffing.
The machine is best to create stuff like a pencil case, pouches, purses, and more projects. It is recommended for kids age 6 and up.
It requires 4AA batteries to operate
The Brother CS6000i sewing machine is packed with value accessories making it perfect for a wide range of sewing and quilting projects.
You can easily select stitches, adjust stitch length and width via settings seen on the LCD. You will select the stitch and see the stitch you have chosen on the LCD/ screen.
It has a start and stops button allowing the use of the machine without the included foot control. It also has the Variable speed for easily adjusting your sewing speed.
The sewing area is super bright helps easy to see, primarily when working on dark fabrics.
You can quilt with ease at home using this machine. It has an outsized table that makes it simple to maneuver large quilting projects, the quilting foot allows for more accurate placement of your quilting stitches, the walking foot allows for smoother feeding of multiple layers and the quilting guide help you sew evenly spaced rows of quilting stitches.
The machine includes 60 built-in stitches specifically for sewing cloth.
This product has jam resistant, quick set-top drop-in bobbin makes setting and accessing your bobbin thread a breeze.
The machine is not recommended in the country that does not support 120V AC even if a voltage adapter is in use.
Features outsized table which makes the Brother CS6000i sewing machine offer more space you require to maneuver your project while you work.
It has a free arm perfect for sewing sleeves, cuffs, pant legs and other small cylindrical.
The package includes accessories such as:
o    Walking foot
o    Spring action quilting foot
o    Overcasting foot
o    Monogramming foot
o    Zipper foot
o    Zigzag foot
o    Blind stitch foot
o    Buttonhole foot
o    Button fitting foot
Brother XR3774 Full-Featured Sewing and Quilting Machine with 37 Stitches, 8 Sewing Feet, Wide Table, and Instructional DVD
Brother Project Runway CS5055PRW Electric Sewing Machine – 50 Built-In Stitches – Automatic Threading
Brother XM2701 Lightweight, Full-Featured Sewing Machine with 27 Stitches, 1-Step Auto-Size Buttonholer, 6 Sewing Feet, and Instructional DVD
The Janome Fastlane Fuschia Basic sewing machine is perfect for beginners and great sewists.
This machine has ten built-in stitches and other essential features for tackling many types of sewing projects such as straight and zigzag present with two-needle positions.
At just five pounds, it is perfectly portable and sewing on the go.
It features a free arm, accessory storage, threading diagram, easy reverse, and top drop-in bobbin with clear cover makes for easy setup.
The presser foot with finger guard protects little fingers.
Janome Magnolia 7318 Sewing Machine with Exclusive Bundle
This machine has 12 built-in stitches perfect for making sewing projects such as altering and creating clothing, crafting, quilting, home decor, and more.
At 5.86 pounds, it is lightweight and portable. Also, the machine features light bulb for workspace illumination, especially in a dark condition, sew with DC 6v or battery with the foot pedal.
Reverse stitching design makes the machine back tack directly without changing the direction of cloth when it needs to be stitched back and forth.
You can control the tightness of the stitch by adjusting the button, I.e. bigger number of tighter upper threads.
The Michley LSS-202 Lil' sewing machine features double thread, four bobbins, double speed, and automatic thread rewind.
You can use a hand switch or foot pedal to start. Foot pedals, adaptor, and thread bag are included in the package.
Sometimes the bobbin may become loose and move freely, this machine bobbin can easily be aligned by hand turning it gently back and forth. If the bobbin is stuck, you can use a screwdriver to reposition correctly.
Multipurpose sewing machine with eight built-in stitches, LED sewing light, automatic thread reward, forward sewing, reverse sewing, and double thread.
You can use a hand switch or foot pedal to start the machine.
The machine also features a drawer, thread cutter, thread bag, foot pedal, and an adaptor.
This machine is best for someone who has little experience in sewing, will be using it for basic home repairs and an introduction to quilts, hemming, and sewing linen.
You cannot use this machine on heavy fabric such as duck cloth or denim, but you can use it to hem the jeans.
Unlike other machines that use batteries to operate, the Michley LSS-505 Lil' uses 6V DC power and comes with an AC adapter.
Cons
The machine is used in the minor project so when you want to do larger projects or sew regularly, you need to upgrade to a better machine.
If not appropriately threaded, you will experience thread tension so make sure you follow the instruction carefully to make sure thread pull without snapping.
The Costway sewing machine features:
Double thread And Speed

16 Built-In Stitch Patterns

Automatic Thread Rewind

Sews Sleeves

Drawer Included

Built-In Sewing Light

Includes Thread Cutter

Built-In Measuring Tape And Tension Adjuster

Forward And Reverse Sewing

Four-Step Button Hole Sewing

Two Speed (High & Low) To Choose

Use Hand Switch Or Foot Pedal To Start

Lightweight, Portable And Save Space, Light Bulb For Work Space Illumination

Built-In Carry Handle, Easy To Carry With

Uses DC 12V 1500mA Power
Including All-Purpose Presser Foot Replacement Holder
Low Noise, Stable Operation, Multifunction Sewing Tool
Adjustable Stitch Length And Zigzag Width Allow You To Customize Stitches
The machine is suitable for beginners and everyday sewing project.
It is lightweight and small in size, making it portable and save space.
Features light bulb for workspace illumination and use DC 12v 1500mA power.
The HIppih sewing machines have 12 built-in stitches to various projects such as blind hem, zigzag, lock button stitch and other regular patterns.
This machine features a reverse function, thread cutter, lock button, lamp, and easily sew legs, sleeves, and cuffs.
It has a USB socket which you can connect to the mini fan when sewing.
The Alex toy sewing machine lets your kid create a simple design.
It includes an activity kit and four bobbins.
kid Sewing Machine below $50
Kids Sewing Machine below $50
The machine has a bottom and service line that gives you high and quality sewing for all your projects.
You can adjust the speed either high or low so that novice, children, and master can operate easily. It is recommended for ages 13 and above for simple DIY.
This mini sewing machine is small and lightweight, perfect to carry when moving around.
You can choose to hand switch or foot pedal.
With a top drop-in bobbin, this sewing machine makes threading the needle simple.
Sometimes the bobbin may become wobbly, pop-out, or move freely within the throat of the machine. The problem can be easily remedied by aligning the bobbin using a hand by turning the bobbin and shaking back and forth. If it is still stuck, you can use a screwdriver to position correctly.
You can use a power supply or battery to operate the sewing machine, but you cannot use both at the same time.
Read the instruction carefully before using a sewing machine; the wrong operation will cause the machine not to work, stuck thread, break thread or seam, not online.
In the Package Includes: External Power Supply, 4X Bobbins,  Handheld Sewing Machine ( Battery NOT Included ), Foot Pedal, 2X Needles, Manual, and Needle threader
Cons
It has no reverse sewing function
HAITRAL Sewing Machine Mini 2-Speed Double Thread, Double Speed, Portable Sewing Machine With Light and Cutter, White /Purple
The battery-operated sewing machine is easy to switch from chain stitch to zigzag stitch.
In the package include three pools of thread, measuring tape, plastic needle and needle threader.
It is also equipped with working light, spool compartment, foot pedal, and protective needle cover to protect that little finger.
NKOK A2213 Singer EZ Stitch Chainstitch Sewing Machine
NKOK Discovery Kids Chainstitch Sewing Machine
NKOK Singer Junior Toy Sewing Machine
How NKOK B/O Singer Zigzag Chainstitch Sewing Machine Remote Control Toy works 
The Cra-Z-Art Sew Crazy Sewing Machine is a real working machine that functions with or without the foot pedal.
It features a needle guard, bobbin, thread, and needle.
Handheld Sewing Machine
Handheld Sewing Machine
The HAITRAL Sewing Machine is either portable or handheld making it excellent for home use or when you travel.
The machine uses 4xAA batteries or DC 6V power adapter (both adapter and batteries are not included).
It is suitable for materials such as silks, denim, wool, Jean, Hem pants, drapes, and holes rips. It can only use a material with a thickness of 1.8mm so too hard, or thick material can't sew.
This machine can be easily used by beginners or masters to make projects such as a DIY handkerchief, Cloth toys, patchwork, simple embroidery, or art crafts.
The company provides a 6-month guarantee for any quality problem, they also have a teaching video, but if you have any queries, you can contact the seller.
When the needle is broken or bent, you can easily replace the needle by twisting the set screw.
You can adjust the thread using tension control to avoid jamming or broken thread.
In the package include Handheld sewing, Instruction Manual, Long-stick, Threader, 3x Sewing needle, and 3x bobbin
Other Handheld Sewing Machine
HAITRAL Mini Sewing Machine Quick Stitch Tool Handheld Electric Portable Sewing Machine for Fabric, Clothing, or Kids Cloth
Portable Sewing, Efperfect Portable Sewing Double Speed Mini Sewing Machine pink Design
JINTOP Portable Mini Sewing Machine Handheld Sewing Machine– Quick Stitch Tool Professional Electric Sewing Cordless Sewing Handy Sewing Machine for Fabric, Clothing, or Kids Cloth
Do let us know which kids are the sewing machines you are using to nature your child's sewing skills. If there is a sewing machine, you want us to include in our review of the best sewing machine for kids kindly let us know in the comment section.