Gone are the days when people used bar soap or hand pumps to wash their hands. An automatic soap dispenser is gaining popularity in most homes and public hotels.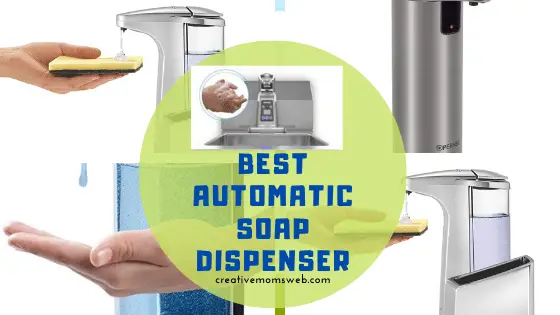 Automatic soap dispensers help reduce soap wastage and the spread of contaminating germs from one person to another.
Before we begin the review of the best Automatic Soap Dispenser let's learn more about this new technology.
Comparison table of the Best Automatic Soap Dispenser 
What is an automatic soap dispenser?
For those who don't know, an automatic soap dispenser is a machine that triggers a controlled amount of soap without actually having to touch the dispenser.
They are also called touchless or non-contact dispensers.
Washing your hands always helps prevent diseases and the spread of infection to others. But sometimes it is not possible when washing your hands at a public washroom using a soap bar or hand pump.
Think of this bar soap or hand pump dispenser that everyone in a public place will touch and wash their hands. How hygienic it is.
Sharing bar soap or the touch of the pump has the potential danger of spreading germs from one person to another.
The automatic soap dispenser is a lifesaver when it comes to washing hands in public places or the home when you are sharing with more than one person.
It helps reduce the spread of germs that comes with the sharing of the hand pump and bar soap.
How does Automatic soap dispenser work
An automatic soap dispenser uses different types of sensors to dispense a measured amount of soap.
Read more about different types of sensors here
We will discuss the commonly used type of sensor for the most soap dispenser.
An automatic soap dispenser uses infrared or passive sensors to dispense the soap.
A human being emits infrared senses. When you place your hand underneath the sensor of the dispenser, it detects infrared emitted. Once the infrared is detected the machine activates the sensor which triggers the pump that produces a measured amount of soap.
What to consider when buying an automatic soap dispenser
There are hundreds of automatic soap dispensers on the market, and it is confusing what to look for when you are choosing the best one for your family, hotel, or hospital.
Location
Before buying an Automatic soap dispenser consider where you are going to place it. If you are going to put the dispenser on the countertop, make sure it has enough space.
If you have limited space, consider buying a wall-mounted soap dispenser.
Size of refills
Automatic soap dispensers come in different capacities, from 500ml to bulk size measured in gallons.
If you are using it in high-traffic areas, consider buying the large refills; they save money and last longer. For low-traffic areas like the ones in the house, purchase small refills.
Ingredients
Soaps are made with different fragrances and ingredients.  Some scents have sensitive smells and ingredients that can be too harsh on delicate skin. If you're buying something for your family, take into account their sensitivity to smell and skin allergies while choosing the material.
Material
Dispensers are made of different materials such as plastic, steel, and chrome. Choose the best material that is sturdy and durable.
5. Operation
Some dispensers use 4 x 1.5V AAA alkaline batteries to operate, while others are rechargeable using electricity. If you live in an area with no electricity, buy dispensers that use batteries to operate.
Automatic Soap Dispenser Reviews
Which is your best brand of automatic soap dispenser? Also, let us know whether our reviews and buyers guide of the best automatic soap dispenser is helpful to you in the comment section below
Related house cleaning articles