If you work at home there are some essentials you need to make your home office comfortable, up and running. Since you spend most of your time in the home office, a desk is one of the important items you need. In this article, we are going to expose the best home office desks that will help work comfortably at home.
Having the best home office desks is important that you make your room more comfortable.
There are so many home office desks in the market but how do you choose the one that fits your need.
Desk Comparisons
| name | features | capacity | material type | price |
| --- | --- | --- | --- | --- |
| Ameriwood Home Dakota L-Shaped Desk with Bookshelves | has 2 open book sehelves, fits in a corner and grommets to hold cabbles | 100 lbs | wood | Check and buy from Amazon |
| OneSpace 50-1001 Stanton Computer Desk | pull-out shelves and bottom storage shelf | 150 pounds | MDF, steel and PVC | Check and buy from Amazon |
| Origami RDE-01 Computer Desk | fold-down desk | 250 pounds | no information available | Check and buy from Amazon |
| Altra Owen Retro Desk | fits small home office | | oak and metal | Check and buy from Amazon |
| Altra Parsons Desk with Drawer | pull-out drawer | | wood | Check and buy from Amazon |
| Furinno office Desk | features slide-out keyboard drawers, CPU storage and non-woven drawer | | wood | Check and buy from Amazon |
| Z-Line Belaire Glass | tempered glass on desktop, display shelf and slide-out tray | | stainless steel and glass | Check and buy from Amazon |
| Axess Desk | drawer, slide out shelf and open area storage | | wood | Check and buy from Amazon |
| Cabot L Shaped Desk | enclosed cabinet, soft trays, open storage cubby shelf, integrated 4-port USB hub and box drawers | | | Check and buy from Amazon |
| Sauder Beginnings | Features elevated shelf,slide-out shelf and bottom storage | | recycled material | Check and buy from Amazon |
| Walker Edison Soreno | sliding keyboard trey, CPU stand, 2-rectangular desktop and quarter-circle shaped | | glass and steel | Check and buy from Amazon |
What to consider when finding the right home office desk
1.Desk function
There are different types of the desk, and each type serves a specific task.
Writing desks
A writing desk is an open desk with flat surface and legs.  Most of the writing desks don't have drawers or cabinet space there are best for someone who needs minimal storage space.
The writing desks are best for limited spaces and can be placed against the wall
Executive Desks
The executive desks are meant to be set in the middle of the office. They have a surface area, massive footprint, and additional storage space to store files and supplies.
The desks have styles and shapes such as L-shaped, rectangle shaped and u-shaped.
Computer desks
Provide a lot of space for placing your computer; they have pull-out shelves/tray for your keyboard, added space for CPU storage space and shelves for storing files and office supplies.
If you don't want the keyboard to take your working area computer desks with pull-out shelves to place the keyboard is the best choice
They come in standard shape, or L-shape thus makes them fit well in a corner or next to the wall
Corner desks
Corner desk comes in l-shaped design which is ideally placed in the corner of the room. The desks don't take too much space; can be set in the bedroom, guest room or an office.
Wall mounted desks
The wall-mounted desks are also called floating desks.
They are mounted on the wall thus help save floor space. The desks are perfect for limited spaces such as dormitory or bedrooms
Credenza desks
The credenza desk is a combined desk with a cupboard. It has a cupboard at the bottom, footprints, and shelves. This type of desks is best for living or dining room.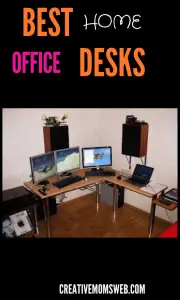 Fold down desks
The desks thoroughly fold flat to get out of the way when not in use.
Standing Desks
The standing desks are also called adjustable height desks. The desk gives you an option to work while standing.
Standing desks have become common since the research linked to sitting for a very long can cause health risks. Also, using standing desks has beneficial health purported by science.
 2.Space
Nothing is embarrassing than buying a desk and on arrival doesn't fit your office.
Make sure before you purchase the home office desk, measure the place you have designated for your desk.
3.Material
Desks are made of different materials. Each material determines how the desk will look, durability, and quality. Invest in a desk that is made up of quality material. The desk with the sturdy material will last for a long, so you don't have to keep on spending on buying a desk now and then.
Different types of desk material
•    Wood- it is most traditional desk material, and there are made from hardwood, softwood, and veneer.
•    Glass- this is modern desks that have glass table top supported by either wood or metal legs
•    Metal-there are made of a metal material such as aluminum and stainless steel
Laminate – it is a protective coating on top of the wood surface and is made of plastic like material to keep the desk from stain and warping resistant.
4.Desk finishes
There are different types of desk finishes, and it is good to choose the best desk finishes that blend in with the home décor. Such finishes include
•    Natural
•    Black
•    White
•    Grey
5.Desk shapes
There are desks made of different shapes. Some shape requires a lot of space or need to be placed at a specific location in the house. Such shapes include:
U-shaped
L-shaped
6.Additional features
Some of the home office desks have additional features like drawers, filing cabinet, shelves, and bookshelves.
Desk with extra features saves your money and space.
Best Home Office Desks reviews
Bonus video how to set up your desk
The desk makes your office looks well-organized, professional, provide workstation without taking too much space and comfort.
There are different desks for your home office in the market available in various colors, styles, and price.
We have tried all we can to provide the unbiased review of the Best Home Office Desks you can use in their homes.
If you didn't find the desk that is perfect for your home office from our review of the best Home Office Desks, feel free to communicate at the comment below for help
If you think there is a home office desk we should know about we welcome your feedback in the comment section below.