If you work at home there are some essentials you need to make your home office comfortable, up and running. Since you spend most of your time in the home office, a desk is one of the important items you need. In this article, we are going to expose the best home office desks that will help work comfortably at home.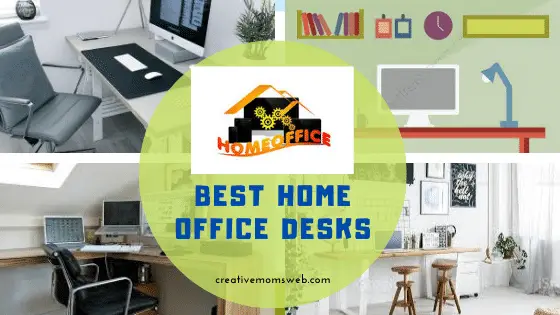 Having the best home office desks is important so that you make your room more comfortable.
There are so many home office desks in the market but how do you choose the one that fits your need?
What to consider when finding the right home office desk
Types of desk
There are different types of desks, and each type serves a specific task.
A writing desk is an open desk with a flat surface and legs.  Most of the writing desks don't have drawers or cabinet space there are best for someone who needs minimal storage space.
The writing desks are best for limited spaces and can be placed against the wall
The executive desks are meant to be set in the middle of the office. They have a surface area, massive footprint, and additional storage space to store files and supplies.
The desks have styles and shapes such as L-shaped, rectangle-shaped, and u-shaped.
Provide a lot of space for placing your computer; they have pull-out shelves/trays for your keyboard, added space for CPU storage space, and shelves for storing files and office supplies.
If you don't want the keyboard to take up your working area computer desks with pull-out shelves to place the keyboard are the best choice.
They come in standard shape, or L-shape thus making them fit well in a corner or next to the wall
The corner desk comes in an l-shaped design which is ideally placed in the corner of the room. The desks don't take up too much space; can be set in the bedroom, guest room, or office.
The wall-mounted desks are also called floating desks.
They are mounted on the wall thus helping save floor space. The desks are perfect for limited spaces such as dormitories or bedrooms
The credenza desk is a combined desk with a cupboard. It has a cupboard at the bottom, footprints, and shelves. This type of desk is best for living or dining rooms.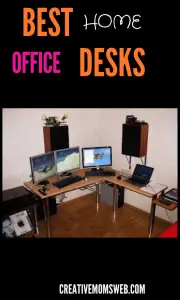 The desks thoroughly fold flat to get out of the way when not in use.
The standing desks are also called adjustable height desks. The desk gives you the option to work while standing.
Standing desks have become common since the research linked to sitting for a very long can cause health risks. Also, using standing desks has beneficial health purported by science.
Space
Nothing is more embarrassing than buying a desk and on arrival doesn't fit your office.
Make sure before you purchase the home office desk, measure the place you have designated for your desk.
Material
Desks are made of different materials. Each material determines how the desk will look, its durability, and its quality. Invest in a desk that is made up of quality material. The desk with sturdy material will last for a long, so you don't have to keep on spending on buying a desk now and then.
Different types of desk material
•    Wood- it is the most traditional desk material, and there are made from hardwood, softwood, and veneer.
•    Glass- these are modern desks that have glass table tops supported by either wood or metal legs
•    Metal-there are made of a metal material such as aluminum and stainless steel
Laminate – it is a protective coating on top of the wood surface and is made of plastic-like material to keep the desk from stain and warping resistant.
Desk finishes
There are different types of desk finishes, and it is good to choose the best desk finishes that blend in with the home décor. Such finishes include
•    Natural
•    Black
•    White
•    Grey
Desk shapes
There are desks made of different shapes. Some shape requires a lot of space or need to be placed at a specific location in the house. Such shapes include:
Additional features
Some of the home office desks have additional features like drawers, filing cabinets, shelves, and bookshelves.
Desk with extra features saves you money and space.
Best home office desks reviews
Writing desk
Writing desk
The desk is made of solid practical wood with high resistance to scratch, friction, and firm material
With 1.3 times thicker metal frame help the desk better stabilize with heavy weights.
Need writing desk is Size: L55″ * W23.7″ * H29.5″ provides ample working space
You just need to install four legs with screws thus making the desk easy to install.
More writing desks
Ameriwood Home Delilah Parsons Desk with Drawer, Sonoma Oak
Winsome Wood Rochester Console Table with one Drawer Shaker
Writing Computer Desk
 Furinno 12095BK/BR Econ Multipurpose Home Office Desk 
It is the best computer writing desk with a bin
It is best to fit any room and is manufactured using particle board
The desk features slide-out keyboard drawers, CPU storage, and non-woven drawer
It is made of wood
Other Furinno desks
Furinno 11193EX/BK/BR Go Green Home Desk/Table
Furinno 11192BK/GY Efficient Computer Desk
More samples of Writing Computer Desk
Vogue carpenter Writing Computer Desk Modern Simple Study Desk Industrial Style Folding Laptop Table for Home Office Brown Notebook Desk.
Computer
Computer desk
Computer desk L-shaped
3.  Ameriwood Home Dakota L-Shaped Desk with Bookshelves
If you are looking for a desk that fits into a corner and has bookshelves, then American Home Dakota has all those features
The top surface has ample space enough for your monitor or laptop and other office essential suppliers such as paper.
The desk has two grommets built into the desk to organize and manage your cords.
Two open shelves provide a perfect space for your books, papers, and binders
The desktop can hold up to 100lbs and is made of wood
The desk is assembled upon delivery, and it requires only two people to join.
Assembling is easy because there are clear instructions and manuals to guide you on what to do.
Bush furniture Cabot L Shaped Desk
The Cabot L Shaped Desk provides ample working space and enough storage space. The storage space includes an enclosed cabinet and box drawers for office supplies.
It includes a soft tray that can hold a phone or other office suppliers.
The desk comes with an integrated 4-port USB hub that helps keep your electronic gadget connected
Still, has open storage cubby shelf which can house office supplies.
If you are looking for a desk that is a perfect fit for your corner space, open office, and several storage spaces, Cabot L Shaped Desk features all those.
Black Computer Desk
Flash Furniture Clifton Black Computer Desk
The desk surface is made of black laminate.
This desk features raised top for your monitor, a lower bottom shelf for your hard drives and suppliers, and the main surface which works well for both computer work and writing projects.
It has Self-leveling floor glides to keep your desk from wobbling on uneven floor surfaces and protect your floors by gliding smoothly when you need to move the desk, perforated lower frame design silver powder-coated frame finish.
Simple Style Computer Desk
Altra Parsons Desk with Drawer
The Parsons desk is constructed of MDF and laminated particle board
Features pull-out single drawer which perfectly fits small office supplies while the desk top is perfect for laptops and paper work.
The love +Grace desk is made of MDF material which is sturdy, good quality, and modern look.
The Product dimension is 45.3 x 23.6 x 29.5 inches which is the perfect size for space saving and limited space.
The desk is easy to assemble you just need a screwdriver to drill pilot holes for the screws.
The desk creates a usable space in small rooms
It is not only sized for a desk but can also be used for a vanity or console table
Assembling the desk is simple; just attach four legs to the desk top.
The table top is made of oak and leg with gun-metal 
Other American home Desks
Ameriwood Home Parsons Desk with Drawer
American home Delilah Parsons Desk with Drawer
Tribesigns Modern Simple Style Computer Desk 
Gaming Computer Desk
The Atlantic gaming desk is designed for all gaming gear; it helps you work, play, and keep all your video game equipment in one place where it is easy to use and access.
This desk is made of a sleek charcoal-colored carbon fiber laminated top.
The desk includes
A charging stand for your tablet or smartphone,

Speaker stands,

Game storage,

Under-desk basket,

Controller stand,

Built-in wire-management,

Rear power strip holder,

Cup holder

Headphone/VR headset hook

Elevated monitor stands that support monitors up to 32".
It can be placed in places like bedrooms, home offices, and dormitory
Computer desk with keyboard tray
OneSpace 50-1001 Stanton Computer Desk 
The desk has pull-out shelves, and the bottom storage shelf provides another is to keep books and other essential supplies.
It is made of MDF, steel, and PVC which makes it durable and capable of holding a capacity of 150 pounds. The capacity is best for keeping a desktop PC, monitor, or laptop.
Also has a sleek, elegant, and compact design.
One space desk is designed for the small home office.
Sauder Beginnings Computer Desk
Features elevated shelf best for placing clock, printer, or monitor
The desk has a slide-out shelf with metal runners and safety stops on which you can put a keyboard or mouse.
There is additional bottom storage in which you can keep books or other documents
It is made of recycled material.
Computer desk with hutch
Sauder 415109 Salt Oak Finish Harbor View Computer Desk with Hutch 
The desk features a slide-out tray with metal runners and a safety top for a keyboard/mouse, storage and an adjustable shelf behind a louver detailed door, and three easy gliding drawers.
The hutch includes cubbyhole and vertical storage compartments for all your office essentials
Other types of the computer desk with hutch
Workstation
Workstation Desk
Techini Mobili computer workstation desk
The desk is made of Heavy-Duty MDF Panels with a Moisture Resistant PVC Laminate Veneer in Woodgrain Finish and Scratch Resistant Powder-Coated Steel Frame
This desk features a Slide-out keyboard shelf with Safety Stop, Utility Drawer, Bottom CPU Shelf, and Two Accessory Shelves which each can hold a 30 lb weight capacity and 10 Slots CD Holder
Secretary
Secretary desk
Zebra products Home Office Secretary Desk  
The desk is constructed with select veneers and hardwood and has a rich brown cherry-stained finish.
This secretary's desk has a utility drawer with a compartmentalized pencil tray.
It is excellent space-saving laptop desk, for the living room, dining room, and bedroom
International Caravan Windsor Small Secretary Desk 
The desk is made of hardwood and a stain finish.
 Features two pull outs for support of the desktop, one drawer on the outside and two on the inside, and Hand carving on the outside gives it an elegant look
Coaster Home Furnishings Secretary Desk 
Features elegant molding, bracket feet, and classic metal bail handles give you a beautiful look that you will love for both you and your children.
The coaster secretary desk has a center roll-out keyboard drawer for secure computer use, and a single pedestal with two large storage space drawers to keep supplies or your kid's school supplies neat and tidy.
Also, the desk has eight shelves in various sizes for books, photos, and favorite collectibles.
It is excellent for handling household bills, a homework station for your child, and a hutch combination.
This desk has a top cabinet measuring 25.1″W x 7.9″ D which opens to two inner shelves. The slanted cubby's shelves are 3.5″H x 21.6″W x 6.1″ D for the top and 3.4″H x 21.6″W x 10″ D for the bottom best for hiding papers and supplies. Also, when the top cabinet is opened creates a fold-down table makes an excellent writing surface.
It also features shelf measuring 21.6″W x 10.2″D x 17.3″H and bottom cabinet which has a removable shelf with each section measuring 21.6″W x 10.2″ D x 8.25″H.
Fold down
Fold – down home office desk
The origami desk is quick and easy to set-up. It has a removable table top and frame. You unfold the frame and place the table top.
The desk folds completely flat to get it out-of-the-way when not in use and for easier storage.
There is no tool and assembling is required.
It has a capacity of 250 pounds
Glass
Glass desk
Z-Line Belaire Glass L-Shaped Computer Desk
The table features tempered glass on desktop, display shelf, and slide-out tray
It is ideal for corner placements
With a raised shelf for comfortable viewing the monitor
It made of stainless steel and glass
Craft
Craft desk
Artwork Craft Table with Storage by South Shore
Perfect crafting table for sewing, jewelry, and other craft activities.
 The table measures 53×24 inches making it perfect to let your creativity spread outcross.
It has multiple storage options such as shelves, drawers and a cabinet makes it suitable for storing books and other crafting accessories.
Made of non-toxic laminated particle board, adorable cottage style, Grooved wainscoting, and rustic black-finish metal handles make this the ideal craft table for those who appreciate the clean, warm look of cottage charm.
Sewing / Craft Center – Folding Table by sauders
Corner
Corner desk
Walker Edison Soreno Corner Desk
Manufactured from polished safety glass and powder coated steel leg make the desk durable and long-lasting.
The package includes two 21-inch rectangular desktop and a quarter-circle shaped desktop.
When the two desktops are put together, they form L-shaped design which perfectly fit into a corner.
The desk comes with a sliding keyboard tray which can be mounted on either side and CPU stand
List of best home office corner desk
Hobby
Hobby desk
Ameriwood Home London Hobby Desk
Organize your home office and craft space with Ameriwood Home London Hobby Desk
The desk provides the amount of work space and several storage cubbies to hold office supplies, books, binders, and art supplies
The Ameriwood home desks are mostly made of MDF and particle board
Executive
Executive desk
Coaster Oval Shaped Executive Desk 
The desk is constructed using Hardwood solids and veneer with an elegant two-tone finish
The large oval executive desk features seven drawers, two cabinet drawer and two cabinets all with full extension drawer glides and a keyboard drawer
The large bookcase features two file cabinet drawers, and each bookcase has the option of being put together to build a library wall
Sauder Edge Water Executive Desk, Estate Black Finish
White
White desk
Monarch Specialties Hollow-Core Left or Right Facing Corner Desk, White 
Monarch desk is made of wood and veneer with a white finish.
This white desk features two medium storage drawers and a convenient lateral file drawer below to help keep you organized
Measures 60 Inch length x 47 Inch Width x 30 Inch height which makes the desk offers spacious work surface for doing paperwork or using a computer.
More
Wall mounted
Wall mounted desk
Prepac Wall Mounted Floating Desk with Storage in Black
Mount the Prepac wall mounted floating desk using metal hanging rail system.
The desk features top shelf ideal for books and side compartments with two removable shelves perfect for electronics, speakers, and supplies.
The desk also has Cable and wire management features keep your desk organized
Prepac wall-mounted desk is made of laminated composite wood
Other types of Wall mounted desk
Adjustable standing
Adjustable Standing Desk
VARIDESK – Height-Adjustable Standing Desk 
VARIDESK – Height-Adjustable Standing Desk is 48 inches (121.92 cm) wide giving ample space for multiple monitor set-up or extra space requirement.
The desk features an upper display surface for multiple monitors and a spacious lower keyboard and mouse deck.
It is adjustable to 11 different positions for ergonomic comfort and remains sturdy and stable even when fully extended.
The dual-handle design and spring-loaded boost mechanism make raising your monitors and gear almost effortless.
Can handle up to 20.4 kg (45 lbs)
Other types of Adjustable Standing Desk
Stand steady Standing Desk – X-Elite Pro Height Adjustable Desk Converter – Size 28in x 20in Instantly Convert any Desk to a Sit / Stand up Desk (Black)
VIVO Height-Adjustable Standing Desk Monitor Riser Gas Spring | 36″ White Tabletop Sit to Stand Workstation Converter (DESK-V000W)
Avantree [Large Size] Adjustable Laptop Bed Table, Portable Standing Desk, Foldable Sofa Breakfast Tray, Notebook Stand Reading Holder for Couch Floor Kids – American cherry- 
Electric Height Adjustable Standing Desk
ApexDesk Elite Series 60″ W Electric Height Adjustable Standing Desk
The desk is made of medium density fiberboard with anti-scratch high-pressure laminate which gives desk streamlined look. The underframe is constructed with the one-piece center beam for added stability.
Apexdesk elite is easy to assemble and adjust within a matter of seconds with a push of a button.
It has the ergo-shaped work surface which measures 1″x 59″x 29″, height adjustable from 29″ to 48″ at 1.3"/second and holds a capacity of 225-lb.
Bonus video how to set up your desk
The desk makes your office looks well-organized, professional, provide workstation without taking too much space and comfort.
There are different desks for your home office in the market available in various colors, styles, and price.
We have tried all we can to provide the unbiased review of the Best Home Office Desks you can use in their homes.
If you didn't find the desk that is perfect for your home office from our review of the best Home Office Desks, feel free to communicate at the comment below for help
If you think there is a home office desk we should know about we welcome your feedback in the comment section below.