Breastfeeding can be tiresome, boring, and tricky but with the correct product that is comfortable and give the right support to both mom and newborn makes this enjoyable and that's where nursing pillow comes in.
For those who don't know what is the nursing pillow?
It is the pillow made purposely for moms who are breastfeeding to help correctly position the baby properly when breastfeeding.
It is also known as breastfeeding pillows.
The pillow is also used when you are bottle-feeding your baby making it also called a feeding pillow.
The nursing pillow helps mom free one hand and ease the strain on mom back, spine, arm, and neck.
All the below pillows come with a removable cover that is easy to wash and protect the pillow from getting soiled.
We participate in affiliate programs from various companies mentioned in this post and earn a commission when you click on our site. It won't charge an extra cost but you will get a small commission. Read the disclosure.
Best Nursing pillow with cover
Boppy pillow
Boppy nursing pillow
#1. Boppy original Nursing Pillow and Positioner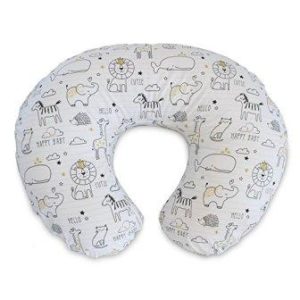 The award-winning nursing pillow celebrates 25 years for supporting mom, dad, and baby.
It provides relief to arm and back by lifting the baby to a more ergonomic position.
The Boppy pillow transitions to the great support pillow for different stages of development including learning to sit, propping and tummy time.
For moms who are looking for a multipurpose pillow for breastfeeding and feeding, Boppy Nursing Pillow and Positioner is right for that.
It can be used up to one year old.
This pillow is made of 90% polyester and 10% cotton which is machine washable.
The boppy original is available in different design
Boppy Original Sketch Slate Gray
Boppy Original Peaceful Jungle
Boppy Original Big Whales Blue and Gray
Boppy Bare Naked Nursing Pillow and Positioner
Boppy Luxe Nursing Pillow and Positioner
inflatable nursing pillow
Inflatable nursing pillow
Inflatable nursing pillows are best for traveling.
#2.Feeding Friend – The Self Inflating Nursing Pillow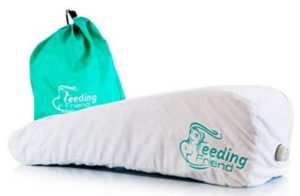 If you are looking for a self-inflating breastfeeding pillow, a feeding pillow nursing pillow is a perfect choice.
The pillow is made of two materials, the interior is made of PVC and foam and exterior is made of polyester.
This breastfeeding pillow self-inflating in just 15 seconds and compress easily. Meaning the pillow is portable and feed wherever you go.
The pillow was designed by a mom who noticed severe pain and aches on her back, shoulders, neck, and hand caused by carrying her children in an awkward feeding position for a long period.
With a unique wedge design, the feeding friend pillow allows repositioning your arm without straining your back making bottle feeding and breastfeeding comfortably. This also helps reduce loads of weight on your arm, giving you relieve and rest during the nursing period.
It has a storage bag that keeps your feeding friend pillow when not in use or moving from one place to another. The storage bag allows maintaining a compact size, making it easy for storing the pillow inside your diaper bag, stroller or car.
Babies make a mess and the designer of the pillow has put this in mind. The pillow has an easily removable cover. You just unzip, remove the cover and wash it by hand.
In addition to the cover, it is made of soft velvet feel which is comfortable and soft material on the baby's sensitive skin.
You can also buy an additional cover to use when the other pair is drying out.
How the pillow works
I know most parents are confused about how the pillow inflates itself. I am here to solve your worries.
Once it is time to breastfeed unscrew the valve by twisting to the left. The pillow will start to inflate and take its wedge shape. It may take only 30 seconds to inflate.
Close the valve once you are okay with firmness by pushing the valve down on it slightly whilst and close the valve by turning right.
When the valve can no longer be turned to the right the pillow is ready to use.
When done feeding unscrews the valve, squeeze the air out, and then screw the valve to prevent inflating.
After the pillow deflates roll it up and store it in a storage bag.
More details about feeding friend nursing pillow and where to buy you can find them on their website (https://feedingfriend.com.au/)
More inflatable nursing pillow
Nursing pillow with strap
Nursing pillow with strap
#3. My Brest Friend Inflatable Travel Nursing Pillow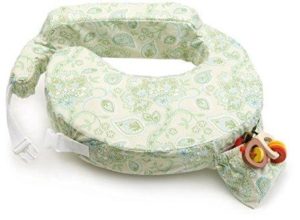 This pillow wraps around the mother's body which helps firm pillow in place. It also helps mom and baby maintain positioning and latch on.
One of the advantages of My Brest Friend Travel Pillow is easily inflatable, packs flat to fit in a diaper bag or purse.
My best friend pillow is light, easy to store and come with cotton slipcover.
Looking for a pillow ideal for airplanes and overnight, then this is the pillow of your choice.
Boppy Two-Sided Breastfeeding Pillow (has no cover)
Travel nursing pillow
Travel Breastfeeding pillow
#4. NurSit Basic Nursing Pillow, Clouds Print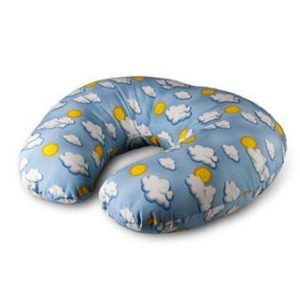 The Nursit nursing pillow has a polyester cover (NurSit Nursing Pillow Cover, Blue ) and filled with feather-soft hypoallergenic microfiber which makes the entire pillow machine washable.
It is great to use the pillow at home or when traveling.
This nursing pillow is perfect for nursing support and used to support the baby on the floor while learning how to sit upright.
The pillow is easy to clean you need to toss the whole pillow into the washing machine it retains its shape and firmness after washing.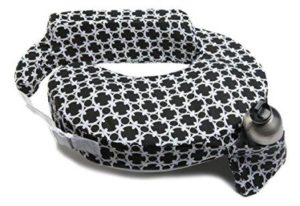 Have the same features as My Brest Friend Inflatable Travel Nursing Pillow in Green Paisley
[/su_box]
best nursing pillow for c-section
u shaped nursing pillow
u shaped breastfeeding pillow
#5. Dr. Brown's Gia Nursing Pillow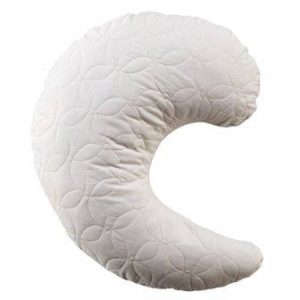 The only patented angled design that position baby incline. The incline position helps aid digestion and prevents reflux.
Dr. Brown's Gia Nursing Pillow sits taller and wider than other pillows, giving mom a variety of ways to position the pillow for maximum support.
Both the pillow and cover are made of cotton and polyester fill. They are machine washable.
#6. All American Collection Nursing Pillow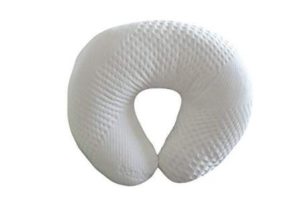 This pillow is filled with polyester and cover is made of 40% bamboo and 60% polyester that makes it portable, light, and soft. The cover material protects your baby skin from irritation, does not develop an allergy to mother and baby.
It is a multipurpose pillow and can be used in various ways such as breastfeeding, bottle feeding, and propping. It is great to use when at home and or on the go.
Keeping the pillow clean is simple, it is machine washable and remains soft even after washing.
#7. Ergobaby Natural Curve Nursing Pillow Plus Cover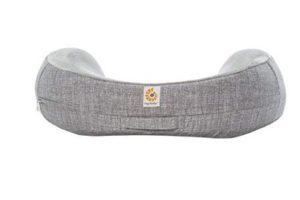 The pillow has a unique ergonomic position that supports baby head above the tummy which may aid in digestion. Also, the pillow has a contour shape that positions baby tummy-to-tummy for more comfortable nursing and reduced rolling.
It has an easy carry handle that makes it perfect to use while on the go.
This pillow is made of thick and firm foams that help pillow maintain shape for lasting support.
The pillow has interior lining offers extra protection against spills.
Two-sided pillow for varied support and positioning. The flat side offers little more of a boost for newborns and caregivers with long torso while the contoured side supports baby tummy to tummy.
It is great for breastfeeding, propping, tummy time, burping and place to sit or chill when done the feeding.
#8. Leachco Cuddle-U Basic Nursing Pillow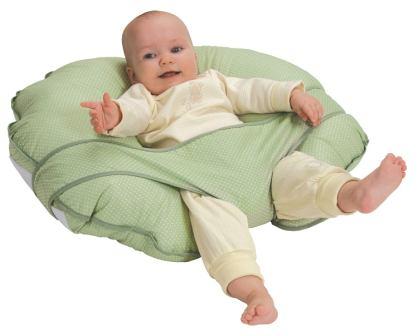 Leachco Cuddle-U nursing pillow is a multipurpose pillow with various uses and function such as:
It can be used for tummy time and sit-up support
It can be used as a lounger
It can be used during feeding time or when breastfeeding
When used as lounger the pillow has a seat wrap to help keep the reclined baby in place.
During feeding, tummy time and sit-up time the seat wrap is supposed to be tucked into the pocket which is attached to the underneath side of the pillow for easy usage.
The pillow cover is removable and washable.
It is made of 65%polyester and 35%cotton and available in different colors including pink and green bears
Hope our guide and review of the best nursing pillow with cover helps find the right pillow which will provide proper support and make the nursing process easy for both the mom and baby.
If you didn't find the breastfeeding pillow that you wanted to let us know in the comment section below or check varieties of pillow here.