Changing the baby's sleep environment they are familiar with every time you travel can cause them a lack of sleep. Owning a portable baby crib provides the baby with a familiar sleeping environment making your baby sleep more even when you are away from home.
A comfortable portable baby crib is one of the best traveling gears I would recommend to every parent who is traveling with their children.
Parents will agree with me when traveling with babies one of the biggest challenges is getting the best, safe, and comfortable place for your little one to sleep.
But with the right traveling gear, the journey becomes enjoyable.
A portable baby crib is a perfect and safe place for your infant or toddler to sleep, relax, and play when you are away from home.
Having understood that in this guide I'll provide an unbiased review of the best portable baby crib
Comparison table
What is a portable baby crib?
For those who don't know what is the portable baby crib, it is designed in such a way that you can fold and fit it in the bag allowing it to be transported as hand luggage in a plane and car trunk.
The portable baby crib is lightweight you can use it when on go.
It is suitable for infants to 18 months of toddlers.
Benefits of the portable baby crib
They are portable to carry them wherever you go.
They are small in size and lightweight you can take on a plane as a hand luggage
You can use a travel crib at home for your baby to relax when you need to clean, shower, dress up, or while you are not within direct view.
A travel crib is a safe place for babies who are two years old and below to relax while you are not within direct view.
If your baby is two years or 18 months and above it is recommended you use a toddler travel bed.
If you want to keep your baby in an enclosed place or contained to attend some duties in the house, a travel crib is the best option.
The travel crib keeps the baby confined to keep her from rolling off the bed.
Best portable baby crib reviews
travel crib
Travel crib
This is foldout portable crib that mimic standard crib.
Specifications
Age range: N/A

Product weight: 16lbs.

Fabric – Outer: polyester foam fabric and aluminum frame

Dimensions: 40 x 28 x 32 inches
The Playard is made of polyester foam fabric that is soft and safe, and the frame is lightweight aluminum with locking casters for easy mobility.
The zodiac Playard is best for babies weighing up to 15lbs and has a dimension of 40 x 28 x 32 inches
It folds easily for easier storage and fits on its compact and convenient carrying tote bag.
To clean zodiac Playard, wipe with a damp cloth and air dry.
It also features four meshed sides, various colors to fit in any room, a padded floor, and a wheel on one end for easy mobility.
Specifications
Age range: newborn to 3 years.

Product weight: 7 pounds.

Fabric – outer: nylon / polyester &aluminum frame.

Fabric – sheet: Oeko-Tex certified cotton.

Dimensions, packed: 27 x 10 x 8 inches.

Dimensions, sleep space: 45 x 22 x 26 inches.
The phil&ted travel crib assembles in a minute and fits into a small zippered bag.
Superlight travel crib that weighs 7lb making it easy for Phil&ted travel fit in the overhead compartment of an airplane or carries it over your shoulder when packed in its carrying bag.
In the package one non-toxic sheet that is safe for baby skin and self-inflating thermally insulating mattress.
The travel crib is globally safety certified and made with sturdy material making it strong enough to be for sleeping and playpen.
Full mesh sides making the phil&ted travel crib helps to see the baby clearly and promotes excellent air ventilation.
Made of nylon fabric and aluminum frame is making the phil&ted crib sturdy, looks good, and waterproof.
This product is recommended for newborns to 3years and Product Dimensions: 54 x 33 x 26 (Unpacked)
Specifications
Age range: newborn to preschoolers.

Product weight: 15lbs.

Fabric – Outer: polyester

Dimensions- 8.5 x 26.5 x 23 inches
The fisher-price is a 3-in-1 play yard it has an inclined sleeper, changing station, and play yard.
The inclined sleeper is removable with a machine-washable pad and head support.
A portable changing clutch is easy to wipe clean and has a built-in wipes container, and the play yard has a comfortable mattress that fits a standard-sized crib sheet.
This Playard weighs 15lbs, assembles quickly, folds up in a minute, and fits in the bag for easy storage and carrying.
It is best to fit infants to preschoolers and product dimensions 8.5 x 26.5 x 23 inches.
The ultra-lightweight and compact fold playard you can set up and fold in seconds making it perfect to use at the home, park, or the beach.
It features a water-resistant floor that helps keep the baby dry even on damp grass and airy mesh sides provide visibility.
This product has a travel storage bag with a shoulders strap that makes it easy to carry while you are traveling.
The Summer Infant Pop N' Play Portable Playard measures 14x48x26 inches.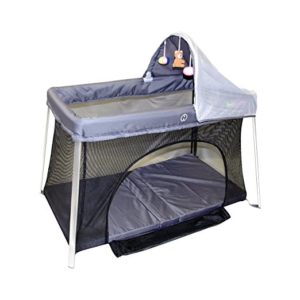 Specifications
Product weight: 13.8 pounds.

Dimensions- 49 x 29.5 x 27 inches
The travel crib has a front zip to help easy access to your baby.
This baby crib with the mattress weighs 11lbs making it super light and portable.
Faster and easy to set up and disassemble Elan Bambino portable crib allowing it to fit in its custom bag with strap shoulders.
The crib has a thick comfortable foam mattress suitable to sleep or play.
It also has a removable insect net and the sunshade protects your baby from sun rays and annoying bugs.
The outer measurements of the ElanBambino portable Crib are 49″ wide x 29.5″ deep x 27″ high, takes up very little space The usable inside space for the baby is 44″ x 24″.
Specifications
Age range: newborn to 3 years.

Product weight: 10.5 pounds.

Fabric -cotton &steel frame.

Dimensions- 42.5in x 30.5in x 26.5in.
The kidco portable bed features a soft foam mattress that is water repellant covered providing safe and comfortable sleeping and playing environment for your baby.
The mattress can be fitted with standard-sized portable Playard sheets. It is a water-repellant-covered mattress.
It is made with a sturdy steel frame that can be assembled in a minute. The frame is covered with soft padded cotton twill fabric that can be easily removed and machine washed.
This Playard has full mesh sides to provide maximum airflow and visibility.
KidCO Travelpod Portable Bed is recommended for age 1 to 3 years, weighs 10.5 pounds, and has a dimension of 42.5in x 30.5in x 26.5in
The Graco Pack 'n Play travel crib features a bassinet that is easy to fold together with Playard and set up quickly.
It features a toy bar that can fit three toys to give your baby lots of visual interest. Also, has a removable changing pad made of wipe-clean fabric.
The On The Go Travel Playard features the signature Graco push-button fold, which makes closing your Playard easy, quick, and hassle-free making it simple to pack in a carrying bag and bring it with you anywhere you go.
It has airy mesh on all sides to provide maximum ventilation for your child keeping her comfortable.
The crib comes with carrying to store for the future or use when transporting.
This product has a Weight: 22.9 lbs Height: 29″ Width: 28.5″ Length: 40″
BABYBJORN Travel Crib Light is simple to set up with no loose part to attach.
The travel crib weighs 13lbs, measure (Assembled): 32 x 44 x 24 in/82 x 112 x 64cm. Folded down in carry bag: 19 x 23.5 x 5.5 in/49 x 60 x 14 cm.
The crib is made of polyester fabric which is removable and washable. It also features a hook and loop that allows the mattress to stay in place. Also mattress cover is removable and machine washable
The travel crib light comes with a mattress that is 23.5 x 41 x 1.2 in/60 x 105 x 4 cm. The mattress has a cover that is 100% polyester, has a built-in base plate that keeps the crib standing firmly on the floor.
The fabrics used on the BABYBJORN are tested and approved by the Oeko-Tex Standard 100, class 1 for baby products. This assures the fabric is free from allergic and harmful fabric making it safe for your delicate baby skin.
It can be used for babies for 0-3years.
This product is JPMA certified with safe, breathable mesh sides that allow the baby to breathe through the fabric and lets you keep an eye on your baby.
Besides features a smart bag design which is easy to store and carry the travel crib on the go.
The company has Soft, organic cotton fitted sheet (sold separately) tailored to fit the mattress, washable, free from harmful substances, and stay in place
How to fold up BABYBJÖRN Travel Crib Light and use it when on go
Cocoon-style cribs
Cocoon style cribs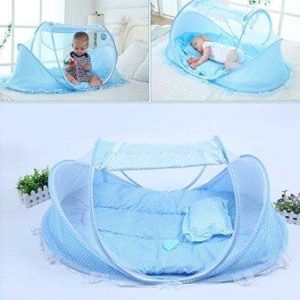 The kid time baby travel bed comes with mosquito net tents that are made of safety material certified non-toxic and lead-free. The net tent is a breathable translucent mesh that helps parents view the baby and allow air to flow freely.
The mesh is small in size such that no insects or mosquitoes of any size can get through thus protecting your baby. Also, it protects your baby from powerful sunlight.
Setting up and putting down the bed is easy it pop-ups when you undo the Velcro straps.
The package contains a mattress, mesh bag, mosquito net, and baby pillow. The mattress and pillow are made of human-made polyester wadding
It measures 42.52 x 23.62 x 18.11 inches
It is best suited for babies from 0-18 months.
This product can be easily folded making it easy to put inside your backpack and bring it whenever you go.
A two-way zipper enables quick and convenient access to your baby.
Specifications
Age range: newborn to 18months.

Product weight: 2.2 pounds.

Fabric – cotton fabric and polyester mesh, and the iron wire

Dimensions- 16 x 13 x 4 inches
Sintop baby travel bed mattress, pillow, and a mosquito net that protects the baby from flies, mosquitoes, and insects.
This bed is suitable from age 0-18 month's baby.
It is made of breathable polyester mesh and cotton fabric which provide a virus-free environment, keep your baby dry and air flowing. Also, it has an iron wire inside the edge which will keep the crib stable.
Things to consider when buying a portable baby crib
What do you need to check when buying a baby travel crib
Meets all safety standard
When buying any baby-related product make sure it is tested and meets all required safety standards. In the same case as a baby crib, make sure it is sturdy on its alone. Not to place the crib on the floor and when you place the baby inside it falls because of imbalance.
In addition to safety, you should check the mattress ventilation and the space between the sides.
Most baby travel cribs are recommended for babies from birth to 18 months. Make sure the portable crib you are purchasing is suitable for the baby's age.
Portable cribs are mostly used when you are traveling consider a lightweight crib for easier carrying wherever you travel.
Just imagine how tiresome it is carrying heavy luggage.
 A good travel crib should be foldable, lightweight, and compact fit in the bag allowing it to be transported as hand luggage in the car trunk or plane.
Easy to assemble and reassemble
When a travel crib is not in use most people re-pack it for later use.
It should be easy to assemble and when you want to use be easy to set up.
The same case when storing it should be easy to fold and fit in the provided storage bag.
Most people say a good travel crib should be compact or small size to fit in the traveling bag but it is supposed to open up big and comfortably accommodate your baby.
Types of the travel crib
There are two types of portable baby crib
cocoon-style cribs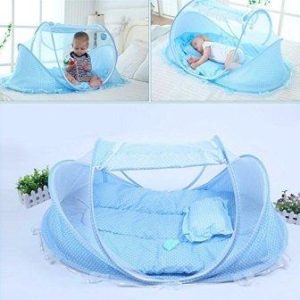 This type has a zip which is zipped in and out to give baby freedom to get in and out of the crib
The cocoon crib is lightweight, easy to set up, compact but does not provide space to stand.
Look more like a regular crib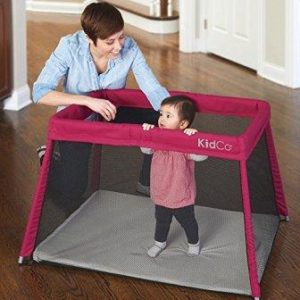 This type mimics the regular crib. It provides enough space for the baby to play and stand.
 The disadvantage of this crib is it becomes bigger when folded and bulky.
Additional features
Look for the travel crib that has added accessories like
Carrying bag

Adjustable as your baby grows

Mattress