When it comes to hosting special events, creating the perfect ambiance is key. Candles play a significant role in setting the mood and adding a touch of elegance and warmth to any occasion. By crafting your own candles, you can infuse a personal touch into your celebrations. In this blog post, we will explore creative candle-making ideas for special events, helping you create memorable experiences for your guests.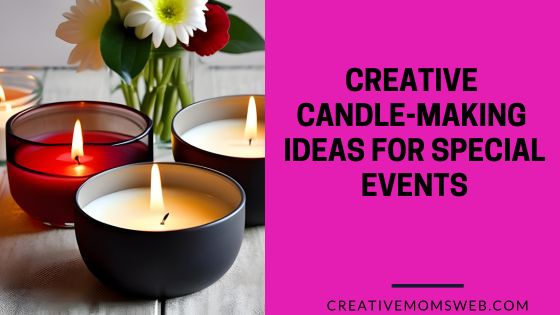 Here are candle-making ideas for special events
Weddings and Anniversaries:
Weddings and anniversaries are joyous occasions that call for candles that radiate love and romance. Consider making elegant pillar candles in the couple's favorite colors, or even incorporate their wedding theme. Adorn them with delicate ribbons or lace to enhance their visual appeal. Fragrances such as rose, jasmine, or vanilla can evoke a sense of romance, creating an enchanting atmosphere for the celebration.
Birthday Parties:
Birthdays are a time for celebration and fun, and candles are an essential part of the cake-blowing tradition. Take your candle game to the next level by creating custom birthday candles. Mold them into numbers or shapes that represent the birthday person's interests or hobbies. Use vibrant colors and add a touch of sparkle with glitter or confetti. Personalize them further by incorporating the person's initials or age into the design.
Baby Showers and Gender Reveals:
Welcoming a new life into the world is a special occasion that deserves candles that reflect the joy and excitement of the moment. For baby showers, opt for soft pastel colors like baby blue or light pink. Create adorable candle shapes such as baby bottles, rattles, or cute animals. To add an element of surprise, consider making gender-reveal candles with an outer layer that melts away to reveal either pink or blue wax, signaling the baby's gender.
Graduation Celebrations:
Graduations mark significant milestones in one's life and deserve to be commemorated in style. Craft candles in the graduate's school colors or create candles shaped like graduation caps or diplomas. Personalize them by adding the graduate's name or graduation year. Fragrances such as citrus or fresh linen can invoke a sense of accomplishment and new beginnings.
Holiday Gatherings:
Holidays bring families and friends together, and candles can enhance the festive spirit. Craft candles in seasonal colors such as red, green, gold, or silver. Create unique shapes and designs that reflect the holiday theme, such as Christmas trees, pumpkins, or Easter eggs. Experiment with aromatic scents like cinnamon, peppermint, or spiced apple to evoke the essence of the holiday season.
Romantic Evenings:
Whether you're planning a romantic dinner at home or celebrating a special occasion with your significant other, candles are a must-have element for creating a romantic atmosphere. To set the stage for an enchanting evening, opt for candles with soft, warm hues such as shades of red, pink, or purple. Fragrances like rose, jasmine, or vanilla can further enhance the romantic ambiance. Consider experimenting with heart-shaped molds or adding decorative elements like dried rose petals to make your candles even more visually appealing.
Relaxation and Meditation:
Creating a tranquil environment is essential for relaxation and meditation practices. For these occasions, choose candles with calming colors such as blue, lavender, or pale green. Fragrances like lavender, chamomile, or sandalwood are known for their soothing properties. Soy wax or beeswax candles are excellent choices, as they burn cleanly and emit minimal smoke or toxins. Consider making larger pillar candles or tea lights for longer meditation sessions.
Festive Celebrations:
Festivals and celebrations call for vibrant and festive candles that capture the spirit of the occasion. Consider using molds in various shapes such as stars, snowflakes, or holiday-themed designs. Colors like gold, silver, or traditional holiday hues can add a touch of elegance. Fragrances like cinnamon, apple spice, or pine can infuse the air with a sense of celebration. Don't forget to explore different candle accessories like ribbons, glitter, or sequins to make your candles truly festive.
Outdoor Gatherings:
Outdoor events such as garden parties or barbecues can be enhanced with the warm glow of candles. Opt for sturdy container candles or citronella candles to ward off insects and create a pleasant outdoor ambiance. Choose vibrant colors like orange, yellow, or green to complement the outdoor surroundings. Fragrances like citrus, lemongrass, or herbal scents work well in open-air settings. Remember to prioritize safety by placing candles in wind-resistant holders and keeping them away from flammable materials.
Personalized Gifts:
Candles make wonderful personalized gifts for any occasion. Customize your candles by selecting colors and fragrances that reflect the recipient's personality or preferences. Incorporate personalized labels or messages to add an extra special touch. Consider creating themed gift sets by combining different candle sizes or scents. Whether it's a birthday, wedding, or housewarming, a thoughtfully crafted candle will always be cherished.
Conclusion:
Candle-making allows you to create personalized and enchanting experiences for special events. Whether it's a wedding, birthday party, baby shower, graduation, or holiday gathering, crafting your own candles adds a unique touch to the ambiance. By selecting colors, shapes, and fragrances that align with the occasion, you can create candles that not only illuminate the room but also evoke the desired emotions. So, unleash your creativity, experiment with different candle-making techniques, and let the warm glow of your handmade candles enhance the magic of your special events.