Being a work-at-home mom offers the opportunity to balance the responsibilities of both work and family life. However, finding the right balance and establishing a structured schedule can be challenging. In this blog post, we will guide you through creating a productive work-at-home mom schedule that allows you to maximize your time, achieve your work goals, and still be present for your family.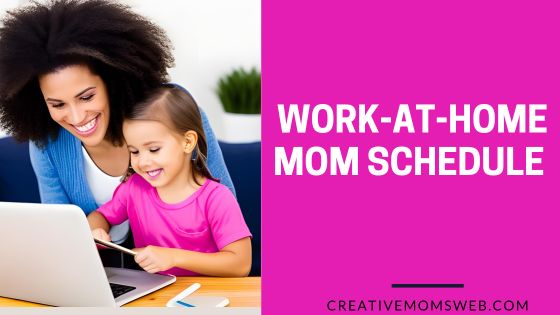 Tips to help create a productive work-at-home mom schedule
Start with a Morning Routine:
Wake up before the kids: Begin your day with some quiet time to set your intentions, practice self-care, and prepare for the day ahead.
Exercise and energize: Engage in physical activity, such as yoga or a quick workout, to boost your energy and focus.
Time Blocking:
Divide your day into dedicated blocks of time for specific activities, such as work, household chores, and family time.
Prioritize work tasks: Identify your most important work tasks and allocate focused blocks of time to tackle them without distractions.
Plan breaks: Incorporate short breaks between work blocks to recharge and avoid burnout.
Flexibility for family needs: Allow for flexibility in your schedule to accommodate your children's needs or unexpected interruptions.
Utilize Nap/Rest Times:
Leverage your child's nap or rest times to concentrate on tasks requiring deep focus or concentration.
Reserve this time for important work assignments, client calls, or creative projects that demand your undivided attention.
Engage in Child-Focused Activities:
Designate specific periods for engaging with your children without distractions.
Plan activities like reading, playing, or going for a walk together to strengthen your bond and create cherished memories.
Establish a Support System:
Seek support from your partner, family, or trusted caregivers to share childcare responsibilities during crucial work hours.
Communicate your schedule and expectations to ensure everyone understands and respects your designated work times.
Create a Productive Workspace:
Designate a dedicated workspace that fosters focus and productivity.
Ensure your workspace is organized, free from distractions, and equipped with the necessary tools and technology to support your work.
Set Realistic Goals and Boundaries:
Define realistic work goals for each day or week, ensuring they are attainable within the time you have available.
Establish boundaries with friends, family, and clients regarding your availability during work hours to minimize interruptions.
Embrace Technology and Time-Saving Tools:
Leverage technology to streamline your work processes, automate tasks, and save time.
Utilize project management tools, scheduling apps, and communication platforms to stay organized and efficient.
Sample work-at-home mom schedule
6:30 AM – 7:00 AM: Personal Morning Routine
7:00 AM – 8:30 AM: Kids' Morning Routine and Breakfast
8:30 AM – 10:00 AM: Work Block 1 (Focused work tasks, emails, and client communication)
10:00 AM – 10:30 AM: Break and Snack Time
10:30 AM – 12:00 PM: Work Block 2 (Project work, deadlines, or creative tasks)
12:00 PM – 1:00 PM: Lunch Break and Family Time
1:00 PM – 3:00 PM: Child-Focused Activities (Playtime, educational activities, outdoor time)
3:00 PM – 4:30 PM: Work Block 3 (Administrative tasks, planning, and research)
4:30 PM – 5:00 PM: Break and Snack Time
5:00 PM – 7:00 PM: Family Time and Dinner Preparation
7:00 PM – 8:00 PM: Kids' Bedtime Routine
8:00 PM – 10:00 PM: Work Block 4 (Optional – Catch up on work or personal projects)
Tuesday – Friday: Follow a similar schedule with variations as needed.
Remember, this is just a sample schedule, and you can adjust it based on your personal preferences, the age of your children, and the specific demands of your work. The key is to establish a routine that allows you to allocate dedicated work time while also providing quality time for your family and self-care.
Conclusion: By creating a well-planned and structured work-at-home mom schedule, you can strike a balance between your professional aspirations and family commitments. Remember that flexibility and adaptability are key when juggling work and family life. With a thoughtful schedule, perseverance, and self-care, you can thrive as a work-at-home mom, achieving success in both realms while nurturing your family relationships.