The Stay-at-Home Dog Mom Sweatshirt is the perfect gift for any woman who loves her pup! Whether she's a stay-at-home mom, a working mom, or a dog trainer, this sweatshirt will show her love for her furry family member. It is also an ideal gift for cat or dog moms.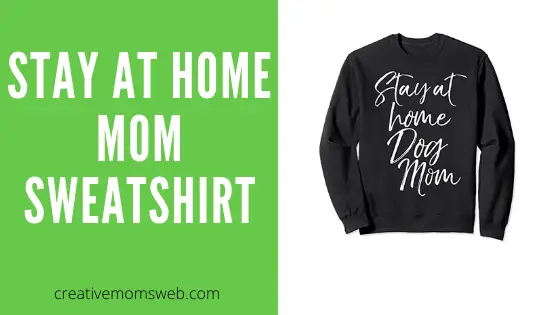 Stay-at-home dog mom sweatshirt
Goodday Women Dog MOM Letter Print Sweatshirt
Fabric: Cotton and Polyester
Expression written on it: Dog Mom
Sizes: small, medium, large, XL, 2XL
Colors: Dark grey, light grey, wine red, black, brick red, dark green, grey, and blue
Others: long-sleeve crewneck 
Care 
Machine wash or hand wash in cold water with a temperature, of not more than 35 °C.
Do not soak for a long time (no more than 15 minutes)
Do not expose to sunlight, should be in a cool or ventilated place to dry
When ironing, the temperature should not be too high, Iron with a press cloth.
Dog Shirt for humans by Virgo and co
Fabric: 80% Cotton, 20% Polyester; Heather Grey: 78% Cotton, 22% Poly; Dark Heather: 50% Cotton, 50% Polyester
Expression wrote on it: Stay-At-Home Dog Mom.
Sizes: small, medium, large, XL, 2XL
Colors: Black, navy, royal blue, dark heather, heather grey
Others: crewneck sweater with twill tape
Care 
Machine wash cold with like colors, 
Dry, low heat
Winnie Rose Stay At Home Dog Mom Sweatshirt
Fabric: 80% Cotton, 20% Polyester; Heather Grey: 78% Cotton, 22% Poly; Dark Heather: 50% Cotton, 50% Polyester
Expression wrote on it: Stay-At-Home Dog Mom.
Sizes: small, medium, large, XL, 2XL
Colors: Heather grey
Others: Twill-taped neck
Care 
Machine wash cold with like colors, 
Dry, low heat
Tstars Today Gift for Dog Lover Women Hoodie
Fabric: 50% Cotton, 50% Polyester
Expression written on it: Leave Me Alone, I'm Only Talking to My Dog Today.
Sizes: small, medium, large, XL, 2XL
Colors: California blue, gray, pink, red, and white
Care 
Born to Be A Stay at Home Dog Mom Hoodie
Fabric: solid colors: 80% Cotton, 20% Polyester; Heather Grey: 78% Cotton, 22% Poly; Dark Heather: 50% Cotton, 50% Polyester
Expression written on it: born to be a stay-at-home dog mom, forced to go to work as a nurse
Sizes: small, medium, large, XL, 2XL
Colors: Black, navy, royal blue, dark heather, heather grey
Others: twill-taped neck
Care 
Machine wash with cold water
Dry, low heat
Dog lover working mama tees Pullover Hoodie
Fabric: solid colors: 80% Cotton, 20% Polyester; Heather Grey: 78% Cotton, 22% Poly; Dark Heather: 50% Cotton, 50% Polyester
Expression written on it: – born to be a stay-at-home dog mom, forced to work.
Sizes: small, medium, large, XL, 2XL
Colors: Black, navy, royal blue, dark heather
Others: twill-taped neck
Care 
Machine wash with cold water
Dry, low heat
Foxio Stay-at-home dog mom store Sweatshirt
Fabric: solid colors: 80% Cotton, 20% Polyester; Heather Grey: 78% Cotton, 22% Poly; Dark Heather: 50% Cotton, 50% Polyester
Expression written on it: born to be a stay-at-home dog mom, forced to work.
Sizes: small, medium, large, XL, 2XL
Colors: Black, navy, royal blue, dark heather
Others: twill-taped neck
Care 
Machine wash with cold water
Dry, low heat
Cute dog tee shirt collection Pullover Hoodie
Fabric: solid colors: 80% Cotton, 20% Polyester; Heather Grey: 78% Cotton, 22% Poly; Dark Heather: 50% Cotton, 50% Polyester
Expression written on it: – Born To Be A Stay-At-Home Dog Mom Forced To Go To Work
Sizes: small, medium, large, XL, 2XL
Colors: Black, navy, royal blue, dark heather
Others: twill-taped neck
Care 
Machine wash with cold water
Dry, low heat
Fabric: solid colors: 80% Cotton, 20% Polyester; Heather Grey: 78% Cotton, 22% Poly; Dark Heather: 50% Cotton, 50% Polyester
Expression written on it: – I'm Only Talking To My Dog Today.
Sizes: small, medium, large, XL, 2XL
Colors: Black, navy, royal blue, red, forest green, dark heather, heather grey, purple
Others: twill-taped neck
Care 
Machine wash with cold water
Dry, low heat
Fabric: solid colors: 80% Cotton, 20% Polyester; Heather Grey: 78% Cotton, 22% Poly; Dark Heather: 50% Cotton, 50% Polyester
Expression wrote on it: Just a Girl Who Loves Dogs.
Sizes: small, medium, large, XL, 2XL
Colors: Black, navy, royal blue, red, forest green, dark heather, heather grey
Others: twill-taped neck
Care 
Machine wash with cold water
Dry, low heat
Just Want To Be A Stay At Home Dog Mom Gift Sweatshirt
Fabric: solid colors: 80% Cotton, 20% Polyester; Heather Grey: 78% Cotton, 22% Poly; Dark Heather: 50% Cotton, 50% Polyester
Expression wrote: – Just Want To Be A Stay-At-Home Dog Mom
Sizes: small, medium, large, XL, 2XL
Colors: Heather grey
Others: twill-taped neck
Care 
Machine wash with cold water
Dry, low heat
Mapanoli I Just Wanna Be A Stay At Home Dog Mom Sweatshirt
Fabric: solid colors: 80% Cotton, 20% Polyester; Heather Grey: 78% Cotton, 22% Poly; Dark Heather: 50% Cotton, 50% Polyester
Expression wrote: – I Just Wanna Be A Stay-At-Home Dog Mom
Sizes: small, medium, large, XL, 2XL
Colors: Black, navy, royal blue, dark heather, heather grey
Others: twill-taped neck
Care 
Machine wash with cold water
Dry, low heat
Fabric: solid colors: 80% Cotton, 20% Polyester; Heather Grey: 78% Cotton, 22% Poly; Dark Heather: 50% Cotton, 50% Polyester
Expression written: – I Just want to be A Stay-At-Home Dog mom.
Sizes: small, medium, large, XL, 2XL
Colors: Black, navy, royal blue, dark heather
Others: twill-taped neck
Care 
Machine wash with cold water
Dry, low heat
I Just Want To Be A Stay At Home Dog Mom Pullover Sweatshirt 
Fabric: solid colors: 80% Cotton, 20% Polyester; Heather Grey: 78% Cotton, 22% Poly; Dark Heather: 50% Cotton, 50% Polyester
Expression written: – I Just want to be A Stay-At-Home Dog mom.
Sizes: small, medium, large, XL, 2XL
Colors: Black, navy, royal blue, dark heather, heather grey
Others: twill-taped neck
Care 
Machine wash with cold water
Dry, low heat
Fabric: solid colors: 80% Cotton, 20% Polyester; Heather Grey: 78% Cotton, 22% Poly; Dark Heather: 50% Cotton, 50% Polyester
Expression wrote: – I Just Want to Be A Stay-at-Home Schnauzer Mom.
Sizes: small, medium, large, XL, 2XL
Colors: Black, navy, dark heather
Others: twill-taped neck
Care 
Machine wash with cold water
Dry, low heat
Boxer dog owner gift & co Sweatshirt
Fabric: solid colors: 80% Cotton, 20% Polyester; Heather Grey: 78% Cotton, 22% Poly; Dark Heather: 50% Cotton, 50% Polyester
Expression written: – I Just want to be A Stay-At-Home Dog mom.
Sizes: small, medium, large, XL, 2XL
Colors: Black, navy, royal blue, dark heather, heather grey
Others: twill-taped neck
Care 
Machine wash with cold water
Dry, low heat
Mom shirt mother's day gift design studio Sweatshirt
Funny Stay at Home Mom Gift Heavy Metal Pink Rock Cool Slay Pullover Hoodie
Cute mom shirts mothers day Sweatshirt
Awkward Styles Women's Stay at Home Dog Mom Graphic Hoodie Tops for Dog Lovers
Nurse Off Duty Promoted To Stay At Home Dog Mom Sweatshirt
Plant thumb flower Stay At Home Plant Mom Sweatshirt
Stay-at-home cat mom sweatshirt
 Cat mom dad apparel Born To Be A Stay At Home Cat Mom Forced To Work Nurse Sweatshirt
Fabric: solid colors: 80% Cotton, 20% Polyester; Heather Grey: 78% Cotton, 22% Poly; Dark Heather: 50% Cotton, 50% Polyester
Expression wrote: – Born To Be A Stay-At-Home Cat Mom Forced To Work Nurse
Sizes: small, medium, large, XL, 2XL
Colors: Black, navy, royal blue, dark heather, heather grey
Others: twill-taped neck
Care 
Machine wash with cold water
Dry, low heat
More Cozy and Stylish Comfort for Pet-Lovers mom clothes