Being a stay-at-home mom is a rewarding and fulfilling role that involves a delicate balance between taking care of your family and managing daily tasks. While comfort is a priority, adding a touch of style through accessories can boost your confidence and help you feel put-together throughout the day. In this blog post, we'll explore a collection of stay-at-home mom accessories that effortlessly complement your busy lifestyle while adding flair to your everyday look.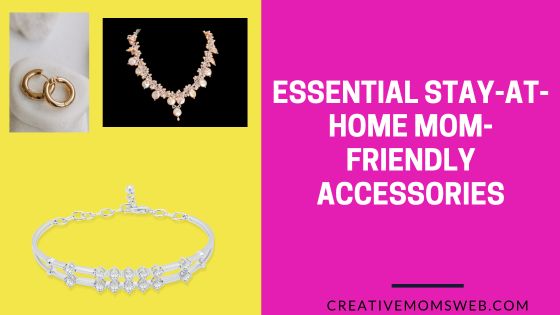 Essential Stay-at-Home Moms Accessories
1. Effortless Earrings: Studs and Hoops
Earrings are the perfect go-to accessory for stay-at-home moms. Opt for simple yet elegant studs or lightweight hoops. These accessories are comfortable and versatile, and add a touch of sparkle to your appearance without getting in the way of your daily tasks. Whether you're cuddling with your little ones or preparing a meal, you'll feel effortlessly chic.
2. Stylish Scarves: Functional and Fashionable
Scarves are incredibly versatile accessories that can elevate any outfit. Choose lightweight, breathable scarves that you can drape over your shoulders for a chic look. They add a pop of color, texture, and warmth, making them ideal for stay-at-home moms who want to stay comfortable without compromising style.
3. Dainty Necklaces: Minimalistic Charm
A delicate necklace can be the perfect finishing touch to your look. Opt for a pendant necklace with a meaningful charm or a simple chain that adds a touch of sophistication. These understated pieces effortlessly enhance your neckline and can be worn every day, adding a touch of elegance to your stay-at-home ensemble.
4. Functional Watches: Time Management with Style
A stylish watch is both a practical accessory and a fashion statement. Opt for a watch with a comfortable strap and a design that suits your personal style. Not only will it help you stay organized and manage your time effectively, but it also adds a touch of elegance to your wrist.
5. Comfortable Bracelets: Stackable Beauty
Bracelets can be comfortable and stylish additions to your stay-at-home mom wardrobe. Opt for stackable bracelets or cuffs that you can easily wear while going about your daily activities. These accessories add a touch of flair to your wrists without getting in the way of your tasks.
6. Functional Tote Bags: Chic Carry-Alls
Tote bags are a stay-at-home mom's best friend. Opt for spacious yet stylish totes that can carry your essentials, from snacks and toys to your own belongings. Look for designs that reflect your personal style while offering the convenience you need to manage your day.
Conclusion
Stay-at-home moms deserve accessories that effortlessly complement their busy lifestyles while adding a dash of style. From earrings that sparkle to scarves that add texture and warmth, these accessories offer a range of options to enhance your everyday look. By selecting pieces that are comfortable, functional, and chic, you can embrace your role with confidence and flair, all while taking care of your loved ones and managing your household tasks.