The school-age kid is from 6 -13 years old. These are children who have reached the age to go to school. At this age, some families send their kids to school while others homeschool them. Either way, a stay-at-home mom has to balance the needs of her children, family, and work. This can only be achieved by having a good stay-at-home schedule with school-age kids.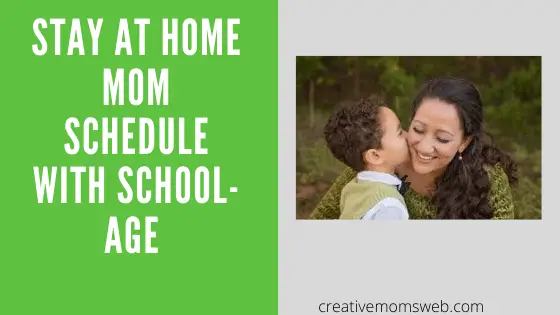 Stay-at-home mom's schedule with school-age kids
My new schedule for three years old and eight years old 
5:45 AM     
I wake up and prepare breakfast.
6: 20 Am    
I wake my kids to have breakfast.
At the same time, I am skipping or doing planks. The reason why I like these two exercises is that they take a few minutes and are very effective.
Read the benefit of plank exercise  
6:30 Am    
My kids are getting ready for school. They now know what to do and how to do it. I have taught them the routine to follow.
As the kids prepare to go to school, I am taking a shower.
Before I sleep, I make sure I have organized everything they need to put on the following morning. I make sure shoes are brushed and school uniforms are ironed and ready.
At this time, I am ready for the day (hair done, smart clothes, and simple makeup). You might think I am heading to the office, but that is one of the best secrets I have learned if I want to be a successful stay-at-home mom.
7:00 Am        
Take the kids to school. We walk to school because it's not far from home. 15 or fewer minutes are enough.
7:30 am         
Back from school. I have my breakfast and start my morning routine. 
I work on my blog between 8 a.m. and 12:30 p.m.
I have short breaks to stretch myself and have a snack or fruit.
12:30 pm
I have lunch and clean dishes.
I also clean my house up to 2 pm.
2:00 pm-2:30 pm
I'm taking a nap for 30 minutes. Naptime is very important to me. I feel fresh and strong to work the other parts of the day.
2:30 pm
Get up and work for one hour and thirty minutes.
3:30 pm
I prepare 4 o'clock snacks for my kid.
3:45 pm
I go out to get supper, snacks for tomorrow, and fruit as I head to pick up my kids from school. I feel that the distance I walk while picking up my children is sufficient exercise.
4:30 pm           
My kids have a snack and tea.
5:00 pm           
We do homework for 30 minutes, a few games here and there, like 20 minutes. My kids take a bath. I prepare supper up to 7:00 pm.
We spend 30 minutes doing homework and 20 playing a few games here and there. My children bathe. I start preparing dinner up to 7:00 p.m.
7:00 pm           
My kids have dinner.
8:00 pm            
My husband and I have dinner. After dinner, I make sure I wash the dishes.
If my husband is home earlier, we have dinner at the same time as the kids.
Between 5-8 pm, we have time together. We watch television, read a book, tell stories, and listen to how everyone spends their day.
8:30 pm
Children sleep
9:00 pm           
I start my evening routine by tidying the house, putting toys in the right place, and arranging my couch pillows.
9:30 pm           
I read a bible or a book. Find out the best stay-at-home mom's books you can read, and if you are in business, there are business books for women. I also make my to-do list for tomorrow.
10:30 pm          Sleep time
On the weekend, I alter the schedule. I never wake up early since my husband is at home and the children are not going to school. I usually wake up at 8 a.m.
Also, on the weekends, I rarely work on my blogs. I create time for my family and me-time.
Follow creative moms web on Pinterest