Are you a stay at home mom with school aged child. Find out Stay at home mom schedule with school-age.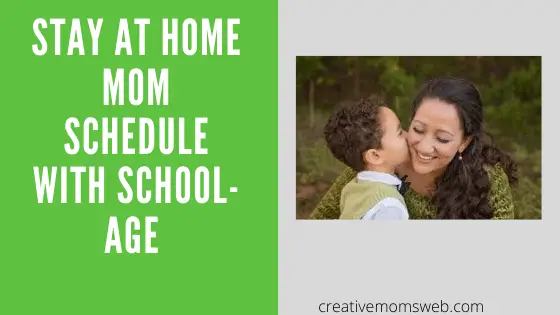 The school-age child is from 6 -13 years old. These are children who have reached the age to go to school.
In my country, Kenya children start going to school from 3 years of age commonly known as preprimary/preschool.
Stay at home mom schedule with school-age
My new schedule for 3years old and eight years old
5:00 Am – 5:45 AM
Wake up, prepare breakfast, take breakfast together with my husband and my husband leaves home to go to work.
5:50 am-6:20 Am
I never go back to sleep. I do morning devotion (read the bible and pray)
Between 5-6:30 am start my morning routine
6: 20 Am
Wake my eight-year-old son to take breakfast. He is now mature and independent. He takes 10 minutes for breakfast.
At the same time, I am skipping or doing planks. The reason why I like these two exercises takes a few minutes and very effective.
Read the benefit of plank exercise
6:30 Am
My son starts preparing himself to go to school. As I said earlier my son is independent, I have taught him the routine to follow, and he follows it strictly.
As he is preparing himself I am taking a shower. 15 minutes are enough for my son to get dressed, I have a shower and dressed.
Before I sleep, I make sure I have organized everything he needs to put on the following morning. I make sure shoes are brushed, and school uniform ironed and ready.
He picks the clothes and put on.
He goes to school on his own which is a few meters from the house.
At this time I am ready for the day (hair kept, smart clothes, and simple makeup) in the house you can think I am heading in the office but that one of the best secrets I have learned if I want to be a Successful Stay-at-Home Mom.
7:00 Am
My son leaves to school alone.
7:00-7:30 am
I wake my three years old daughter, and she takes breakfast
7:30 – 7:45 am
Prepare her to go to school. I take less than 10 minutes because everything is ready. As I said earlier, I prepare the uniform last night and make sure the shoes are polished.
7:50 am
Take my daughter to school. Another exercise I never use the school bus we walk to school because it's not far from home. 15 or fewer minutes are enough.
8:20 am-12:30pm
Back from school and start my online job. I have short breaks to stretch myself and have a snack or fruit.
I never do laundry I have hired someone for that since my blog is earning.
12:30 pm
Take lunch, clean dishes and my house up to 2 pm
2:00pm-2:30pm
I take a nap for 30 minutes. Naptime is very important to me I feel fresh and strong to work the other part of the day.
2:30 pm
Wakes up and work for one hour thirty minutes my online job
3:30 pm
Prepare 4 o'clock snacks for my kid. It takes 15 minutes to prepare or less.
3:45 pm
I leave to pick my kids from school as I buy supper, the following day snacks, and fruits. Since I walk a distance while I pick my kids, I consider it enough exercise.
4:30 pm
My kids take a snack and tea.
5:00 pm
We do homework for 30 minutes, a few games here and there like 20 minutes. My kids take a bath. I prepare supper up to 7:00 pm.
7:00 pm
My son and daughter take dinner
8:00 pm
My husband and I eat dinner, clean the dishes. If he is home earlier, we take the same time with the kids.
Between 5-8pm we have time together we watch television, read a book, give stories and listen to how everyone spends their day.
8:30 pm
Children sleep
9:00 pm
Start my evening routine – tidying the house putting toys in the right place and arranging my couch pillows. Mostly my children sleep either 8 pm or 9 pm.
9:30 pm
I work on my blog, I can read and prepare tomorrow to-do list. I can read a bible or a book. Find out stay-at-home mom's book you can read and if you are in business there are business books for women.
11:00 pm Sleep time
On the weekend I alter the schedule I never wake up early since my husband is at home and children are not going to school so I usually wake at 8 am.
Also, in the weekend I rarely work on my blogs I create time for my family and me-time.
If you have a school aged child and you are full time stay at home mom please share with us your Stay at home mom schedule with school-age in the comment section below.
Related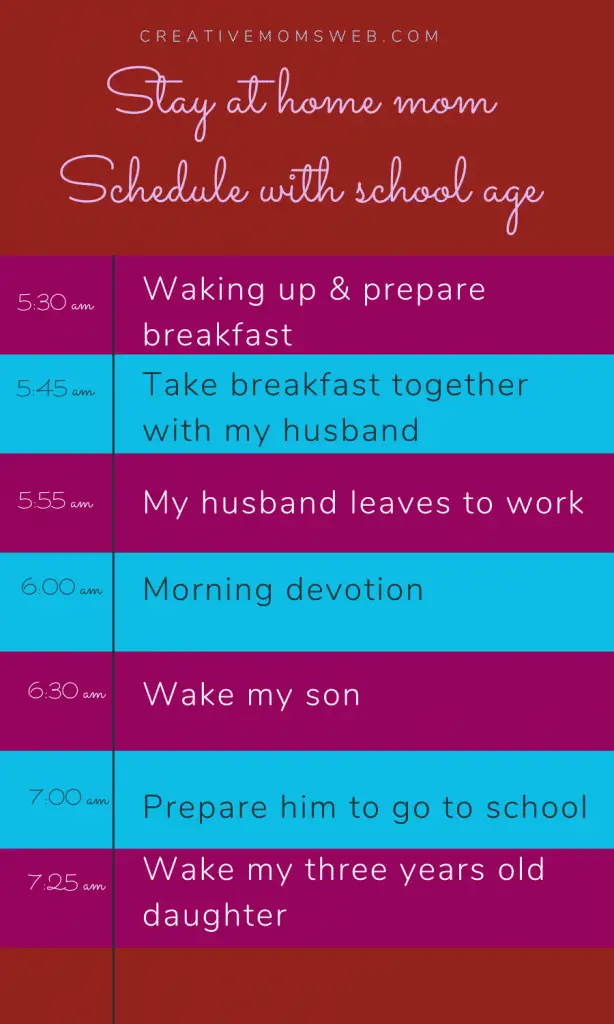 Follow creative moms web on Pinterest