Is it possible to keep a clean house while being a full-time stay-at-home mom with a baby and working at home? I am a person who loves a tidy house, but being a busy and full-time stay-at-home mom, I have less time to spare to keep my house clean. Creating a stay-at-home mom cleaning schedule is the only solution to getting the cleaning done as a busy mom.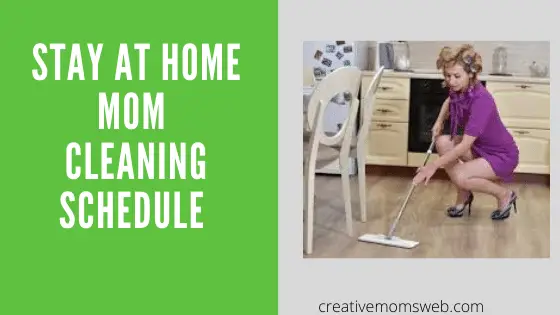 A daily cleaning schedule for a stay-at-home mom
Morning
The morning is chaotic for most moms; you are waking up, preparing breakfast, getting the children up, and preparing them to go to school. This does not mean there is no cleaning that can be done.
Bedroom
Make your bed once you get up.
Organize clothes that you are no longer wearing, like gowns. In my house, we have a habit of keeping dirty clothes in one corner, so every morning I pick them up and put them in the laundry basket. If it is laundry day, I soak them to clean them later.
Clothes that don't require cleaning (like I don't wash heavy jackets and gowns if they are worn once unless they are dirty) I hang or fold them then put them in the right place.
Kitchen
Clean the dishes and dirty pot as you cook.
Although I clean dishes after every meal, you find that when preparing food you have dirty glasses, pots, knives, or plates. As you cook, wash them.
Also when preparing the meal you use things like chop board and knives; once done using them clean them immediately as you wait for your food to be ready.
Cleaning dishes as you cook helps reduce a load of dishes to clean after eating.
Also, sometimes I mop the kitchen quickly as I wait for food to be ready. I mop the floor lightly to remove excess water that can cause falls. Then do deep scrubbing once a week.
Clean dishes after every meal
I don't have a dishwasher so I clean dishes by hand in the kitchen sink. Don't wait for utensils to pile up in the kitchen sink or counter. Make a habit of cleaning dishes after every meal. This saves a lot of time because you will have fewer dirty utensils to clean.
You can clean fewer dishes even when you are carrying your baby on the back or place him or her in the activity center for a few minutes and clean utensils faster for fewer minutes.
After cleaning dishes, I wipe out kitchen countertops and stovetops.
I empty kitchen trash daily to prevent flies in the kitchen
Also, make a habit of cleaning dirty dishes before going to sleep this helps reduce the mess in the morning.
Doing laundry
I hand wash my clothes daily. After I am done taking breakfast I soak dirty clothes for a few minutes. Washing clothes daily saves a lot of time, you will have fewer clothes to clean and you will not get exhausted saving you time and energy to do other things in the house.
I prefer washing clothes when my children are asleep. My children take 1-2 hours of nap time, and this is enough time to do laundry.
Since I do laundry daily it takes less than 45 minutes.
Quick clean the bathroom
I don't have a laundry room so I hand wash my clothes in the bathroom.
I do bathroom deep cleaning once a week and a quick clean bathroom floor daily after laundry.
Once done doing laundry I quickly clean the bathroom to remove excess soap on the floor.
I wipe the bathroom mirror, countertop, sinks, and faucet using wet soapy microfiber clothes. This help remove toothpaste marks
I squeegee the shower wall after bathing.
I also make sure I ring out washcloths after bathing, rinse bath toys and put them in a storage basket, and hang or fold bath towels.
I give the toilet a quick scrub in the bowl and wipe the toilet seat and rim.
Living area
I dusted the sofa set.
I lightly mop the living area floor daily.
Straighten pillows and cushions.
Sweep the carpet and other areas that need so.
Tidy up the living room every day by arranging magazines, books, and toys.
At night before I sleep I make sure I put toys in the right place.
A weekly cleaning schedule for a stay-at-home mom
My weekly general cleaning involves deep cleaning of the floor, windows, furniture, and walls.
Week 1 ​- Living Room​​​ clean under coach and dust furniture
​Week 2​ – Bathrooms and toilet 
​Week 3​ – Bedrooms
​Week 4 ​- Kitchen​​​
Deep cleaning weekly checklist
Kitchen
Clean and arrange cabinets and drawers.
Empty trash-I do it daily to prevent flies in my kitchen.
Scrubbing the floor
Dusting furniture
Clean kitchen appliances like microwaves
Bathroom
Scrub floor
Clean grout on floor and wall tiles. 
Wash bathroom mats and shower curtains. 
Clean countertops, cabinets, and drawers.
Dust Furniture.
Disinfect bathroom sinks, faucets, and counters.
Clean mirrors
Bedroom
Wash pillows and pillowcases.
Wash bedding and curtains. I change bedding weekly and wash them. 
Clean windows
Living and dining room
Organize the cabinets and drawers.
Dust electronics
Cleaning under sofas and chairs
Clean pillows, loose covers, curtains, and pillowcases.
Vacuum floor
Dust the curtain
Other tasks to do weekly
Brushing your pet several times a week
Pet shed a lot of hair every day and this fur ends up on your house floor or carpet. Brushing your pet several times a week helps reduce the amount of fur the pet drop all over the house
Every month if you follow the above your whole house should be clean.
Then remember to repeat the same every month. You will find out your house is not such dirty and the weekly general cleaning will take fewer days and a few hours.
A monthly cleaning schedule for a stay-at-home mom
Wipe the interior and exterior of the fridge.
Clean windows and curtains every month. 
Clean the inside of the oven
Dust ceiling fan
Clean the cobwebs from the corners.
You might like house cleaning tips
The stay-at-home mom's cleaning schedule will not be the same because every mom has different priorities. Get the right tools and equipment needed to make your cleaning job easier. Please share your schedule in the comment section below.
Follow creative moms web on Pinterest