House cleaning tools and equipment are the most important things that you need to have on hand. They will help you get your house clean in a fast and efficient manner.
You will find a lot of different tools and equipment on the market these days. However, not all of them are worthy of your time. That is why we have decided to bring you this list of the best ones that you can find right now.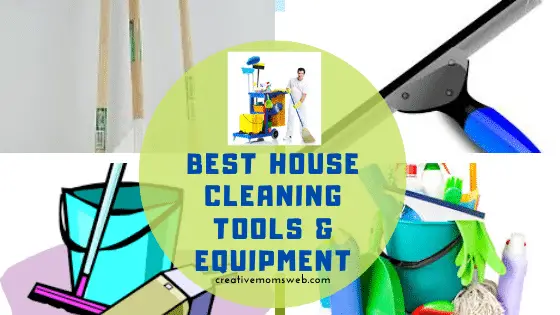 You can have the best house cleaning schedule, ample time, and good house cleaning tips, but if you don't have the right tools and equipment to clean the house, chances are it will be hard and take forever to clean.
Why does every mom need house cleaning tools and equipment?
It makes work easier.

Cleaning tools save time.
Cleaning with tools gives the best result.
House cleaning tools help to clean areas with tough stains effectively.
When using tools like vacuums, they reduce worker fatigue and increase yield.

The tool makes it easier to reach any corner and height in the room.
 Categories of house cleaning tools
Cleaning solution
All-purpose cleaner

Floor cleaners

Laundry detergent

Sanitizers

Water

Bathroom cleaner

Toilet cleaners
Electric cleaning tools
Vacuum cleaner

Scrubber

Box sweeper
Manual or handheld cleaning tools
Mops

Cleaning Cloths

Dustpan

Broom

Spray bottles

Squeegee

brush
Must have
The must-have cleaning tools and equipment
House cleaning tools and equipment comparison
| | Name | Pictures | Uses | Where to buy |
| --- | --- | --- | --- | --- |
| 1 | Brooms | | sweeping inside an outside of the house | Buy Amazon |
| 2 | Squeegee | | car windows,shower doors, tiles, walls, mirror | Buy Amazon |
| 3 | Cleaning clothes | | kitchen, bathroom, dining room, garage, and office | Buy Amazon |
| 4 | Rubber gloves for cleaning | | protect hands when cleaning | Buy now Amazon |
| 5 | Cleaning brushes | | scrub tough stains and grout lines | Buy now Amazon |
| 6 | All-purpose cleaners | | floor, kitchen, sinks, bathroom tiles and walls | Buy now Amazon |
| 7 | Vacuum | | floor, carpet | Buy now Amazon |
| 8 | Mop | | floor, wall, windows, cars | Buy now Amazon |
| 9 | Bucket | | put in cleaning solution | Buy now Amazon |
| 10 | Toilet brush | | toilet bowl | Buy now Amazon |
| 11 | Dustpan | | | Buy now Amazon |
Note: Always don't use the same pair of gloves for cleaning the toilet and kitchen. Use them separately to avoid spreading harmful bacteria and germs from the toilet to the kitchen.
Scrubbing brush -used to scrub tough stains
Grout brush  -cleans grout lines easily.
Household cleaning-  all-purpose cleaner
It is a cleaning solution that cleans almost everything in the house including toilet flush handles, sinks, floors, countertops, and other places.
A vacuum helps clean both hard and soft floors, such as carpets and floors.
 Sweeping tools include a

broom and a dustpan

.
Dusting tools include a dusting mop, dust cloth, or feather dusters to wipe the dust in the house.
Wet mop: clean all hard-surface floors.
Bathroom
Bathroom cleaning tools and equipment
What is a squeegee?
It is a tool used to wipe off mildew, water stains, moisture, soap scum, and other buildups from bathroom walls and floors after every shower.
What to consider when choosing the best squeegee for your bathroom
When buying a squeegee, consider the size and material of the handle. Squeegee handles are made of plastic, which is cheap but tears easily; stainless steel does not rust and can last for many years, and brass handles last quite a long time.
The length of handle should be long enough so that you can reach every height you want to clean.
Make sure the handle fits well in your hand and is a non-slip handle.
Most squeegee blades are made of polyurethane, silicone, neoprene, and rubber.
Neoprene is mostly for industrial use because it is resistant to grease and oil. Rubber is cheap but doesn't last long. Polyurethane is expensive but durable and is best for the floor. Silicone is not expensive but quite durable and is preferred for the shower.
The blade should be easier to replace
The width of the blade should be 54 inches. 54 inches is meant for industries.
The squeegee blade holder is mostly made of aluminum, brass, and stainless steel. Aluminum is light, stainless steel is lighter and less expensive, and brass is rigid and heavy.
The best bathroom shower squeegee on the market!
E-Prance Shower Window Squeegee
The squeegee is made up of a stainless steel blade holder, a silicone blade, and a chrome-plated zinc handle, which is durable and guaranteed not to rust.
It is ideal for bathroom tiles, shower glass screens, houses, and car windows.
A wall-hanging design that allows storing the squeegee on shower heads, towel bars, and cuddles.
The length of the blade is 25 cm, the handle length is 17 cm, and it has a weight of 180 g.
Desired tools squeegee for shower
It is best for wiping shower doors, tiles, walls, and windows. It is also ideal for car windows and windscreens.
The squeegee is made of a soft non-grip handle and a silicone blade.
The handle length is 10 inches and the blade is 8 inches.
OXO Good Grips All-Purpose Squeegee
The OXO squeegee is made up of stainless steel which makes it rust free
It is ideal for cleaning shower doors, tiled surfaces, mirrors, and windows.
The handle is non-grip and perfectly fits the palm of your hand.
It is lightweight and slim
For efficient cleaning, the squeegee comes with two dual blades, which are 12 inches.
It has a weight of 3.9 oz, which is feather-light.
It has a wall-mounted holder for easier storage.
It is best to clean flat surfaces, and any glass surfaces (windows and doors).
With no metal parts, the squeegee doesn't rust or scratch surfaces.
A scrubber brush is meant to remove those sturdy stains from the bathroom tub, wall, and floor.
There are long-reach scrubbers used to clean the top of the bathroom, and small scrubbers meant for cleaning the bottom of the bathroom.
Cordless power scrubber
Hurricane Spin Scrubber Cleaning Brush
It is a rechargeable cleaner scrubber that cleans soap scum and mildew.
CUH Cordless Household Power Scrubber 
It is ideal for cleaning bathtubs, tiles, bathroom shower stalls, marble, kitchen corners, sinks, cabinets, and cookware.
With the waterproof seal, the design works well in wet areas.
3.6-volt rechargeable battery powers the scrubber.
The product comes with numerous attachments such as fine brushes, hard brushes, hard metal brushes, fine metal brushes, scouring pads, crevice cleaning brushes, and crevice cleaning metal brushes. All those attachments make it easier to clean all the areas in the house.
It has a concave handle for maximum grip and low noise performance.
Battery-operated bathroom scrubber (Rechargeable Batteries)
Quickie Tub N' Tile Power Scrubber
It is ideal for cleaning grout, tile, bathtubs, and shower
The scrubber is powered by a 3.6-volt rechargeable battery and comes with a charger.
With a 21-inch aluminum extendable handle, it makes it easier to reach and clean very high points in your bathroom.
The Tub N' Tile Power Scrubber has a waterproof rotating head that comes with a detachable large scrubbing brush and a small stiff brush for cleaning corners and grout.
The package comes with 2 Rechargeable Batteries, a Cordless power scrubber, a dual battery charger, 4 Brushes (Metal Bristle Brush, Plastic Bristle Brush, Crevice Brush, and Fine Brush), and 1 Scouring Pad
The waterproof seal design makes it safe to work under wet conditions.
It is ideal for bathroom, kitchen, barbecue grill, and outdoor scrubbing needs.
With a hand-held scrubber, power makes it safe for your hands, hardy, comfortable and efficient
A 3.6-volt rechargeable battery powers the scrubber.
Extendable bathroom tub and shower scrubber
OXO Good Grips Extendable Tub and Tile Scrubber
The scrubber extends from 26 inches to 42 inches, making it easier to clean without kneeling.
It is best for tiles, glass, tubs, and floors.
Its unique shape makes it best for cleaning corners, grout lines, and recesses.
It has a sturdy steel pole and handles that are made of soft grip and non-slip even when wet.
The head is easily replaceable, and a replacement scrubber head is available on the market.
Telescopic Tub & Tile Scrubber
The telescopic handle extends from 291/2 inches to 55 inches, so you can easily reach hard-to-reach areas.
The round bristle head makes it easier to clean curved surfaces.
It is lightweight and comfortable grip handle.
Its unique straight handle design allows standing straight while cleaning. You don't have to bend over while cleaning.
The curved and flat surfaces can be cleaned quickly with a swiveling head.
Bathroom cleaners are the chemical solutions used to clean the bathroom.
Best bathroom cleaners
Mr. Clean Liquid All Purpose Cleaner 
It is ideal for sinks, counters, stoves, kitchens, and bathrooms.
The product contains no chlorine or bleach.
To eliminate odor and cut grease, Mr. Clean Liquid All Purpose Cleaner is the best.
Lysol All-Purpose Cleaner Trigger
It cuts through tough grease stains, removes soap scum, and kills 99.9% of bacteria and viruses.
Tilex Mold & Mildew Remover 16 fl oz (Pack of 2)
It contains Clorox bleach and kills household mildew and mold.
Lysol Mildew Remover With Bleach Spray
It is a non-abrasive formula that doesn't harm plumbing or septic systems.
Lysol mildew remover is a sanitizer that whitens and removes mold, soap scum, mildew stains, and other tough stains and spots.
It quickly removes rust stains.
It is best for white sinks, white toilet bowls, color-fast fabric, and carpets.
Scrubbing Bubbles Antibacterial Bathroom Flushable Wipes
best use for bathroom surfaces.
It kills bacteria and odor-causing bacteria.
The grout brush is used to clean mold and mildew that forms spaces between the tiles without scratching the surface.
Best grout brush
OXO Good Grips Deep Clean Brush Set
The set includes two brushes, a large and a small brush with a wiper blade. The small brush is ideal for fixtures and tight spaces, while the large is best for grout, shower tracks, and stovetops.
The wiper blade removes built-up dirt from drains and crevices.
It has non-slip grips and a durable scrubbing brush.
Groom Industries Mini Shark Grout Cleaning Brush
It has sturdy nylon bristles.
with a sloped edge that cleans right up to the edge of the tiles.
The product has a thick and durable handle, which makes it easier to grip when scrubbing grout.
It has an angled handle, which minimizes downward force when scrubbing tough stains.
Casabella Clear Grout Brush with Aqua Handle
The grout brush is best for, floor tiles, kitchen, and bathroom
It has nylon bristles for the hardest tasks.
Narrow bristles make it easier to clean small spaces.
The brush is 11 1/2 inches long and features an aqua handle.
5. Bathroom cleaning cloth
There are rags meant to clean the bathroom. There are three types of bathroom cloth: cotton, disposable, and microfiber. I prefer using microfiber mirrors or window cleaning cloths. They are best for cleaning bathroom counters, mirrors, glasses, tubs, and showers.
The microfiber cloth absorbs and dries water on the surface you are cleaning without leaving lint behind.
Best bathroom cleaning cloth
Zwipes Microfiber Cleaning Cloths
The product is best for cleaning, wiping, drying, dusting, and polishing within homes, garages, and offices.
It is machine washable.
The Zwipes Microfiber Cleaning Cloth can attract and trap grime, dust, and dirt within 110,000 fibers per square inch.
Assorted colors help allocate each towel to specific cleaning areas to avoid cross-contamination.
The cloth is lint-free and streak-free, cleaning without scratching surfaces, paint, and furniture.
AmazonBasics Cotton Washcloths, 24 – Pack
The cloth is made of 100% cotton fabric for strength and is highly absorbent, fast-drying, and machine washable.
It is best for household cleaning, baths, offices, and gym use.
Clean Leader Microfiber Cleaning Cloths
The cloth is ideal for cleaning the kitchen, bathroom, dining room, garage, and office.
Made of 80% polyester and 20% polyamide and constructed with 110,000 fibers per square inch, it allows you to clean without chemicals or detergent.
The product is lint-free and streak-free, and its non-abrasive design makes it clean without leaving a scratch on the surface.
The rubber gloves are meant to protect your hands from germs or contaminants when cleaning the bathroom. The best gloves for cleaning the bathroom are reusable.
Best Rubber gloves for cleaning the bathroom
Load the bathroom with soap dispensers. Although this is not a cleaning tool it helps with quick spot cleaning.
Toilet
Toilet cleaning tools and equipment
Toilet brush
It's one of the primary tools for cleaning toilet bowls.
Best toilet brush
OXO Good Grips Hideaway Compact Toilet Brush
The toilet brush has a canister that stores the brush neatly when not in use. The canister door opens automatically when the brush is lifted.
It features a tapered brush head and sturdy blue bristles for deep cleaning under the rim
Home Basics Bronze Toilet Brush with Holder (low price)
The toilet brush comes with a stand that stores the toilet brushes in the bathroom.
Superior Toilet Brush with Pan and Lip.
It comes with a holder for convenient storage.
The brush has a lip for cleaning under the bowl rim.
It has a rubber grip handle for comfortable use.
Estilo Stainless Steel Toilet Brush and Holder – Bronze
Toilet bowl cleaners
Toilet cleaners are applied inside the bowl of the toilet. It adequately disinfects and cleans the toilet. The best option is liquid toilet cleaners
Best liquid toilet bowl cleaners
Lysol Power & Free Toilet Bowl Cleaner
It leaves a fresh scent on your toilet.
The toilet cleaner has no harsh chemical residue.
It removes tough soap scum and limescale.
Green Works Toilet Bowl Cleaner
It contains no bleach and is best for septic systems.
The powerful gel formula is best for removing rust, hard water stains, and mineral deposits.
Best tablet toilet bowl cleaners
Clorox Automatic Toilet Bowl Cleaner
It sanitizes the toilet with every flush and kills household bacteria.
The bowl cleaner repels tough hard water mineral and limestone stains, preventing buildup and keeping your bowl clean. It also leaves your toilet looking sparkling and bright.
It cleanses and deodorizes the toilet for up to three months.
Lysol No Mess Automatic Toilet Bowl Cleaner
The product cleans and freshens for up to eight weeks.
Antimicrobial protection makes it resistant to odor-causing bacteria
2000 Flushes 290074 Chlorine Antibacterial Automatic Toilet Bowl Cleaner
The product is 2000 flushes
Bleach or sanitizer—it is used to sanitize or disinfect the toilet.
Cleaning cloth – used to wipe the outside of the toilet. If you don't use disposable towels, remember to clean your cloth/sponge and disinfect it after use.
5. All-purpose cleaning product
All-purpose cleaning product – Used to clean the toilet outside the surface, such as flush handles. You can apply it on the cloth and clean the outside of the toilet easily. The best all-purpose cleaning products are anti-bacterial. They help eliminate germs.
Rubber gloves – to protect your hand when cleaning
A step-by-step guide on how to clean the toilet.
At least you know the best tools and equipment to use while cleaning the toilet. It is important to know where and how to use them.
How to clean the toilet seat, toilet bowl, and other areas of the toilet.
Put on your rubber gloves

Flush your toilet to moisten

the bowl
Apply toilet bowl cleaner under the rim and the edge of the bowl
Leave the toilet cleaner for a few minutes to remove tough stains. Scrub the whole bowl and under the rim using a toilet brush.
Flush your toilet. If you didn't get the desired result, repeat steps

three and four until you get satisfied.

Apply Bleach or sanitizer on your cleaning cloth and

wipe the seat, lid, flush handles, and other areas of the toilet surface. Wait until Bleach or sanitizer dries

and wipe with a clean cloth.
Remember to follow the manufacturer's instructions when using bleach and toilet cleaning products.
Floor
Floor cleaning tools and equipment 
1 Mop
A mop is a cleaning tool made of spongy material at the end of the rod.
There are different types of mop- spin mop, steam mop, spray mop wet, and dry mop.
Best spin mop
Twist and Shout Mop – Award-Winning Hand Push Spin Mop
It is perfect for cleaning floors, walls, windows, cars, and boats
The super absorbent microfiber mop head leaves no streak when cleaning, dries the floor instantly, and when dry, can be used as a dry mop to pick up hair and dust. The mop head is machine washable.
It is a self-wringing mop. It spins dry with a gentle push of the handle.
It features a swivel point of 180 degrees and rotates 360 degrees to clean under furniture and along baseball.
It is a unique microfiber mop that cleans the floor, leaving no streaks and absorbing 10 times its weight.
The mop features a 360-degree swivel head that reaches all corners of the house and pivots under the furniture.
The patented bucket and centrifugal dryer technology remove excess water, so you don't have to bend or touch the dirty mop.
O-Cedar EasyWring Microfiber Spin Mop
The bucket design has an inbuilt wringer that allows for hands-free wringing.
With deep cleaning microfiber removes and absorbs tough stains and grime.
The mop has a high-quality foot pedal designed to activate spin wringing and allow the level of moisture to be controlled.
It features a splash guard that keeps splashes and sprays inside the bucket when wringing.
With the telescoping handle, you can adjust the length from 33 to 51 inches. This makes it comfortable to work for people of any height.
The mop is designed with a 360-degree rotation, making it easier to clean under the furniture and corners.
Best Spray Mop
O-Cedar ProMist Microfiber Spray Mop
It works great for hardwood floors.
The mop has a refillable bottle so you can choose your solution.
It features a microfiber pad, so it grabs the dirt so you don't have to push it.
The head flips 180 degrees.
Best Dry and wet mop
Swiffer Sweeper Cleaner Dry and Wet Mop Starter Kit for Cleaning Hardwood and Floors
Best Steam Mop
McCulloch MC1275 Heavy-Duty Steam Cleaner
2 Vacuum cleaner –
It is the cleaning technology that sucks the dust and dirt. There are different types of vacuum cleaners such as canister, upright, compact, and robotic.
Read more about how a vacuum cleaner works.
Canister vacuum cleaner
Upright vacuum cleaner
Handheld vacuum cleaner
Robotic vacuum cleaner
Robotic-the vacuum is best for cleaning bare floors and litter off the carpet surface. It is not the best for deep cleaning carpets.
Best dustpan
 Broom
5. Dust mop
8. Rags
Window
Window cleaning tools and equipment
Window cleaning tools for high windows, hard to reach, or out of reach.
Wall and ceiling cleaning
Wall and ceiling cleaning tools and equipment
kitchen
Kitchen cleaning tools and equipment
Best kitchen cleaning tools and equipment
We hope that our list will help you make a better decision when it comes to buying these products for your home. And, if you want more information about any specific product, don't hesitate to contact us!