The report by the Bureau of Statistics shows the number of mothers who are choosing to leave their workforce and stay at home is on the rise, and that is why the word "stay-at-home moms," or its acronym SAHM, is popping up in today's parenting. What are the reasons for choosing motherhood over a career?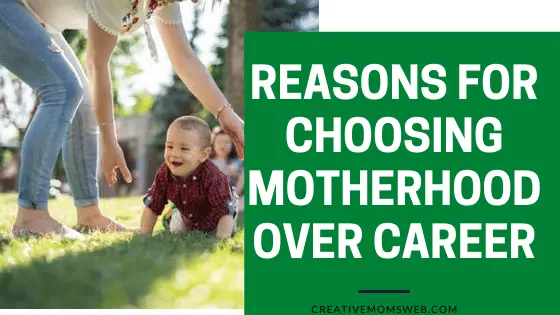 Who are Stay-at-Home Moms?
Stay-at-Home Mom is a mother who has chosen to leave her paid workforce to stay at home to take care of the children and domestic duties.
The reasons for choosing motherhood over career
Here are some reasons why parents are leaving their full-time job to Stay-at-Home Moms
1. Natural feeling
The natural feeling is one of the main reason that makes most mothers decides to stay at home. When every mom gives birth, they become more attached to the baby. Mom feels that their kids are safer when on their hands. They don't trust anyone with the baby.
Other moms become hard to detach from their children as a result decide to stay at home and look after them.
2. Childcare is costly
Most moms whose salary is not enough to pay the cost of childcare choose to live at home to look after their children rather than add another extra expense to the house.
3. Job stress
Moms who have difficult jobs, put in long hours, or work every weekend for salaries below the minimum wage may question whether the stress of the job is worth it.
Sometimes it even becomes hard to manage between the family and the job. They decide to leave their jobs to care for their families.
4. Take care of the children
Nowadays, it is difficult to find a good caregiver, so mothers choose to stay at home to care for their children.
5. Finacial stability
Moms who are married and have enough money to cover family expenses choose to stay at home to care for the children while the husband becomes the sole breadwinner.
Finally, there is a partner who wants their wife to be at home to take care of the children and house duties. For that reason, Mom quit her job to be at home.