Reading books is one of the ways stay-at-home moms beat boredom. There are many stay-at-home mom books out there, but we have compiled the best of them for you. These include parenting books, self-help books, and other genres.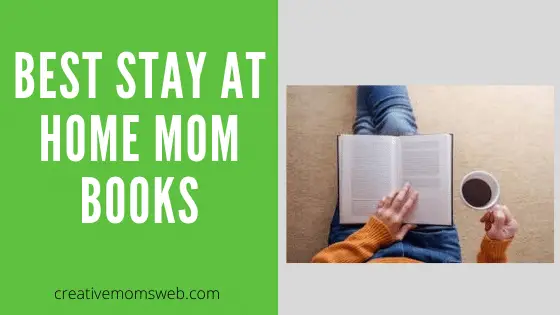 Quick pick
These books offer advice on how to manage your time and your children's time and also provide tips on how to make your house a cleaner and more organized place.
Some of the books are written to help you organize your life, ideas to deal with life, self-care, parenting, guides on how to make money at home, tips on returning to work after being a full-time stay-at-home mom, self-improvement, and motivation.
List of 13 best stay-at-home mom books
Stay-at-home mom book reviews
The best motherhood book for stay-at-home moms
Best motherhood book for stay-at-home moms
Melissa Stanton is the author of this book. She wrote it at a time when she was out of the workforce to look after her son and twin daughters. The book tells the truth and addresses many problems that stay-at-home moms are facing today.
Since being a stay-at-home mom is a busy life, you get to learn how to create time for yourself and balance your time to attend to all house chores, like cooking, feeding children, cleaning the house, keeping children busy, and balancing the checkbook.
Most stay-at-home moms quit their jobs to raise their children; the books also help by teaching moms how to cope with the absence of the professional you.
The Stay-at-Home Survival Guide book has an invaluable resource section that includes a discussion with experts, interviews with stay-at-home moms, and Melissa Stanton's real-life experiences leaving a career as an editor to become a stay-at-home mom.
It is also a stress management book for stay-at-home moms.
This book is written by Dr. Laura Schlessinger who is a licensed marriage and family therapist.
The number of stay-at-home moms is increasing day by day. Society has known that, but no one appreciates, respects, or recognizes them. The author of the book provides advice and encouragement to moms as they struggle with being stay-at-home moms.
The book helps moms understand the changes they are going through, recognize the importance of children in the family and society, hold their heads high, and deal with naysayers.
It is also a motivational book for stay-at-home moms.
Most mothers, when resigning from their paycheck job to become stay-at-home moms, thought that it is an easy task; they would spend the most time with their children, have enough family time, cook great meals for their family, and keep the house clean. But things become different when you become "domestically challenged," your kid and house chores drive you crazy, and you feel imprisoned in the house and become bored.
Domestically challenged books teach new stay-at-home moms how to keep up with the housework, keep their children entertained without drama, deal with the changes and emotional aspects of their new life as stay-at-home moms, and find time for themselves.
This book contains inspirational stories from mothers who have made a choice to stay at home and work at home while raising their children.
It is a motivational book for stay-at-home moms.
Best motivational book for stay-at-home moms
Best motivational books for stay-at-home moms
There are hundreds and thousands of unexpected duties for stay-at-home moms, which leave moms worried, tired, and in need of motivation and encouragement.
This book has compiled the most popular posts and comments received from their website, where mothers from all backgrounds share their mothering experiences, struggles, and the beautiful, amazing, and fabulous journey of motherhood.
There are thousands of lessons to be learned from the book because real stories about moms who have shared the same journey, triumphs, and struggles of motherhood are shared.
The Momstown Guide was written by Heather Reider and Mary Goulet when they were staying home with their kids. This book offers motivation, resources, and insights to help stay-at-home moms set and achieve their personal goals.
It also reminds moms they can make their dreams come true without sacrificing family life.
The author has created a Momstown website (www.MomsTown.com), internet radio program, and newsletter where thousands of moms connect. Thus, it provides community, friendship, and motivation to marginalized stay-at-home moms.
The book tells untold stories of stay at home mom experiences,
It acknowledges stay-at-home moms who have chosen to stay home with their kids, explore the challenges of stay-at-home mothering, celebrate mom on their strengths and weakness, recognize mom in all they do and realize are not alone in up and down of being at home with their kids
The author, Nikki Ace, has compiled many interviews with stay-at-home moms and husbands married from one year up to 63 years. She provides much-needed advice to stay-at-home moms.
The majority of mothers are happy with their decision to be stay-at-home mothers (SAHMs), but after a few years, they could start to question their sanity. Returning to work is an option, but it doesn't seem right either.
The flex mom book is for the third type of motherhood that falls in between stay-at-home and working mothers. The third option is to take on the role of primary caregiver for their kids while purposefully carving out a career path that feeds their interests and makes them feel fulfilled and self-assured.
Stress management books for Stay-at-home Moms
Best Stress management books for Stay-at-home Moms
You will get the following when you purchase 100 productivity hacks for the stay-at-home mom:
25 household hacks: these are things that can help stay-at-home moms be efficient at

home with house chores.
25 mommy hacks: you will learn ways to make the most of the time spent with your kids.
25 me time hacks: in this chapter moms will learn how to make time for themselves.

25 relationship

hacks:

you will learn helpful tips for mom to spend time with dad.
Making money at home books for stay-at-home mom
Stay-at-home mom guidebook to making money from home
There are so many ways a stay-at-home mom can earn money while being at home and being a virtual assistant is one of them.
This book guides you on the basis for starting as a virtual assistant, including how to find the client, how to organize client work, resources, and tools for managing client work.
Most stay-at-home moms would like to work at home while looking after the children, but finding the right job is not easy. The book is all about introducing stay-at-home moms to legitimate job opportunities to work at home.
Did you know millions of stay-at-home moms are using their skills, such as scrapbooking, catering, massage therapy, pet sitting, accounting, web design, and hundreds more, to make money in the comfort of their homes?
The stay-at-home mom Guide to making money from Home is the revised edition book written by Liz Folger.
The book shows step by step guide on how you can stay at home with kids and turn your skills and talents into profits.
In this book, you will also learn how to find a business you love, plan and budget your time, and manage yourself, your family, and your business.
You will learn about internet resources and opportunities, and avoid get-rich-quick scams and costly mistakes.
In the book, you will discover tips and advice from moms who have started their own successful businesses at home.
Financial book for Stay-at-home Moms
The best financial books for stay-at-home moms
One of the primary duties of a stay-at-home mom is managing her income efficiently. This book will help you build a secure financial future for yourself and your family. It also teaches moms how to:
How to save money and build retirement

If you are in debt how to get out of it

How to teach your children about money

How to make money management work in a marriage

Show you ways to budget easily

And many more efficient strategies that make financial management easier.
Job hunting and career guides books for Stay-at-home Moms
Best job hunting and career guides book for stay-at-home moms
If you are a stay-at-home mom considering going back to work after being out of the workforce for many years, this book is meant for you.
The authors, Carol Fishman Cohen and Vivian Steir Rabin have been staying full-time at home with their children but later relaunched their careers.
The book offers a seven-step program that includes preparing and networking for interviews, updating job skills, and assessing career options.
It is also packed with expert advice from career counselors and recruiters and stories from others who have been there.
Most Stay-at-Home Moms find it hard to reenter the workforce after being out for many years. With no resume and no current contacts, they don't know where to start.
The comeback offers the solution to the problem. It's the best book if you are: –
Pregnant and wondering how to take extended maternity leave without losing momentum and contact.

Thinking about what to say in interviews about the gap in your resume.

Looking at another alternative if your former career is not possible anymore

Trying to stay relevant to your field while you are not working
The book also has real-life stories proving that almost any stay-at-home mom can make a successful comeback.
Declutter and Organize your Home
Declutter and Organize your Home book
This book offers you everything you need to organize your home, family, and time. It not only offers tips and advice but also over 100 worksheets, forms, labels, and schedules that you need to organize your life.
We hope our review of the best stay-at-home mom books will help you find a book that you can read to improve your skills or learn something new while at home looking after your kids.
If you are a stay-at-home mom and there is a book you know that can help other moms out there, don't hesitate to share it in the comment section below.