Being a stay-at-home mom is one of the most challenging, demanding, and isolating jobs. However, it is one of the most beneficial jobs for your family if you learn how to succeed in it. Today we are going to learn how to be a successful stay-at-home mom.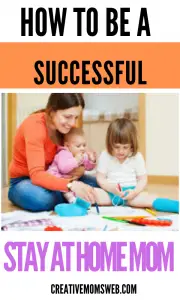 Here are tips on how to be a successful stay-at-home moms
1. Plan
With little ones, it is important to have a good structure and routine for the day.
You should have time for waking up, playtime, lunch, and supper. Stick to a schedule and stay consistent.
Best stay-at-home mom schedule to help structure your day
A schedule helps and allows you to achieve the goal you have set for the day.
Making an earlier plan for duties to attend to each day can help to make your day less stressful.
You can also decide to plan the family menu weekly so that you don't have to wake up and think about what to do and what to eat.
2. Correct attitude
Most moms have the negative attitude that working at home is not a job.
Such an attitude makes them unsuccessful and less productive.
3. Learn to delegate some duties
When I resigned from my day job, I felt that since I was not providing financially for my family, I needed to be a full-time housekeeper.
You know, the one who does everything around the house, such as cooking, washing clothes, cleaning, and caring for my children.
Attending to all those duties is not easy, and most of the time you will find yourself overwhelmed and eventually unsuccessful due to fatigue.
The solution is to learn to delegate duties to your partner when he returns from work, including some responsibilities for the children.
Find out age-appropriate chores for your children
When my husband comes back home, he assists me in some chores like playing with kids and I have time to do what I passionately love or relax.
4. Learn to wake early
Waking up early it's a kick-start of the day you get more done.
Try to wake up earlier than the kids, have some breakfast, watch some news, and at this time get ready to start your routine. 
When the kids wake up, it won't create chaos as to where to start.
5. Keep one foot in the working world
When most moms decide to go back and stay home, they only think about staying fully committed as stay-at-home moms and don't imagine going back to work.
My advice is for stay-at-home moms to keep one foot in the working world; some eventuality might happen in the future like your husband losing his job.
Also, since living standards are rising nowadays, you can help make ends meet.
Think about what you can do with a few free hours you have to do something productive.
Here are jobs you can do as a stay-at-home mom and earn good money
6. Create your working space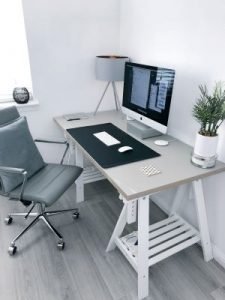 Photo by James McDonald on Unsplash
If you work at home, you need to create space dedicated to your work, not wake up and work on the couch or bed.
Even if it's a small space in the corner of your bedroom or dining room, set it to have a chair and desk just like a professional office.
Simple areas to create a home office
With that, you will have a good working mood, you will enjoy working at home and doing other chores.
Good working mood= success
7. Take care of yourself first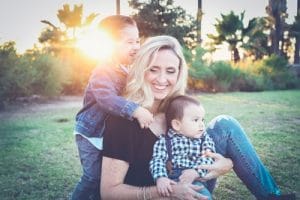 Who said that if you are a stay-at-home mom, you don't have to look smart?
When you think of people and important things, you are at the bottom of the list or nowhere on the list.
It's important that starting today, you change your list and put yourself at the top of the list.
Sometimes we forget to take care of ourselves because we are at home taking care of the kids and house all day.
It's good to create time to take care of yourself—shower, get dressed, do your hair, and brush your teeth.
Self-care and good health are one of the keys to being a happy stay-at-home parent.
8. Connect yourselves with other Moms/ Playgroup
Sometimes it's good not just to be a mom with kids but to create time to be with other moms out there.
It's fun to explore and talk to new people. Discover your passion and join a playgroup to pursue it.
9. Having a house cleaning schedule
Sometimes it's impossible with a small kid at home to try to stay on top of it.
Some people set aside one day a week to do the cleaning.
I find that if you have a small kid, it's much easier to do a little bit of cleaning every day or have a simple house cleaning schedule.
10. Exercise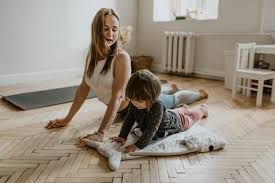 Exercise is one thing most stay-at-home moms forget.
Each day finds simple exercise to do to keep your body active and healthy.
Exercises are not only meant for someone who wants to be skinny or in shape but help us keep our body active and refresh.
You can decide to take a walk, dance in the kitchen, do some yoga, play with your children together, or have a walk. 
11. Create Me-time
Since being a stay-at-home mom is a full-time job, there is no time for leave or sick days.
You can decide to create me-time during naptime.
During this time, instead of cleaning dishes, you can decide to relax on the couch, listen to music, take your favorite snack, or meditate.
12. Find something small you can do for yourself.
13. Stop comparing yourself with other people
Every person has his own strengths and weaknesses, so we are all different. Some mothers prefer that their children have more screen time than others.
Some people prefer to homeschool their children, while others prefer to send them to school. Stop comparing yourselves.
14. Don't be tough on yourself/set unrealistic goals
There is no way to be a perfect mom, so sometimes we should go easy on ourselves.
We should strive to do good but not to perfection.
If you have kids it is not easy to have a spotlessly clean house.
Sometimes becomes hard to prepare dinner or lunch on time
15. Surround yourself with positive-minded friends
As we said earlier, you should not be negative-minded.
The same case applies to the people who surround you; they should be like-minded and positive-minded.
Always find people who support and encourage you in what you do.
16. Practice Mindfulness:
In the midst of daily chaos, practicing mindfulness can help you stay present and appreciate the joys of motherhood. Take a few moments each day to be fully present with your children, observing their growth, and cherishing the precious moments. Mindfulness also allows you to tune into your own emotions, needs, and triggers, helping you respond to challenging situations with patience and compassion.
I hope the above tips on how to be a successful stay-at-home mom will make your journey as a stay-at-home mom successful.
Feel free to share your tips on how to be a successful stay-at-home mom in the comment section below.