The special bond between a mother and her child is like no other, and what better way to celebrate that connection than through fashion? Mommy and me outfits are a delightful trend that allows mothers and their children to coordinate their clothing, creating adorable and heartwarming twinning moments. In this blog post, we'll explore the magic of mommy and me outfits, why they're becoming increasingly popular, and how you can embrace this charming trend with your little one.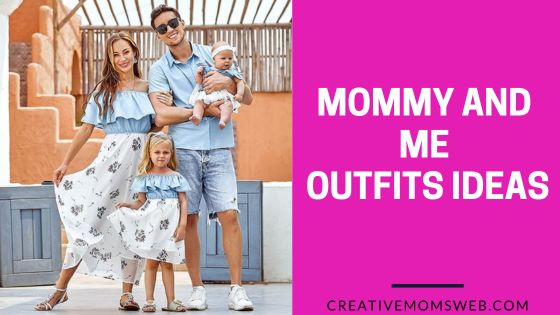 Why Mommy and Me Outfits?
Mommy and me outfits offer several compelling reasons to embrace this fashion trend:
1. Bonding: Coordinating outfits can be a fun and bonding experience for both mothers and their children, strengthening their connection.
2. Adorable Moments: The sight of matching outfits is undeniably cute and often leads to heartwarming and Instagram-worthy moments.
3. Building Confidence: Dressing alike can boost a child's self-esteem and make them feel more connected to their mother.
4. Creating Memories: Mommy and Me Outfits create lasting memories that both you and your child will cherish for years to come.
How to Rock Mommy and Me Outfits
Here are some tips on how to embrace this trend and create stylish mommy-and-me looks:
1. Coordinate, Don't Match: While identical outfits can be charming, coordinating outfits in a similar color palette or style can look equally adorable and less contrived.
2. Comfort is Key: Ensure that both your outfit and your child's are comfortable for daily activities.
3. Accessorize Together: Consider matching accessories like hats, shoes, or even statement jewelry to complete the look.
4. Age-Appropriate Choices: Choose outfits that are age-appropriate for your child while keeping their comfort in mind.
Mommy and Me Outfit Ideas
Casual Chic: Coordinating jeans and matching graphic tees with sneakers create a comfortable and stylish look for a day out.
Beach Ready: Embrace matching swimsuits and sun hats for a fun day at the beach or by the pool.
Elegant Twins: Twin in coordinating dresses or skirts and blouses for a special family event or brunch.
Pajama Party: Matching pajamas for bedtime can be a cozy and heartwarming tradition.
Conclusion
Mommy and me outfits are a delightful way to celebrate the special bond between mothers and their children while having fun with fashion. Whether you choose to coordinate your outfits for a special occasion or make it a regular part of your daily routine, the memories you create will be priceless. So, embrace this trend, create stylish and heartwarming twinning moments with your little one, and let your love shine through fashion. After all, there's nothing quite like the joy of being a matching duo, perfectly in sync and utterly adorable.