Stay-at-home moms deserve clothing that combines comfort and style, and long tunic tops are the perfect solution. These versatile pieces offer coverage, ease of movement, and an elevated fashion sense that suits the demands of a busy household. In this blog post, we'll explore the world of long tunic tops for stay-at-home moms, providing inspiration and tips to help you embrace chic comfort in your daily life.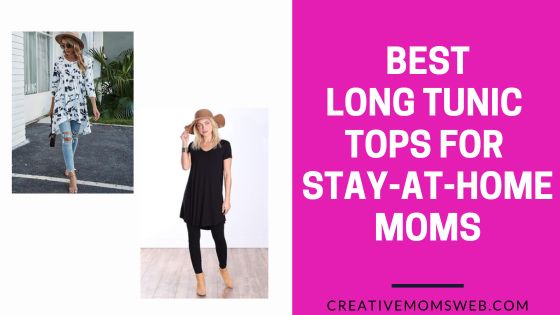 The Allure of Long Tunic Tops
Long tunic tops have become a favorite among stay-at-home moms for several reasons:
1. Versatile Length: Tunic tops are longer than traditional shirts, offering coverage for leggings or skinny jeans, making them incredibly versatile.
2. Comfortable Fit: They provide a relaxed and comfortable fit, ideal for all-day wear while tending to children or managing household tasks.
3. Stylish Silhouette: Long tunics create a flattering silhouette that flares out slightly from the bust down, making them universally flattering.
4. Easy to Layer: These tops are excellent for layering with cardigans, jackets, or vests, allowing you to adapt to various weather conditions.
Choosing the Right Long Tunic Top
Fabric Matters: Opt for breathable and soft fabrics like cotton or jersey for ultimate comfort.
Fit: Choose a tunic that fits well in the shoulders and bust while providing a relaxed drape around the waist and hips.
Length: Consider the length based on your preference. Some tunics reach mid-thigh, while others extend to the knees or even the ankles.
Neckline: Select a neckline that suits your style, whether it's a V-neck, scoop neck, or boat neck.
Styling Long Tunic Tops
Caring for Your Long Tunic Tops
To keep your long tunic tops in great condition:
**Follow care instructions on the label for washing and drying.
**Store them by hanging or folding them neatly to avoid wrinkles.
Some of the recommended long tunic tops
Conclusion
Long tunic tops offer stay-at-home moms the perfect blend of comfort and style. With their versatility and flattering silhouette, they can effortlessly adapt to various occasions, whether you're playing with your kids, running errands, or just relaxing at home. Invest in a few quality long tunic tops, and you'll find yourself reaching for them time and time again as you navigate the beautiful chaos of motherhood with chic comfort.