Many women these days are opting to stay at home and take care of their children. However, it is not always possible as the cost of living for the average family has risen exponentially in the last few years. In order to afford to be a stay-at-home mom and not have to go back into the workforce, what should you consider?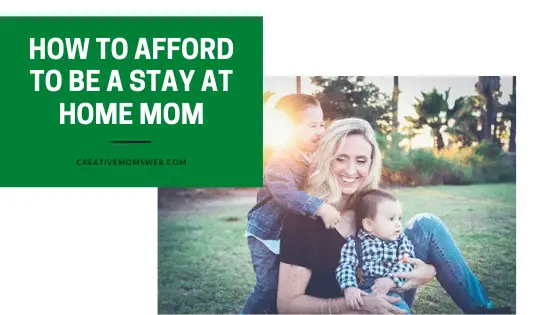 How to afford to be a stay-at-home mom on one income
1. Budget
A budget helps you cut out your wants and stick to your needs.
Having a budget help eliminate buying things you cannot afford and focus much on need.
Budgets help you live within your means and, therefore, help reduce your debts.
Read: Stay-at-home mom financial planning

2. Buy on sale
You don't need to spend a lot of money on clothes, diapers, or even food. There are stores like Kohl's that have so many sales you can buy clothes.
Other companies provide sales on items such as toys.
3. Swapping
There are a lot of things that you don't need in your house, like toys, books, games, and clothes your kid has outgrown.
Instead of throwing them away or keeping them in the house, you can find other moms and swap the items.
Swapping helps save a lot of money.
4. Find ways to save money
If you have a baby at home, you know the cost of a diaper. You can try to save money by using cloth diapers or finding companies that offer free baby stuff like diapers.
When doing laundry, you can decide to hang them to dry and not use a washing machine for drying. This helps save on your electricity bill.
preparing meals at home instead of eating at restaurants.
Find more ways to save money as a stay-at-home mom
5. Buy second hand
Used things like electronics, furniture, toys, or clothes cost less than new ones. Like babies, cloth outgrows them some when they are even new. You can decide to be buying second-hand toys or clothes that are in good condition at a fair price.
6. Plan meals
Planning your family's meals means less eating out.
You plan the meal, buy whole food and find simple and quick family recipes you can easily prepare at home for a few minutes
Cooking food at home saves money and it is healthier.
7. Supplement income
My main aim for quitting my 9-5 job was to become a full-time stay-at-home mom, but that does not mean I don't have a hobby or skills.
I love writing, so I blog when I have free time or the kids are napping. I work on this blog and many more since my kids are grown and independent to bring extra income to the family.
You can decide to start a home business, make a craft, or find an online job you can do while taking care of your family.
Utilize your skills and turn your hobbies into a way of earning money.
I have a list of friends who are full-time stay-at-home moms; one of them is good at baking. Every day she bakes a cake and sells it to us for breakfast. Another one is good at making homemade detergent, and another is good at making jewelry.  
All of them make their art at home and sell it to friends and neighbors in their free time. The list of what you can do at home is endless.
8. Participate in free activities
At this time, remember you are surviving on one income. Remember the budget is tight. It is not easy to afford paid activities for the kids.
Find in your area free activities kids are having for fun.
You can find libraries offering free fun activities.
Also, at home, you can create fun activities to do with your kid, like downloading free coloring books or sheets.
9. Cut off unnecessary expenses
Expenses like going to the gym, eating at hotels, using more than one car, and more can be cut.
Like you can decide since you are not commuting to work you sell one car and remain with one.
You can start doing home exercise and stop paying for the gym.
Find those unnecessary expenses you no longer need them and cut off.
10. DIY things at a home
Instead of buying everything you can decide to save money to make at home. Like you can make cleaning detergent at home.
You can grow vegetables like spinach in the kitchen garden.
11. Create time for yourself
Creating me time as a stay-at-home mom helps improve your mental health and enjoy your journey.
At this time you can do something you passionately love or connect with other moms.
Create time to do activities that make you happy, refreshed, and more charged.
If you are wondering how to start and afford to be a stay-at-home mom, first practice for a few months living with one income. If it works, you can go ahead and become a stay-at-home mom.
During the practice period, you can decide to save money on a fixed account.
What other moms are reading
Stay-at-home mom financial planning