When it comes to stay-at-home mom fashion, the combination of jeans and sweaters is a timeless and versatile choice. It offers a perfect balance between comfort and style, allowing you to tackle your daily tasks with confidence and flair. In this blog post, we'll explore the appeal of jeans and sweater outfits for stay-at-home moms, providing inspiration and tips to create effortlessly stylish looks that suit your busy lifestyle.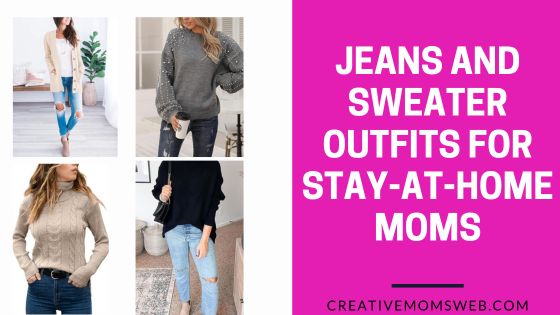 The Classic Appeal of Jeans and Sweater outfits
Jeans and sweaters are a go-to combination for a reason: they provide comfort, warmth, and endless possibilities for expressing your personal style. Whether you're playing with your kids, running errands, or enjoying some downtime, this pairing offers comfort without sacrificing fashion.
1. Versatile Jeans: Your Wardrobe Staple
Jeans are a stay-at-home mom's best friend. They offer durability, flexibility, and a wide range of styles to choose from. Opt for jeans with a comfortable fit, whether they're classic straight-leg, relaxed boyfriend jeans, or trendy high-waisted styles.
2. Cozy Sweaters: Warmth and Style
Sweaters are not only practical for staying warm, but they also add texture and dimension to your outfit. Choose from a variety of sweater styles, such as chunky knits, oversized cardigans, or turtlenecks, to create different looks that suit your personal taste.
Styling Tips for Jeans and Sweater Outfits
Accessorize: Elevate your outfit with accessories such as statement necklaces, hoop earrings, or a stylish belt. Accessories can add a personalized touch to your look and make it feel more put-together.
Layering: Experiment with layering by adding a button-down shirt or a turtleneck underneath your sweater. This adds extra warmth and creates a stylish, layered effect.
Footwear Choices: Complete your ensemble with the right footwear. Ankle boots, sneakers, or even loafers can complement your jeans and sweater look beautifully.
Color Play: Play with color combinations by mixing different shades of denim with various sweater hues. Earthy tones, neutrals, and pops of color can enhance your overall outfit.
Creating Different Looks
Conclusion
Jeans and sweater outfits are a versatile and comfortable choice for stay-at-home moms who want to stay stylish without sacrificing ease of movement. With various denim styles and sweater options, you can create looks that adapt to your daily routine while reflecting your personal style. Whether you're busy with household tasks or spending quality time with your family, this classic pairing empowers you to feel confident and fashionable throughout your day.