As a stay-at-home mom, you're no stranger to the need for comfortable and practical clothing. Enter leggings—the ultimate fashion staple for women who balance a busy household and still want to look stylish. In this comprehensive guide, we'll dive deep into the world of leggings for stay-at-home moms. From choosing the right pair to styling tips, we've got you covered.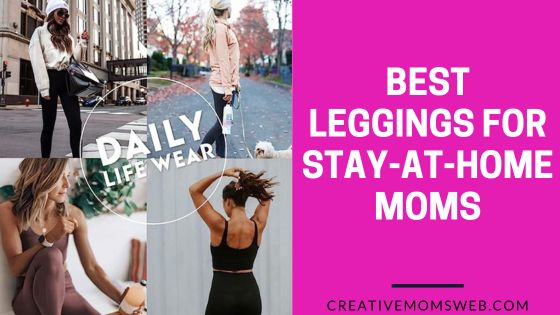 Why Leggings Are a Stay-at-Home Mom's Best Friend
Leggings are more than just comfortable; they're incredibly versatile. Here's why they're a must-have in your wardrobe:
1. Comfortable All-Day Wear: Leggings provide the ease of movement and comfort required for chasing after little ones or tackling household chores.
2. Versatile Styling: Leggings can be dressed up or down, making them suitable for various occasions, from playdates to quick grocery runs.
3. Easy to Layer: They're perfect for layering under tunics, oversized sweaters, or dresses, allowing you to create chic and cozy looks.
4. Budget-Friendly: Leggings are often affordable, making it easy to have several pairs in different styles and colors.
Choosing the Right Leggings
Quality Matters: Invest in leggings made from high-quality, opaque fabric to avoid the dreaded see-through effect.
Perfect Fit: Ensure your leggings fit comfortably—not too tight or too loose. Look for those with a wide, elastic waistband for extra comfort.
Length Options: Choose between full-length, capri, or ankle-length leggings based on your preferences and the season.
Styling Leggings Like a Pro
Casual Chic: Pair black leggings with an oversized graphic tee and white sneakers for a trendy yet effortless look.
Elegant Comfort: Combine leather-look leggings with a long cardigan and ankle boots for a stylish and cozy ensemble.
Athleisure Vibes: Opt for high-waisted leggings with a sports bra and a lightweight jacket for a sporty-chic appearance.
Layered Perfection: Wear leggings under a tunic or sweater dress, adding knee-high boots and statement accessories for a put-together outfit.
Caring for Your Leggings
Proper care ensures your leggings stay in excellent condition:
Wash inside out to maintain color and fabric quality.
Use a gentle detergent to preserve elasticity.
Avoid using fabric softeners, which can break down the fabric.
Recommended Leggings for stay-at-home moms:
Conclusion
Leggings are a stay-at-home mom's secret weapon – offering comfort, versatility, and style all in one package. By choosing the right pair and experimenting with different outfits, you can create looks that empower you to tackle your daily tasks with confidence and flair. Whether you're busy with the kids, running errands, or just enjoying a quiet moment at home, leggings are the perfect companion for your stay-at-home mom lifestyle.