Are you a stay-at-home mom looking for a legitimate way to work at home? Then welcome to our article on real online jobs for stay-at-home moms.
After reading thousands of comments on numerous stay-at-home mom blogs and websites, I was surprised to learn that the majority of stay-at-home moms want to work from home and earn money.
Although they have stated that their families come first, they nevertheless want to provide financial support due to tragic events like medical emergencies and family troubles.
Despite being a full-time profession, staying at home with the kids doesn't pay well.
That's why I've prepared real online jobs for stay-at-home moms. These are legitimate and free online jobs for stay-at-home moms
Quick pick
Freelancing
Blogging
Buy discounted products and sell them in the online stores
Reading ads
Online micro tasks
Online Surveys
Affiliate marketing
Selling photos online
Buy and sell domain names and web hosting
YouTube videos
Stock & Forex Trading
Provide training & consultancy
Selling old/ new stuff online
Online tutor 
Chat agent
Social media manager
Sell on Etsy
Virtual Bookkeeper    
Dropshipping
Testing app and website
AIRBNB HOST
Translator 
Online life coach
Search engine evaluator
Product testing app
Internet scoping
online filling form
YouTube
Creating apps
Digital product testing
27 Best online jobs for stay at home moms
#1: Freelancing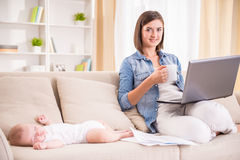 Freelancing is selling your talent to a client in return for money.  All that you need is a skill, create a good profile, and mention your strength or the service you can offer best. Freelancing services include:
#Freelance job 1: article writing
If you have excellent grammar and love writing then an article writing job is for you.
There are thousands of bloggers who are hiring writers to write content for their blogs or websites.
Read more on online writing job
If you are green in freelance article writing or want to advance your skills in freelance writing then Gina Horkey has a freelance writing course that can help you start out.
Companies offering a freelance article writing job
#Freelance job 2: Transcription

Transcription is listening to recorded audio or video and converting it to a written document.
Your job is to listen to a video or audio and type it out exactly the way you hear. 
The tools required for transcription are a computer, volume control headset, Express Scribe Pro software, and a Foot Pedal.
Companies offering transcription jobs:
Gotranscript is one of the largest online transcription and translation companies in the world. It provides beginners with Audio transcription, Video transcription, Translations, Subtitling, and Captions services.
b. TranscribeME.com
c. Rev.com
d. Scribie.com
f. Upwork
g. Fiverr
h. People per hour
Before applying for any job from the above companies I would advise you to take a training course in transcribing anywhere.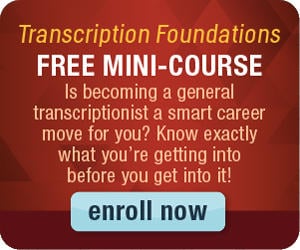 Freelance job 3: virtual assistance
Virtual assistance involves completing administrative courses like managing someone's social media account, website management, doing web research, booking an appointment, email management, bookkeeping, and many more.
Find out over 150 +  virtual assistance services you can offer.
For you to become a Virtual assistant you need to have good computer skills, a computer, and reliable internet access.
Someone who is new to Virtual assistance and wants to learn more skills can purchase an Ebook from Melissa Smith.
Become A Successful Virtual Assistant: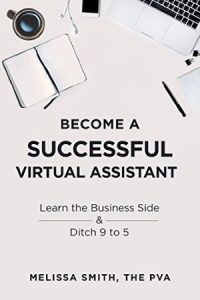 Before applying for any virtual assistant job I would recommend taking a proper training course from Gina.
Companies offering virtual assistant jobs
Freelance job 4: captioning
When you are watching a video there are these words that display on the bottom of the screen explaining what the character is speaking. 
Those words displayed at the bottom of the screen are called captions.
You listen to the video and type words as required. this job can be an addition if you are good at transcription.
Image of what is captioning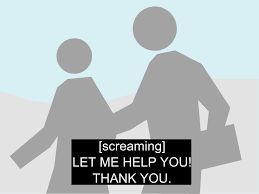 Companies offering transcription jobs
Freelance job 5: proofreading
Proofreading is going through already written blog posts, social media updates, emails, or a book checking punctuation, spelling, and grammatical errors, and correcting them.
Most proofreading jobs are in English so you require to have strong English or grammar skills, someone who loves reading, and someone who is very keen to catch tiny mistakes like punctuation. 
Companies offering Freelancer proofreading jobs
If you are a beginner I would recommend the Caitlin course so as you learn the skill you need to start your freelancer proofreading journey.
Freelance job 6: graphic design
Graphic design job involves designing websites, E-book covers, and Logos.
The job has become popular and if you have such skills you can apply for jobs at companies such as Fiverr and 99 designs 
Freelance job 7: Data entry
Data entry is keying specific data that a company requires. You can do this job if you have a computer and are connected to reliable internet.
Companies offering data entry job
#Freelance job 8: Translator
This job is for someone comfortable at writing and speaking different languages.
You translate written files or audio files from one language to another for online clients.
Companies offering translator job
More freelance jobs
# Freelance job 9:

Programming

# Freelance job 10:

Web design
#2: Blogging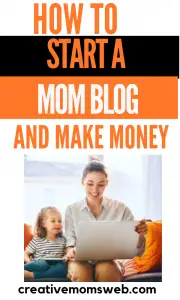 It's another best way for stay-at-home moms to earn online. 
Create a simple blog about what you are passionate about, you become your own boss and you don't have a deadline to meet.
You only need to find the best ways to monetize your blog such as advertisements, affiliate marketing, and selling your products.
Read more on how to start a mom blog and why stay-at-home moms should start a blog.
#3: Buy discounted products and sell them in the online stores
Your work is to find the product that is on sale or discounted prices to sell at a higher price.
An online store like Amazon offers a program called Amazon FBA.
Amazon's FBA program offers two ways to sell an item on the website retail arbitrage and private label.
In retail arbitrage, you find out products on Amazon that are on sale and you create an account on Amazon to resale the product at a higher price.
A private label you purchase products from manufacturers and sell them on Amazon's website as your own products.
If you want to learn more Amazon FBA program there is this lady Jessica from TheSellingFamily.com who was able to take her love of finding discounted products and turned it into a 6-figure Job in just 1 year.
#4: Reading ads
It's one of the simplest jobs online although many people don't recommend this method because of low income.
What you need is to register to the genuine paid-to-click (PTC) sites.
Make money by reading and viewing advertisements for 10 to 30 seconds.
All sites are free you don't require any investment to start earning.
Here is a list of best (PTC) sites ClixSense, InboxDollars, NeoBux, BuxP, and Paidverts
Research thoroughly for more sites but before you join make sure it is legit.
Most paid-to-click jobs are scams.
#5: online micro tasks
Online micro tasks there are small jobs online that take a few seconds or minutes to complete.
You earn for completing tasks, and this depends on the length of the job.
Such work includes sharing a page, giving a review of a product, creating a testimonial, evaluating a product, writing a short article, searching for something on Google, and much more.
My best platform to get micro tasks jobs is Remotask
Websites, where you can find micro tasks jobs and earn from them, are Mturk, Microworker, Seoclerk, Clockworker, and Gigwalk.
#6: Online surveys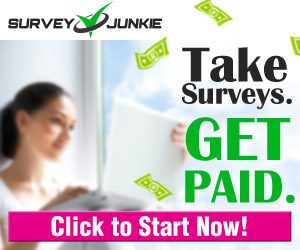 The online survey is where different companies ask for your opinion about their services and products.
Their aim is to increase business sales.
Although you won't make a lot of money on this, you can try a few legit companies like
Click here to find out more
#7: Affiliate marketing
Affiliate marketing is the process of promoting products or services using Digital Technology mainly the internet.
This is where I get my bread and butter ( I'll discuss in another post how to earn money through the affiliate market).
It's one of the best online jobs if you have a platform such as a blog and websites where to market your product.
Affiliate marketing is promoting a company, products, or services and then being rewarded for your efforts in the form of a commission or referral reward.
In online affiliate marketing, you create an account on the company website, you are given a special link or a banner and if someone clicks on it and proceeds with a specified action, you receive a specified commission.
You can become an affiliate marketer with companies like
Media.net

ShareASale.com

Linkshare.com

Google Affiliate Network

MarketHealth.com

PayDotCom.com

JVZoo.com
#8: Selling photos online
If you check many professional bloggers and website owners, use a picture on their websites.
What you need is to start a website that sells original, copyrighted stock photos.
Contact many bloggers, and request them if they can buy or market your services and with that people will visit your website and buy photos.
Also, selling African photos online is a green niche a few sites have photos for Africans.
Also, you can submit your photos to a site like Shutterstock, Istockphoto, and Fotolia once the customer purchases your photo you get paid.
#9: Buy and sell domain names and web hosting
Here you need to do the research and find good domain names in places like GoDaddy, Flippa, website broker, Sedo, or other domain registrars.
Buy them at low prices and then sell them later at a much higher price.
#10: YouTube video
YouTube is one of the common video-sharing sites owned by Google.
Most companies use YouTube to advertise their brand, products, and services.
YouTube involves uploading videos. If you are good at taking videos or being in front of the camera this is a good job for you.
Select the topic you are passionate about, take a video, and upload it the YouTube. then later join the YouTube partner program.
To earn from YouTube you need to have more views and followers, then run ads for you to earn money.
YouTube will provide you with the best tutorial guide on how to earn and your videos will start making money when people start watching.
#11: stock and forex trading
Many people earn full-time doing online Forex trading.
Today there is no need to look for stockbrokers you can do it yourself with the help of an online Forex trading platform.
It's a risky business to start without good knowledge.
What you need is good knowledge of how to trade and that information is available internet through some free or paid courses.
If you are a beginner and you want to learn how to trade forex you can take  traders4traders complete online forex trading course.
Also, you need a little capital to start trading.
#12: Provide training and consultancy
If you have good skills or passion for something, you can create a product either in the form of an eBook or start training.
Training and consultancy is an evergreen market.
#13: selling old and new stuff online
Some things in your house are no longer in use.
Take a good photo of those items and list them on the sites that sell old/ new stuff.
Online sites that allow the selling of the item online include:
#14: Online tutor
If you are a teacher or have good knowledge of a specific subject you can apply online as a tutor
There are companies like magic ears and Vipkid that you can apply to teach Chinese kids how to speak English.
Also, if English is your native language you can apply to the below companies to teach kids and adults English.
Find out more companies offering online tutoring jobs 
#15: Chat agent
Chat agents work to help customers and answer their queries online.
It is the same as customer car but customers offer customer support face to face or through the phone call while the chat agent offers customer support online only.
For you to become a chat agent you need a laptop or phone with a good internet connection.
#16: Social media manager
A social media manager job is for a person who likes to post on social media platforms like Pinterest, Facebook, LinkedIn, and more.
Your work is to post on behalf of a company on its social media account.
Read 
How to become a social media manager 
#17: sell on Etsy
Etsy is an online store that allows people to sell mostly handmade crafts.
Find out the best-selling product on Etsy 
#18: Virtual bookkeeper
A bookkeeper job is for a person who is good at numbers and keeping files.
You record the financial transaction of a business, keep financial records, and update statements.
A virtual bookkeeper does the same job as a normal bookkeeper but the difference you work online, and traditional bookkeeper work offline.
You can find the job at Indeed 
If a virtual bookkeeper job sounds interesting the best place to start is free training from the bookkeeper program.
#19: dropshipping
Dropshipping you set up an online store and then add products you want to sell.
When a customer orders an item in your store, you send the order to the manufacturer and they ship it to the customer.
You can use Shopify to create an online store.
Another place to open an online store and start selling is BigCommerce Online Store
#20: Testing app and website
Owners of websites and apps need feedback on user experience on their platform. So they look for people to hire to test how the app or website is doing online.
You can find a job for the testing app and website on
#21: Airbnb host
If you have an extra room that you are not using you can turn it to be AIRBNB rental.
Guest pay you money for that extra room and added features 
#22: Online coach
There are so many people searching online for ways to improve their lives in different areas such as money management, health, and fitness.
You can create a program that may help people lose weight or improve money management and sell it to social media or online sites like Teachable and Udemy.
Some people even prepare an E-book on a specific area of life coach and sell online platforms like social media.
You can write an Ebook and sell it to places like Amazon kindle publishing and Send Owl.
#23: Search engine evaluator
The work of the search engine evaluator is to ensure that search engine like Google, Yahoo, Bing, and more is always up to date.
For example, when someone searches a specific keyword on the search engine he/she gets an accurate answer.
Find out who hires search engine evaluators
#24: Product testing app
This is an app that allows you to sign up to give feedback on specific products.
You are sent free product samples you are supposed to test and then give feedback about the product.
#25: Internet scoping
Internet scoping is editing transcripts for court reporters.
The scope receives the transcripts and audio from the court reporter. You edit the transcript to be correct as audio. You can write.
If you are excellent in punctuation and use of vocabulary internet scopist is an excellent job for you.
Join an internet scoping school to help build a successful scoping business.

#26: Online filling form
Companies offering online filling form
Additional online jobs for stay-at-home moms
Bonus video
Hope our list of real online jobs for stay-at-home moms will help you find a good job you can do at home. 
I've listed the top ones feel free to just Google and research for more online jobs. Keep checking this site for more updates.
I believe you must have many questions about this so feel free to ask in the comment section below.