An infant is a baby between 0-12 months. At this age, the baby is breastfeeding and requires so much cuddling so they require so much of our time and energy. When you decide to stay home with your infant establishing a schedule help get things accomplished in the house. Here is my Stay at home mom schedule with infant.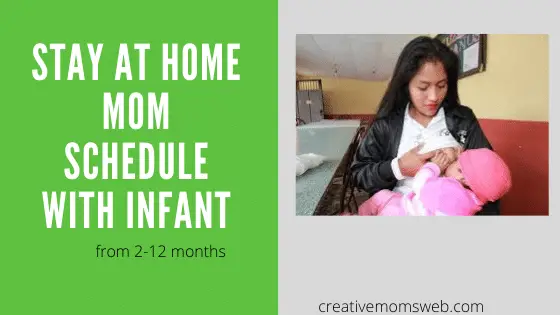 6:00 am- I woke up before my baby is up. I believe waking up before my baby helps me be more organized and achieve so many goals in a day. At this time I start with bathing afterward I prepare for breakfast.
6:45 am- we take breakfast with my husband and 7 am he leaves to work.
7:00 am- My baby is up. I change the baby diaper, cuddle, and nurse. It takes 45 minutes. At this time my baby is full, we play for 15 minutes.
8:00 am: I place the baby on a lounger or activity mat and do some house chores together. Learn the habit of not holding the baby for long. Train the baby to sit alone on the couch or find a lounger or activity mat that you can place somewhere the baby will see you. I have an activity mat and I place it somewhere I can watch him, and he can see me too, this cools him.
Also, we have a small apartment so I can keep an eye on him as he has independent playtime.
At this time I can decide to clean the house and dishes in the kitchen. Remember I don't have a washing machine and dishwasher.
So when it comes to cleaning the dishes I hand wash them in a sink. Cleaning the dishes can take 10 minutes because I am only cleaning the morning cups and plates. Before I sleep I make sure dinner dishes and cups are clean.
I wipe the house daily for 15 minutes and do general cleaning on weekends.
8:30 am: I breastfeed my baby and he goes back to sleep. On a typical day, my baby sleeps for 2 hours. If your child has a sleeping problem this book can help you
8:45 am: At this time I am fresh. I start working on my blog since my baby will sleep for two hours (check online jobs, crafts, or business you can do at home as a Stay at home mom).
10:45 am: I take a snack
11:00 am: My baby is up. I change the baby diaper and nurse. I also, dress him and go for a walk. During this time I buy dinner and the following day snack and breakfast.
11:30 am: We are back home. I consider walking as one of the daily exercises.
Noon: I take lunch, it's usually leftovers. If no leftovers I prepare something simple early in the morning as I prepare breakfast. My baby is less than six months so he is only breastfeeding.
12:30: We play and breastfeed him
1:00: Between 1 and 1:30 afternoon nap. The same case my baby sleep for the other two hours
1:30: I hand wash clothes. It takes 45 minutes since I do laundry daily.
2:30 pm: Nap for 30 to 45 minutes. Sometimes I feel not like sleeping so I can decide to work on my blog or have "ME time".
4:00 pm: baby is up I nurse him and change a diaper. We start preparing dinner together. I take like 1 hour to prepare dinner. I bathe him and the husband is back from the office.
In between 5 pm and 7 pm, I read a book as I cuddle my baby (There are books for stay-at-home moms you can read)
7:00 Pm: we take dinner with my husband. My husband has time with the baby as I clean dinner utensils.
8:00 Pm: I nurse the baby, put on his pajamas, and he sleep.
8:30 pm: From here we have time with my husband and plan for tomorrow's schedule. I make sure my husband tomorrow's clothes are ready, sometimes he helps me on ironing. This makes my morning less stressful.
9:30 pm: Sleep time up to 6 am. Seven hours of sleep time is enough for me. The baby wakes up at night for a few minutes to breastfeed.
Make sure your baby sleeps enough time and feeds well.
How many hours of sleep do children need? Find out here.
On weekends I alter the schedule I woke up between 7-8 am or when the baby is up.
Sometimes I don't work on my blog but if I have time and mood I can work on it.
Weekends I do general cleaning and not for the whole house. I can decide this weekend to clean the bathroom and toilet, next one kitchen, and other one-bedrooms and sitting area. In a month I have done general cleaning for the whole house.
Sometimes I hire someone to do the cleaning in my house since I am earning from my blog. Learn how to start a simple blog and how to monetize it.
I am a full-time stay at home mom for the last 10 years, I don't hire house managers and I work on this blog.
Right now so many things have changed because my kids are now grown 10 and five years. I have three blogs that I am earning money from so I am hiring someone to wash clothes. My kids are helping me clean the house.
Read my other schedules when I was staying at home mom without baby, this with one infant, with a toddler, and school-aged kid & less than 1 year.
Looking forward to writing my stay at home mom schedule with teenagers.
Note that my stay at home mom schedule with an infant cannot be the same as yours. Therefore, it is important to find your schedule that works for your family. My schedule is to give you an idea of how to create one as a stay at home mom
That's my stay at home mom schedule with infant sometimes it does not go smoothly as I planned. What about you do you have a schedule with your baby? I would love to hear it and you can do so by sharing it in the comment section below.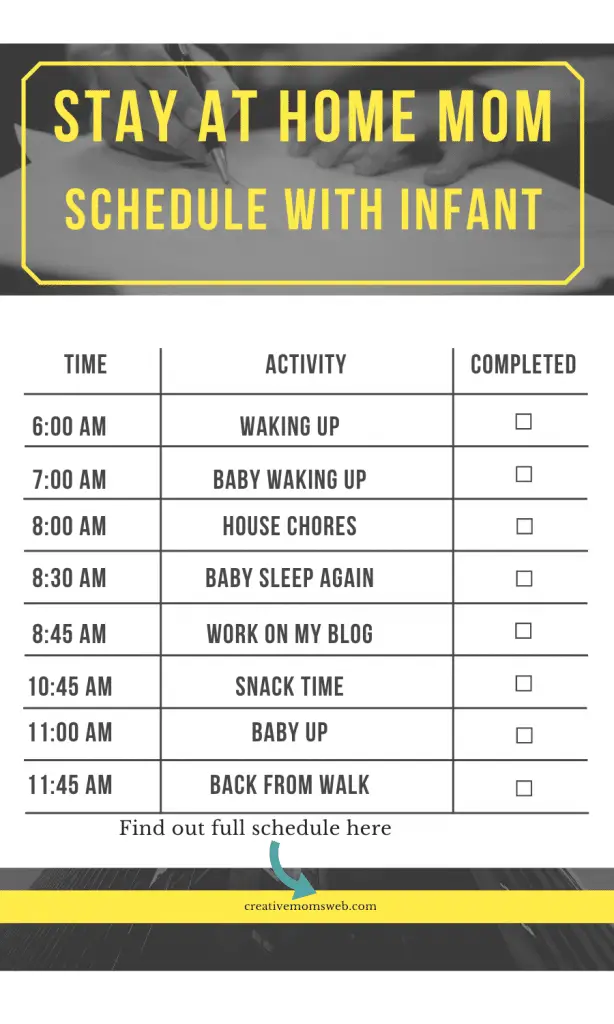 Follow creative moms web on Pinterest