Being a Stay-at-Home Mom is one of the challenging jobs because most mom thinks they need to be perfect on all house chores for not providing financially. It is also one of those titles society don't recognize and others think Stay-at-home mom is illiterate. But like any other person, Stay-at-Home Moms make many mistakes but they don't recognize them and thinks that what society expect on them. Read this article from beginning to end to learn mistakes that Stay-at-home Moms keep that make them unproductive.

For the last five years, I've been a full-time Stay-at-Home Mom and Work at Home Mom.
I've been happy having time to stay with my children, being my boss and control of my day. 
However, it has been the most challenging job, full of uncertainty and trial. Like you all know there is no training manual and instruction when it comes to parenting thing and being a mom. 
I will admit that I am not a perfect mom; I've made mistakes like any other mom out there. 
Some of these mistakes have done me unproductive in work at home as a freelance writer and blogger. They have been a lesson. 
Here are Mistakes that Stay-at-home Moms keep that make them unproductive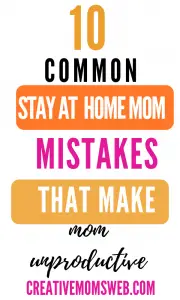 Being the whole in your pajamas and night-dress
It's good before you start working you create time to shower, brush your teeth, keep your hair neat, apply makeup, and dress in work clothes. It makes your mind prepared, and your children see that it's time for mom to work they disrupt you.
Read simple things that SAHM need to do for herself every day
Not taking your job serious
Most moms think that the only job that Stay-at-Home Moms qualify to do is cooking, looking after your children, doing laundry, and cleaning the house.
There are so many jobs Stay-at-Home mom can do while taking care of their family but most fails to learn. For those who know a job they can do at home to earn money they don't do it seriously in the name they are provided for and it fails.
Others hide their talents, skills, and abilities just because they are provided for by their partners.
Not creating an office space
Set a dedicated office for your work even if it's a small space at the corner of your bedroom or dining table.  You can create a small space that has a chair and a small table which is yours; it helps because it gives you a visual reminder to you and your kids it's time for mommy to work.
Also, when you sit down on the sofa with your laptop, you'll have your child playing all over you makes you unproductive.
Where to create your home office 
You don't get enough rest
Being at home, it means multitasking washing clothes, cleaning dishes, cooking, cleaning the house and looking after your children so to get time to relax sometimes becomes hard.
You are forced to work the whole day and wee hours at night when everyone asleep to beat deadlines.
Don't rob yourself time to sleep or rest in the name of the deadline.
Also, rest is good for your health, and it makes one efficient.
Not sticking to your schedule
Sometimes it becomes harder to stick to your plan if you have a kid who is two years and below. But this is not a good reason for not having a daily schedule the best thing with the children they stick to what they are used to see. If they see you working at home, they accept and becomes part of their routine.
Schedule help achieves your daily goals.
Not hiring house help
I understand the main aim of Stay-at-Home Mom to work at home is to spend most of their time with their children.
In fact, you can't successfully grow your career or achieve your daily goals and at the same time, you are looking for your kid and attending to house chores.
You need to hire house help who will assist to get work done.
If you cannot afford full-time house help find someone to help with some duties like laundry once or twice a week.
 If you cannot afford to hire house help,  invest in buying the gadget that will make work easier.
For instance, you can buy house cleaning tools like a vacuum cleaner to make cleaning house easier; you can also invest in baby food maker to assist on preparing your child food faster, or buy a washing machine and dishwasher.
All the above gadgets help makes work easier.
Not delegating duties
If you have kids who are old enough to support you on some of the tasks at home delegate some of the duties to them. If they are small, you can request your partner to assist in some work like looking after the children as you cook or do something you love
Read home responsibilities by age. It will help you learn your kid responsibilities from two years to 11 years.
Not involving children in exciting activities
When children break the school for the holiday, we take a break to work too since you can't look after them and work.
If you have kids above five years, you have no reason not to work. At this age, children are enough to play on their own, read a book, watch a movie for one or two hours, and you stay in your office focused those two hours, and you will have good results.
Also, for babies who are four months and above you can place them in the baby activity center. The Baby activities centers keep your baby entertained and allows mom to attend to other duties.
Not giving some of your time to nurture your marriage
The life of Stay-at-home Moms revolves around looking after children and attending to house chores leaving you physically, mentally and emotionally worn out to put enough time into your marriage.
We forget marriage what makes all those things happen.
Create time to connect with your partner and not work all day.
Work at night when your kids are asleep
We encourage moms to work when children are asleep, but not at night. You need this evening to connect with your partner, meditate, read a book, and watch a movie.
Best books for Stay-at-Home Moms to read
Home-based Business books for SAHM
Second, you have worked the whole day and you are exhausted, so you are no longer productive. You need time to relax, and this is the time.
Also according to research most productive time is early in the morning and early afternoons.
Not taking care of yourself
Who said that if you are Stay-at-Home Mom you are not supposed to be fashionable, neat and exercise to have that figure, you know?
Sometimes we even have a mentality that we are staying in the house all day you are not supposed to be smart get the hell out of that.
Find someone to leave your children with for two or three hours schedule time to have lunch or coffee with friends, visit a salon, visit the gym for exercise or go for an outing, and have a night out with your partner.
The simple exercise you can do at home to keep fit
Waste too much time on social media
This one thing that is killing everyone time spending too much of our time posting gossips on social media like FaceBook, Twitter, and others.
Use those 30 minutes you are spending on social media on updating your website if you own one, working on your crafts or nurturing your talents.
Compare your life and those of working Moms
Society has not taken the job of Stay-at-Home Moms is real even as Stay-at-home Moms we don't value what we do. 
We appreciate moms who go to office daily, so we weigh our lives with those of working moms.
 When it comes to weighing the life, it doesn't matter whether you are working mom or Stay-at-Home Mom.
What matters is how you are taking care of your family and your life.
Accepting too many favors with friends/ neighbors with an office job
Just because you are Stay-at-Home Mom doesn't mean that you are free to agree to all requests that come from your neighbor and friends.
Many friends and neighbors around don't understand work at home, or Stay-at-Home job is a real job, they don't value your time as theirs.
Even though you want to maintain a good relationship with your neighbors and friends, sometimes it's good to say no to those many favors like looking after their children, going shopping for them and many others.
Not having a plan
When you have decided to work at home, it's good to have a real structure of the day. When it comes to family meals, you can even plan it weekly.
Plan time to do laundry, watch television, wash dishes, go for a walk, and time for lunch or supper.
When you plan your day earlier, it makes routine in your house run smoothly.
Forcing you to be perfect
Just because you are not providing financial support, to your family doesn't mean you are supposed to be perfect on all house chores. If you have a small kid, sometimes it's not easy to maintain a clean house or stick to your schedule.
Being ashamed to say you are Stay-at-Home Mom
How many times that people ask you what you do for a living and answer them you are a Stay-at-Home Mom.
Who said working Moms are better than Stay-at-Home Moms, it's just a mentality that we have you might be happier than some of the working moms.
It's high time you start becoming more comfortable Stay-at-Home Moms and appreciate the title.
Feeling guilty you are not providing financially for your family
Nowadays money has become a value in our lives. We monetize everything even relationship.
Partners are no longer appreciating their partner with the services they provide to the family but with how financially they are supporting each other.
That why Stay at home Moms feel guilty that is not contributing financially.
Find another thing that you are doing to your family may it be homeschooling, you are sometimes a doctor to your children, housekeeper and much more.
Appreciate yourself for what you are providing you can't be 100% in everything.
Not creating a friendship with other Stay-at-Home Mom
It's good to build a relationship with one or two Stay-at-Home Mom around your area. There a lot that you can share because you are almost experiencing the same life experiences.
Nowadays you can use social media to connect with other moms all over the world. Just make sure you have a connection with one group that you can share ideas and experiences.
What other moms are reading
Let me know whether you are excited to learn 19 Mistakes that Stay-at-home Moms make that make them unproductive. Share in the comment section below.
You can share this post with your friends on Google Plus, Twitter, and Facebook.